Gold prices are officially entering correction territory as gold continues to head toward its ultimate bottom. As it turns out, last week's lows were not it.
It's been another gold meltdown, frustrating the bulls to no end and finally entering a correction.
Early in the week, Fed Chair Jerome Powell testified before the Senate, saying that more rate hikes were the right strategy "for now."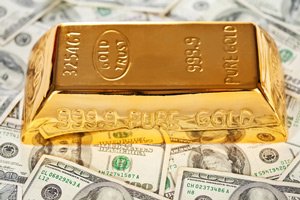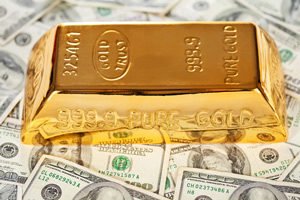 Over the last week, the U.S. Dollar Index (DXY) put on another big run, tacking on 100 basis points, or a little more than 1%, as investors reacted to Powell's testimony.
Powell's comments and the further dollar rally each chopped $15 off the gold price until it flirted with $1,210. That was enough to pull gold down into correction territory with a better than 10% drop since its last peak.
But last week wasn't all bad for the price of gold.
In fact, last week could be the bottom gold needed to hit. Let's take a closer look, including a look at my latest gold price prediction...
Why Gold Prices Could've Hit Their Bottom
Of course, it's early - and the jury is still out - but gold seems to have had the first good week in many.
It's also easy to look at gold's recent past and realize the exact same pattern played out not long ago, and gold still managed to reach for lower lows.
FEAR... PANIC... MISTAKES... RUIN: Investors likely don't have much time left before chaos strikes, and there's zero margin for error. Click here for details...
The dollar continues to dominate gold's fortunes, and its behavior is intriguing.  Since late June, the DXY has twice bumped up against the 95.5 level and failed, with this week being the most recent occurrence.
Not only did it fail - but miserably so both times...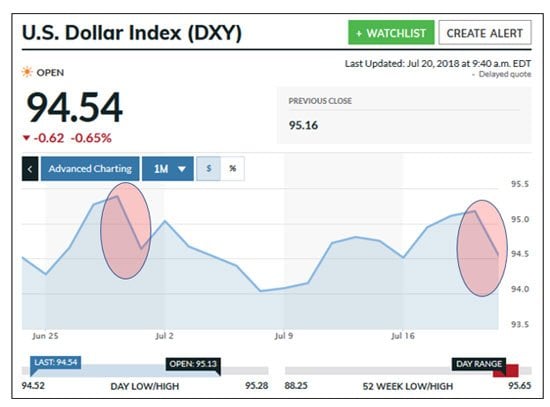 On Tuesday (July 17), as gold declined to $1,225 on the rising dollar, gold stocks as tracked by the VanEck Vectors Gold Minters ETF (NYSE Arca: GDX) hardly moved. Gold gave up a whole 1%, while GDX was (just barely) up by $0.01 on larger-than-average volume.
Early on Thursday (July 19) gold dipped to nearly $1,210 just after 8 a.m. on the DXY rally that took it to 95.59 by 8:40 a.m.
But things reversed that afternoon.
U.S. President Donald Trump told CNBC, "I don't like all of this work that we're putting into the economy and then I see rates going up... Because we go up and every time you go up they want to raise rates again. I don't really - I am not happy about it. However, at the same time, I'm letting them do what they feel is best."
Gold then popped from $1,216 to $1,228 in under an hour before settling back to $1,222.
By Friday (July 20) morning, more Trump comments would shake the dollar and gold. In a CNBC interview, he said he was ready to up tariffs on Chinese goods to $505 billion. The DXY lost about 60 basis points, and gold popped, this time to $1,232, around 8:30 a.m.
Take a look at the DXY's movement over the last week here...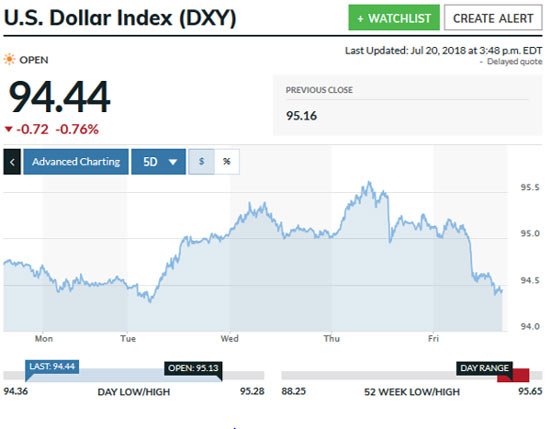 Then President Trump tweeted, "... Tightening now hurts all that we have done. The U.S. should be allowed to recapture what was lost due to illegal currency manipulation and BAD Trade Deals. Debt coming due & we are raising rates - Really?"
The DXY lost more than 100 basis points from Thursday's highs, and gold climbed to close at $1,231.
That might be the crucial trigger we needed to bottom gold prices and start the next gold rally.
Here's what I think is in store for gold prices this year...
What a Bottom Means for My Gold Price Target for 2018
Join the conversation. Click here to jump to comments…
About the Author
Peter Krauth is the Resource Specialist for Money Map Press and has contributed some of the most popular and highly regarded investing articles on Money Morning. Peter is headquartered in resource-rich Canada, but he travels around the world to dig up the very best profit opportunity, whether it's in gold, silver, oil, coal, or even potash.