Stunning: New innovation will be like "adding twin turbos to the Bitcoin engine" – and could send its price to $100,000. Learn more…
The price of Bitcoin is now up 20% so far in July, and it's closing in on $8,000 per coin.
However, the rally is just getting started…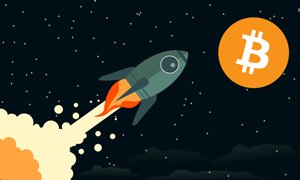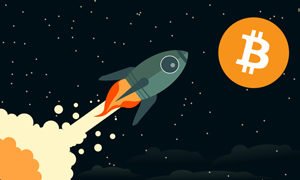 Three analysts believe Bitcoin prices could climb above $20,000 by the end of 2018.
Marie-Antoinette Tichler of C2Legacy Technologies believes that BTC prices will reach $20,863 by Dec. 31, 2018.
Fred Schebesta of Finder.com believes BTC prices will reach $22,500 by the end of the year, and Joerg Molt of Satoshi School has an even bolder Bitcoin price prediction.
He believes prices will climb to $25,000.
From today's (July 23) price of $7,694.48, that's a potential profit of 224%.
"There are still three things on: Mt. Gox, Regulators, and Hacks. Investors don't understand Bitcoin as money, so they leave Bitcoin as fast as they jumped in. But the real market value of BTC will grow," Molt told Finder.com.
Here is a recap of the top five cryptocurrencies by market cap as of 9:30 a.m. ET:
| | | | |
| --- | --- | --- | --- |
| Cryptocurrency | Market Cap | Price | Change (24h) |
| Bitcoin (BTC) | $132,083,343,652 | $7,694.48 | +3.23% |
| Ethereum (ETH) | $46,634,129,090 | $462.32 | -0.82% |
| Ripple (XRP) | $17,791,133,087 | $0.452520 | -0.35% |
| Bitcoin Cash (BCH) | $14,015,879,350 | $812.39 | +2.02% |
| EOS (EOS) | $7,270,684,867 | $8.11 | -0.24% |
Now here's a closer look at the top cryptocurrency stories of the day…
The Top Cryptocurrency Stories for July 23
Coinbase is preparing to donate to political candidates in upcoming elections. According to CoinDesk.com, the crypto exchange formed a Political Action Committee (PAC) in June. The PAC currently isn't attached to any candidate running for office, but it's important to note a crypto exchange will soon have the ear of political candidates.
Will Amazon.com Inc. (Nasdaq: AMZN) accept crypto payments? Rumors about the e-commerce giant accepting cryptocurrencies popped up on Reddit.com again. An anonymous software engineer said that the Amazon team has held multiple discussions about accepting Bitcoin. We will keep Money Morning readers in the loop if news that is more concrete develops.
Finally, a city in China has just launched a $1.48 billion blockchain investment fund. The fund in Nanjing City aims to use blockchain technology for cross-border payments, healthcare, energy, intellectual property, and environmental protection. It will also help blockchain companies move their base to the city, according to ZDNet.com.
See Why Bitcoin Is Far from Dead (and How It Could Make You a Millionaire)