If you don't have time to research the over 15,000 penny stocks available, you're not alone. By popular demand, we are giving Money Morning readers our list of the three best penny stocks to buy in Q3.
While penny stocks are known for their low liquidity and volatile price swings, penny stocks can still be profitable investments if you make the right picks.
Just last month, we uncovered a social network company flying under the radar. It was trading near $3 a share, then soared 158% in only one week of trading. This is just one example of how to make money with penny stocks.
Don't Miss: This secret stock-picking method has uncovered 217 double- and triple-digit peak-gain winners since 2011. Find out how it's done...
But investing in penny stocks can still be risky. There are plenty of penny stock scams designed to do nothing more than to take your investment dollars. Falling for a pump-and-dump scheme could leave you holding worthless shares in the long term.
Fortunately, we have developed a method to identify the top penny stocks to watch with our Money Morning Stock VQScore™ .
Our top-rated stocks are some of the most profitable companies on the market, and they meet our criteria showing serious growth potential.
One of the penny stocks on our list boasts potential gains of over 40% in the coming year.
If you're ready to buy penny stocks, here is our list of the best penny stocks for Q3...
Best Penny Stocks to Buy in Q3, No. 3: Mizuho Financial Group
Sign up for SMS so you never miss special events, exclusive offers, and weekly bonus trades.
Mizuho Financial Group Inc. (NYSE:
MFG
) is a Tokyo-based bank holding company that is now Japan's second-largest financial services company.
Mizuho controls assets worth more than $1.8 billion, which puts the company just after Mitsubishi UFJ Financial Group Inc.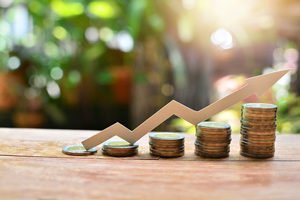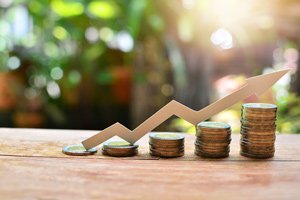 The company's profitability is derived from its diversity. It segments its financial services business among corporate investment, retail banking, financial strategy, and global asset management.
By spreading its revenue across four diverse financial services, Mizuho is able to insulate its business against the volatility that can impact these types of companies when markets become turbulent. This also allows Mizuho to tap into a variety of profit centers throughout the finance industry.
The company's bottom-line results reflect this diversity. In 2018, Mizuho reported an increase of $57 million in its gross profit and a 2% boost in earnings in just one year.
MFG stock currently trades at $3.34 per share. Analysts expect that shares could trade at $4 by the end of 2018, representing a 19.76% gain for today's investor.
Plus, it boasts a perfect VQScore of 4, meaning it's the perfect buying opportunity.
While this is one of the top penny stocks to buy, our next pick is even more promising...
Best Penny Stocks to Buy in Q3, No. 2: Turquoise Hill Resources
Turquoise Hill Resources Ltd. (NYSE: TRQ) is a Canada-based development and mineral exploration company.
Based in British Columbia, Turquoise Hill focuses on developing several large mines in the Pacific Rim. Specifically, it has operations in Mongolia, which is one of the world's largest gold porphyry and copper deposits.
The company has smashed earnings estimates over the past four quarters, beating estimates by an average of 225%. It has also invested heavily in the global expansion of its mining operations.
These reinvestments into the operations have enabled the company to release some aggressive production estimates for the current year. In 2018, it expects to produce 280,000 tons of gold and up to 155,000 tons of copper.
The company recommitted to these estimates in June and stated that it has the capacity to beat them.
TRQ recently experienced a share-price drop after its long-time CEO, Jeff Tygesen, retired. This presents a unique buying opportunity for investors.
With a perfect VQScore, we agree.
TRQ is now trading at $2.81, but analysts expect that shares could hit $4.00 in the short term. This represents 42.34% gains for investors.
Our last penny stock is an international steel company that could produce even better gains...