Investors are all too aware of how hard it is to make money in the stock market right now.
The Dow Jones is up a measly 2.1% on the year.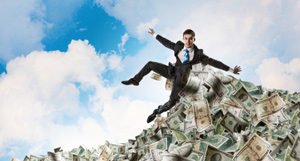 Facebook Inc. (Nasdaq: FB), the darling of Wall Street, plummeted 20% in less than a week.
In 2018 alone, the Fed is on track to hike interest rates four times, pulling much-needed liquidity out of the market.
But we won't stand by and allow Money Morning readers to watch their hard-earned money be flushed down the toilet.
We've uncovered a way you can make up to $1,795 every single month thanks to a backdoor investment…
How to Receive Your First "Federal Rent Check" in 2018
The U.S. government is legally required to pay rent for 9,600 buildings this year. That money is funneled into the $11.1 billion Federal Buildings Fund.
Sounds like a fun fact to know for Jeopardy, but here's where things get interesting.
And profitable…
The law requires portions of this money to be sent to "private sector agencies," which then distribute much of it.
And there is a way for you to get a "Federal Rent Check" every month from these "private agencies"…
Public Law 92-313 helped create an opportunity for you to capitalize on the greatest path to self-made wealth that has ever existed.
Real estate.
However, this isn't a normal real estate deal.
You never have to purchase a property or land to collect Federal Rent Checks.
Also, you don't have to bang on doors to get paid. Because, in a way, you've already been serving as a landlord to the U.S. government.
Without realizing it, you've been paying your taxes so government agencies can have roofs over their heads.
You just weren't reaping the benefits.
Now is the time to change that.
We're going to take you through this investment, point by point, as quickly as possible.
Because this money is getting scooped up left and right.
So let's make sure you get your name on the distribution list before you lose out on massive profit potential.
Follow Money Morning on Facebook, Twitter, and LinkedIn.