With the world's oldest profession already staked out, there are many competitors for second oldest.
Leading claimants include spies and politicians, but that can't be right. In order to have spies and politicians, there has to be an army to spy on.
Unfortunately, the military and the job they do – namely, fighting wars – has been with us pretty much since the dawn of time. The first recorded battle was the Battle of Megiddo 15 years before the birth of Christ, but anthropologists have gathered lots of anecdotal evidence of tribal battle centuries before someone thought to write down the details.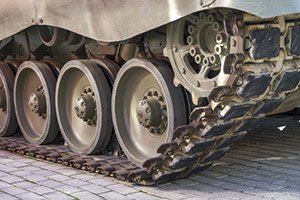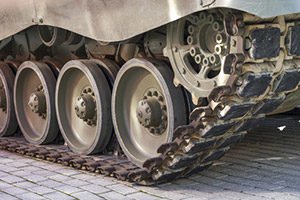 Let me be clear: I think war is the single dumbest invention and habit ever developed by humanity. Killing each other over land, religious principles, commodities, or any of the other epically stupid reasons we have invented for war is asinine.
Unfortunately, as long as there are nations, states, religions, political parties, tribes, or any other collective group of humans, there will always be one group that wants to force their will upon another or simply take what they have.
It is a truly horrible idea, but at times it is necessary to fight back to preserve your freedom or way of life.
What can we do about it? Not one damn thing. We can sing songs, put flowers in our hair, hold rallies, wave signs, make movies, form drum circles, or engage in Gregorian chanting outside the homes of political leaders, and it will not make a bit of difference. There will always be bad actors on the world stage willing to slaughter people to attain their desires, so war is pretty much a permanent part of the human condition.
I wish I were wrong, but I am not.
Powerful Investment Income Stream: The Treasury is sitting on an $11.1 billion money pool. By adding your name to a special distribution list, you could begin collecting $1,795 or more every month. Get the details…
That cold reality is why War, Terrorism, and Ugliness is one of Money Morning Chief Investment Strategist Keith Fitz-Gerald's six Unstoppable Trends. As much as we wish war would go away, it won't.
Billions of dollars will be spent to keep the U.S. military strong enough to discourage the bad actors from trying to impose their will on their neighbors or expand their territory by force of arms. The War on Terror is not going away anytime soon, and a strong military is a vital part of preventing future attacks. Global military spending reached $1.7 trillion in 2017 alone.
And while we may not like war, we might as well profit from the buildup.
While there's no shortage of military and defense stocks you can invest in, only a handful are worth your money.
That's why I've uncovered two stocks plugged into this trillion-dollar behemoth of an industry with the potential to return unreasonably high gains…
These 2 Defense Stocks Need to Be On Your Radar
Join the conversation. Click here to jump to comments…
About the Author
Tim Melvin is an unlikely investment expert by any measure. Raised in the "projects" of Baltimore by a single mother, he never attended college and started out as a door-to-door vacuum salesman. But he knew the real money was in the stock market, so he set sights on investing - and by sheer force of determination, he eventually became a financial advisor to millionaires. Today, after 30 years of managing money for some of the wealthiest people in the world, he draws on his experience to help investors find "unreasonably good" bargain stocks, multiply profits, and build their nest eggs. Tim tirelessly works to find overlooked "hidden gems" in the stock market, drawing on the research of legendary investors like Benjamin Graham, Walter Schloss, and Marty Whitman. He has written and lectured extensively on the markets, with work appearing on Benzinga, Real Money, Daily Speculations, and more. He has published several books in the "Little Book of" Investment Series and a "Junior Chamber Course" geared towards young adults that teaches Graham's principles and techniques to a new generation of investors. Today, he serves as the Special Situations Strategist at Money Morning and the editor of "Max Wealth" and Heatseekers.