Our latest list of the best stocks to buy brings together five stocks our investing experts have recommended over the last year. Each of these stocks have received a top score by our Money Morning Stock VQScore™ system, indicating that they are undervalued and poised to rise.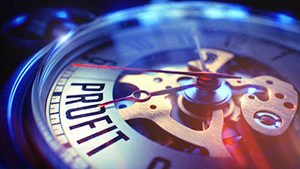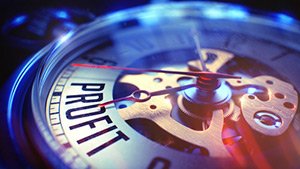 Here's a glimpse at the stocks we'll be sharing with you today:
A pick-and-shovel play on smartphones and other devices that manufactures equipment used by tech companies all over the world
A stock that doesn't look flashy, but provides essential services that literally everybody needs and has implemented impressive innovations to generate even more profits
One company that suffered a PR setback a few months ago and is about to bounce back as it puts customers first and rolls out a loyalty program that's the envy of the retail world
A Fortune 500 beverage company that has entered the legal cannabis market just in time for legalization in Canada
An unloved automaker that has been identified by a Wall Street insider as drastically undervalued – just like we already pointed out
Now for our five latest best stocks to buy now…
Best Stocks to Buy Now, No. 5: The Best Pick-and-Shovel Play on Apple and Google
California's Silicon Valley regularly churns out the most advanced technology the world has ever seen. But in some ways it's not much different from the wild frontier of the California Gold Rush in the mid-1800s.
Everybody's racing to get to the next tech breakthrough and strike it rich.
As an investor, you can always guess who's going to win that race. Or you can focus on the supplies they need – like picks and shovels in the Gold Rush – and get rich no matter who wins.
Today the picks and shovels for high-tech gadgets are semiconductor chips and the equipment used to produce them.
Every electronic gadget you use – be it a smartphone, tablet, computer, or a dashboard display in your car – has a semiconductor chip in it. So no matter who made it, they had to go to one of only a few chip manufacturers. And those chipmakers had to get their equipment from an even more limited number of producers.
One of the biggest producers is Lam Research Corp. (Nasdaq: LRCX).
In fact, Lam doesn't just provide to the tech industry in California. In its most recent fiscal year, the company made $7 billion in sales to Asia. So even when it comes to international competition in technology, this pick-and-shovel play has shareholders covered.
Since Money Morning Defense and Tech Specialist Michael Robinson recommended LRCX in June of last year, it's up an impressive 31%. But looking at the metrics, this stock is still undervalued.
The company just beat earnings expectations for the 24th straight quarter, and earnings per share has risen 79% this year.
Its price/earnings (P/E) ratio for the last 12 months is 25% lower than the industry average. And it just boosted its dividend by 120%. That gives it a 2.4% yield, which is 150% better than the industry average.
That's all while keeping its dividend payout ratio at a paltry 18.46%.
This suggests that LRCX has a lot more climbing to do. And it confirms what Michael said last year when he called Lam a "great foundational holding… that will hand you returns for years to come."
Best Stocks to Buy, No. 4: This Must-Have Stock Isn't Flashy, but You Can Buy It and Hold It Forever
While the rest of the market is busy speculating on the next mobile app or wearable device, our next pick keeps delivering steady gains by providing essential services that never go out of fashion.
After all, you're not going to stop throwing out your trash any time soon. And neither is anybody else.
For Waste Management Inc. (NYSE: WM), your trash is its treasure.
With more than 21 million customers, WM is the largest provider of waste management and residential recycling services in North America.
According to CSIMarket, Waste Management holds the largest market share in the United States for every major segment of environmental services – and a 37% share overall. That's compared with a 22% share for its top competitor.
But the moneymaking opportunities don't stop when the trash is picked up. WM is also a leader in converting trash to LNG fuel that can go into its truck fleet or even into natural pipelines or local electric grids.
Billions Are Now in Play: Millions of Americans could collect "Federal Rent Checks" – to learn how to claim your portion of an $11.1 billion money pool using this backdoor investment, click here now…
In other words, Waste Management is not just a trash company. It's also an energy company. It's solving one of humanity's more pressing problems – how to deal with a growing population using the same amount of space – by turning it into a new resource for communities and more profits for shareholders.
WM's dividend has increased in 14 consecutive years and currently yields a solid 2.26%. But that stable income generation hasn't kept WM from being a growth stock. The stock has risen 93.5% over the last five years, compared to 66.2% for the S&P 500.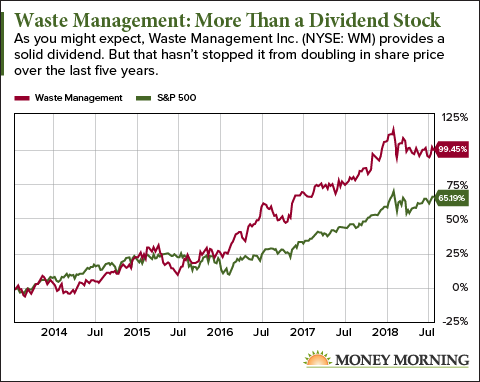 Those gains worked out well for subscribers to Money Morning Chief Investment Strategist Keith Fitz-Gerald's High Velocity Profits service.
Last November, Keith recommended a Jan. 19 call option on WM. He recognized that it was a great stock, and an option trade allowed subscribers to put up a relatively small amount of money and enjoy big, fast gains if it did well.
That's exactly what happened. By the time the options expired, about two and a half months after the initial recommendation, they had gained 275% in value.
Don't worry. There's plenty more fuel to propel this stock upward in the coming months and years. And if you want to go for truly quick profits, a call option may be the way to go.
But if you'd rather have a stock you can hold onto forever – or as long as people keep producing trash – Waste Management is exactly that.
Best Stocks to Buy, No. 3: This Company Is About to Bounce Back from a PR Setback
Join the conversation. Click here to jump to comments…
About the Author
Stephen Mack has been writing about economics and finance since 2011. He contributed material for the best-selling books Aftershock and The Aftershock Investor. He lives in Baltimore, Maryland.