Stock are at their highest valuations since the 2008 crisis.
This strategy is your key to unlocking triple-digit gains even when valuations soar.
Stock prices shattering record highs are usually great for your portfolio, but an overheating market makes it even trickier for investors to find the right stocks to buy.
After all, buying in during the market's peak is a recipe for the most disastrous mistake in investing: buying high and selling low.
That's why CNBC found just 17% of millionaires will be adding to their stock holdings this year.
Billions Are Now in Play: Millions of Americans could collect "Federal Rent Checks" - to learn how to claim your portion of an $11.1 billion money pool using this backdoor investment, click here now...
Unfortunately, they're making a huge mistake.
And while the super wealthy might be able to coast along on their bank accounts, the rest of us simply can't accept middling returns. Even if valuations are through the roof.
Let's take a look at what's going on, and how you can get an edge...
Why Some Investors Are Moving to Cash - And Why That Could Cost Them
Valuation metrics simply tell us how much bang for your buck you're getting for each stock. It tells you if you're paying too much - or too little - for a stock compared to the rest of the market.
Investors are leery of overpriced stocks because they think the stock has no room to run higher. Others think high valuations across the board portends a drastic downturn in the future.
Take a look at how some of the most common valuation metrics compare to the stock market in 2007, just before recent market downturns...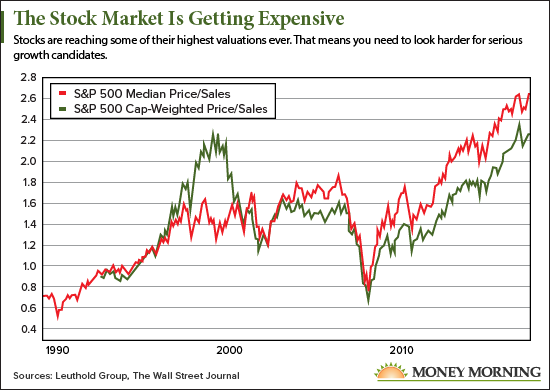 As you can see, the S&P 500 Median Price/Sales is nearly double its level in 2007, and the S&P 500 Cap-Weighted Price/Sales is right at its Dot-Com Bubble height.
With valuations soaring to pre-crisis levels, and even higher, it's no wonder rich investors are pulling their money out of the market.
They are content with waiting for valuations to return to earth before buying back in again.
But just because a few stocks are pulling up the averages to record-highs doesn't mean there are no stocks worth buying.
In fact, you can find some of the best growth stocks on the market for bottom-barrel prices right now.
By following this strategy, you could bag triple-digit gains even while the market shatters valuation records...
How to Find Huge Gains No Matter What the Market Is Doing