Clean energy is going to make savvy investors rich, as the global solar power market will skyrocket from $86 billion in 2015 to $422 billion in 2022.
That's a 390% climb in just seven years.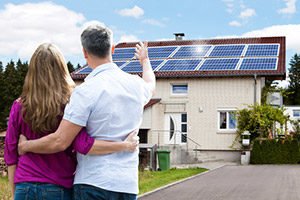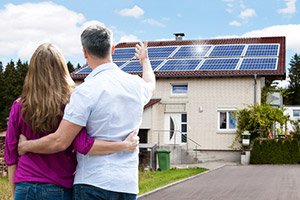 And fortunately, it's not too late to join the party.
Thanks to our proprietary stock evaluation system, we've uncovered the best solar stock to play this $420 billion solar energy revolution...
Vivint Solar Inc. (NYSE: VSLR) has been one of the most talked-about solar stocks on the market since its IPO on Oct. 1, 2014.
It was even in merger talks with SunEdison Inc. But SunEdison was rocked by scandal after the company's financial disclosures were flagged as misleading. The merger was called off when SunEdison couldn't produce the cash and instead filed for bankruptcy and delisted its stock from the NYSE.
Shares of Vivint Solar took a hit after the failed merger with SunEdison.
But that's great news for us.
VSLR is one of the best solar stocks you can buy, and you can buy it for a steal thanks to Wall Street's shortsightedness.
In fact, we have three reasons to buy VSLR right now, including its potential to double your money...
Reasons to Buy VSLR, No. 3: The Blackstone Group Is a Backer
Vivint Solar has a long history with one of the top institutional investors in the world: Blackstone Group LP (NYSE: BX). The private-equity giant - with more than $434 billion under management - purchased Vivant in 2012.
After taking it public in 2014, the company owned 71% of VSLR.
Even though the stock price fell from $16 per share in 2014 to its current price of $5.40, Blackstone never sold a share.
How to Profit off This $11.1 Billion Money Pool: By following a few simple steps, one IRS directive could help set you up to receive checks of up to $1,795 every single month thanks to a genius investment. Learn more...
That's a sign Blackstone is in this investment for the long haul.
If the equity giant wants to get paid, it will need to see this stock get back above $16.
With Blackstone helping to direct Vivint Solar, investors have the security of knowing that one of the top private equity shops on the planet has skin in the game.
And the next reason we're bullish on VSLR is its position as a leader in the growing solar industry...
Reason to Buy VSLR, No. 2: Impressive Stats
The company is one of the top solar firms with an emphasis on consumer installations. In fact, Vivint has the nation's second-largest residential solar power portfolio.
Across 21 states, Vivant puts residences under long-term contracts and installs solar systems in their homes.
And installations aren't slowing down...
In Q2, installations totaled 6,678 - a 14.88% increase from the 5,813 in Q1.
Also, Vivint announced on Aug. 3 that it's teaming up with one of the largest U.S. homebuilders to install its solar energy systems on the homebuilders' new homes in southern California.
California's energy efficiency standards will require solar energy systems for new homes beginning in 2020.
There's 80,000 new homes built in California each year, according to The San Diego Union-Tribune.
If Vivint can corner just 25% of that market in 2020, that's 20,000 homes that will need its solar energy systems.
Everything looks promising for this company, and there's a formula that shows why you need to own this solar stock right now...
Reasons to Buy VSLR, No. 1: A Perfect VQScore