One of the primary indicators in my Best in Breed (BIB) analysis is short interest.
In fact, one of my Trading Commandments is "Short sellers are usually a bull's best friend." That's why I've delivered so many short interest--driven profit plays here on Money Morning.
Why do I love short interest? Because when it climbs above a certain threshold, it usually provides the catalyst for strong rallies.
Short interest is the sum of all shorted shares on a stock that have not been covered, or closed out, by buying back the stock.
The problem for the shorts - the bears - arises when the stock "moves against their expectations" (i.e., goes up).
That's when short sellers are forced to "cover" their losing positions on a stock. This results in unusually strong buying volume - known as a "short squeeze" - that drives a stock price higher.
The outcome is a stock typically making an unusually fast move higher. And it's these types of moves that generate oversized profits... if you can spot the short squeeze before it happens.
In my Best in Breed analysis, I screen for technically strong stocks in strong sectors. But of course, I'm more interested in whether that strength will continue.
High short interest is a good indicator that suggests the strength should last. That's because a strong uptrend typically unleashes a rush to the exits, when the shorts look to unload their losing positions.
That's when the short squeeze fires on all cylinders and the stock is propelled higher by both the technicals and the enhanced buying pressure.
Running my Best in Breed scans this morning, I found two opportunities that fit the bill.
Both have a high short-interest ratio (the number of shorted shares divided by the number of tradable shares, or the float; I consider anything above 6 to be "high") and both in strong uptrends. That should send the bears into a panic just about any day now, delivering us some juicy gains in the process.
Let's take a look...
[mmpazkzone name="in-story" network="9794" site="307044" id="137008" type="4"]
Even a Mixed Earnings Report Couldn't Stop This Monster's Rally
First up is Iridium Communications Inc. (Nasdaq: IRDM), a provider of satellite communications for mobile voice and data based in McLean, Va.
On July 31, the company reported second-quarter earnings that missed on profits but beat on revenue. More importantly, Iridium raised its revenue growth rate from its previous outlook.
The stock initially dropped on the news but then quickly rebounded off the support of its rising 50-day moving average. More impressively, the shares proceeded to set all-time highs on five of the subsequent six trading days, using the 20-day moving average for support in the process.
The Best (and Most Profitable) Way to Prepare for Earnings Season: 1,866 publicly traded companies are preparing to report their earnings announcements. That means with the right strategy, you can anticipate the seismic price eruptions powerful enough to deliver life-changing profits. Go here to see how it's done.
The latest surge comes on the heels of a huge rally that has packed on more than 70% gains in the past three months alone.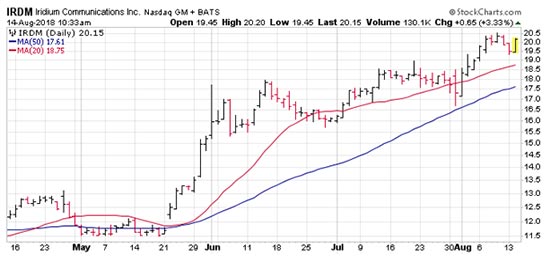 The technicals are undoubtedly eye-catching, very strong. But what impresses me more is - you guessed it - Iridium's short-interest picture.
Remember, I like a short-interest ratio above 6. Well, the short-interest ratio in IRDM shares stands at a robust 18, three times higher than my threshold, meaning there are more than enough shorted shares to spur the short covering that would add rocket fuel to Iridium's current ascent.
But here's the thing: The short covering is already in progress.
In fact, short interest has been sharply declining since March. Yet there's still plenty left to be bought back, which will continue to add buying pressure.
What's more, Iridium's been given a lukewarm reception by analysts. Five of eight covering analysts rate Iridium a buy, meaning the stock should benefit from upgrades and new coverage.
The bottom line is that Iridium has been a monster, and its rally is showing no signs of stopping, not even with a mixed earnings report.
A shrewd analyst - they're out there - should pick up on the short-interest ratio and hop on the Iridium bandwagon, adding yet more fuel for new, higher highs.
You definitely want to be in front of this stock when it happens.
This next company, too...
Here's a "Wild Card" Stock in a Strong Uptrend
High short interest is leading me to DSW Inc. (NYSE: DSW), a footwear retailer operating more than 500 stores in 44 states that should be familiar to most mall-goers.
After trading sideways from October through April, DSW has been on a tear, gaining more than 35% in less than four months. In fact, the shares hit a two-year high this morning.
Stunning Video Footage: Watch this guy become $4,238 richer in under a minute - then follow his simple instructions to learn how you could pocket a potential $2,918 in just one move. Click here...
The stock's current rally has been well-supported by the 20-day moving average, with the 50-day lending a hand on any pullbacks.
In fact, the shares have not closed a day below their 50-day moving average since it turned higher five months ago.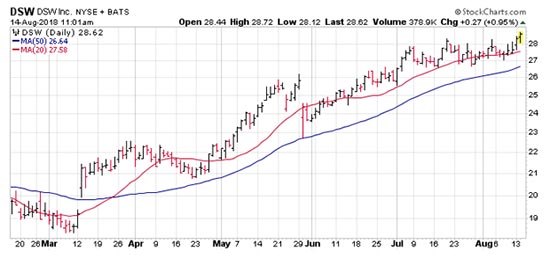 My Best in Breed analysis is showing that DSW is a strong stock in a strong consumer discretionary sector.
And wouldn't you know it, the Consumer Discretionary Select Sector SPDR ETF (NYSE Arca: XLY) has easily outdistanced the S&P 500 this year, and DSW is one of XLY's outperformers, especially since early March.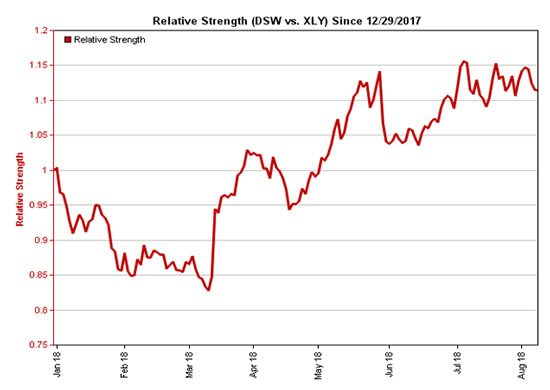 DSW's short-interest picture is much like that of Iridium - declining, but still abundant, short interest there. Short interest has been on a pronounced decline since November, although it ticked slightly higher in June and July.
The short-interest ratio is still ample at 8.5, meaning there is excellent potential for further short covering, especially if the recent small increase in the shorts continues.
Analysts appear indifferent toward DSW, as the configuration of just four buys among 15 ratings has changed little in recent months.
What's more, the consensus price target is about 13% below the current share price. However, the stock did receive a price target boost from one analyst yesterday, so maybe more will catch on to DSW's recent strength.
The one wild card with DSW is its upcoming earnings report on Aug. 21. But based on recent history, that shouldn't be an impediment to DSW's uptrend. Typical moves after earnings are muted and usually do not affect the "incumbent" trend, either up or down.
DSW's uptrend is technically strong, and it's backed by robust short interest and an analyst community that needs to wake up and appreciate the stock's strength.
When that happens, DSW, like Iridium, will be a fixture on the "stocks hitting 52-week highs" list. Again, this is a stock every savvy investor should be out in front of.
This Trader Is Betting It All He Can Show You How to Turn $5,000 into AT LEAST $174,500
Chris Johnson is on pace to see 3,390% total winning gains this year.
And now, he's guaranteeing his recommendations will give you the chance to do the same.
If not, he's working for free.
So mark your calendar for one year from today...
Set a reminder on your phone...
And click here to learn how to join right now.
Follow Money Morning on Facebook, Twitter, and LinkedIn.
About the Author
Chris Johnson is a highly regarded equity and options analyst who has spent much of his nearly 30-year market career designing and interpreting complex models to help investment firms transform millions of data points into impressive gains for clients.
At heart Chris is a quant - like the "rocket scientists" of investing - with a specialty in applying advanced mathematics like stochastic calculus, linear algebra, differential equations, and statistics to Wall Street's data-rich environment.
He began building his proprietary models in 1998, analyzing about 2,000 records per day. Today, that database, which Chris designed and coded from scratch, analyzes a staggering 700,000 records per day. It's the secret behind his track record.
Chris holds degrees in finance, statistics, and accounting. He worked as a licensed broker for 11 years before taking on the role of Director of Quantitative Analysis at a big-name equity and options research firm for eight years. He recently served as Director of Research of a Cleveland-based investment firm responsible for hundreds of millions in AUM. He is also the Founder/CIO of ETF Advisory Research Partners since 2007, noted for its groundbreaking work in Behavioral Valuation systems. Their research is widely read by leaders in the RIA business.
Chris is ranked in the top 99.3% of financial bloggers and top 98.6% of overall experts by TipRanks, the track record registry of financial analysts dating back to January 2009.
He is a frequent commentator on financial markets for CNBC, Fox, Bloomberg TV, and CBS Radio and has been featured in Barron's, USA Today, Newsweek, and The Wall Street Journal, and numerous books.
Today, Chris is the editor of Night Trader and Penny Hawk. He also contributes to Money Morning as the Quant Analysis Specialist.