Thanks to Square Inc. (NYSE: SQ), cryptocurrency enthusiasts in all 50 U.S. states can now buy and sell Bitcoin.
Before the Aug. 13 announcement, SQ did not offer Bitcoin purchasing in New York, Georgia, Hawaii, or Wyoming, according to CoinDesk.com.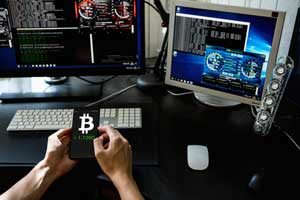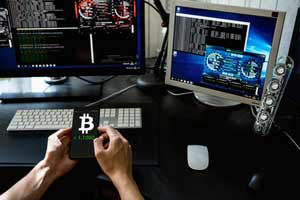 Square generated $37 million in revenue in Q2 from Bitcoin, netting a profit of $420,000 from transactions.
Don't Buy Bitcoin Until You See This: Tom Gentile just shared an urgent video giving the name of a cryptocurrency he thinks could surge in the very near future. Click here to see his crypto trade recommendation now...
Here is a recap of the top five cryptocurrencies by market cap as of 1 p.m. ET:
| | | | |
| --- | --- | --- | --- |
| Cryptocurrency | Market Cap | Price | Change (24h) |
| Bitcoin (BTC) | $112,902,789,906 | $6,559.81 | +8.14% |
| Ethereum (ETH) | $30,706,620,126 | $303.00 | +17.16% |
| Ripple (XRP) | $11,813,768,855 | $0.300052 | +15.41% |
| Bitcoin Cash (BCH) | $9,264,409,946 | $535.69 | +10.28% |
| EOS (EOS) | $4,409,860,495 | $4.87 | +12.38% |
The Top Cryptocurrency Stories for Aug. 15
Coinbase CEO Brian Armstrong has warned that we are still in the early stages of the crypto revolution. "This technology is going through a series of bubbles and corrections, and each time it does that, it's at a new plateau," Armstrong told Bloomberg. The Coinbase CEO believes people's expectations are all over the map, but he also said real-world adoption has been going up.
Venezuela wants to launch a bank for cryptocurrencies, according to CCN.com. The move is a strategy to attract foreign investment and bypass international sanctions. U.S. President Donald Trump has banned American citizens from purchasing Venezuela's cryptocurrency, the Petro.
The CEO of CBOE Global Markets Inc., Chris Concannon, is cautiously optimistic that his company will win approval from the U.S. Securities and Exchange Commission (SEC) to list the first Bitcoin ETF. The SEC has delayed its ruling on proposals from SolidXPartners Inc. and VanEck Associates Corp. to list on the CBOE. A Bitcoin ETF would create a flood of new money entering the market.
Man Crushes S&P 500... Now He's Taking on Crypto