Turkey's currency crisis isn't the financial bombshell Wall Street thinks it is.
The market's recent pullback is the beginning of a spectacular profit opportunity.
---
Over the last week, Turkey's currency crisis sent waves through global financial markets, rattling Wall Street and pushing all major indexes into the red.
On Wednesday (Aug. 16), the Dow fell as much as 270 points while the Nasdaq fell 1.2% as investors sold stocks.
When major indexes drop like this, it's normal to wonder if this is the beginning of a long-term sell-off.
However, there's no reason to panic.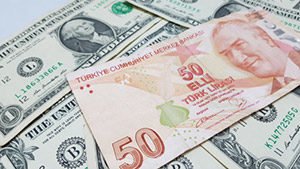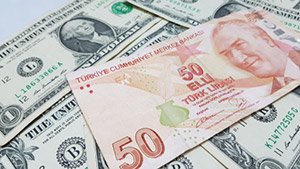 While there is a chance that Turkey's economic troubles could spread to global markets, stocks are likely pulling back for a much different reason.
In fact, it's setting Money Morning readers up for a tremendous buying opportunity...
Turkey Is Unique Among Emerging Markets for All the Wrong Reasons
Sign up for SMS so you never miss special events, exclusive offers, and weekly bonus trades.
Concern over Turkey's currency collapse revolves around the possibility of "contagion" - the idea that Turkey's economic instability could spread to other emerging markets.
This is certainly possible. Already, Indonesia's rupiah, Mexico's peso, and South Africa's rand have all recorded minor depreciation as Turkey's situation continues to deteriorate.
You see, Turkey is one of several emerging market countries that rely on foreign, dollar-denominated borrowing to prop up their growth.
Life-Changing Profit Potential: One tiny firm is rapidly developing the parts for a game-changing technology - and the gains from its stock, trading for less than $10, could turn every $1,000 invested into $4,719. Learn more...
Rising American interest rates have put pressure on the economic health of these nations as they struggle to keep inflation in check. As a result, Turkey's recent crisis could be emblematic of the troubles creeping up on other emerging markets.
However, there is strong evidence that Turkey's currency crisis is an isolated case, unlikely to spark a "domino effect" across other developing economies.
The truth is few other developing countries are plagued by the magnitude of debt Turkey faces.
Turkey has one of the largest current-account deficits of any emerging market. When a current account is in the red, it means that a country is spending more on imported goods than it takes in from sending goods abroad.
This makes Turkey highly dependent upon capital flowing into the country - any minor change is this flow is likely to rattle the nation's domestic markets.
Turkey's current account deficit is on track to hit $49 billion this year, a 53% increase from just three years ago. Compared to other emerging markets, only India is projected to run a greater current account deficit.
However, India's economy is three times the size of Turkey's. So, India is expected to absorb this deficit in a way Turkey cannot.
Turkey has also financed this deficit by borrowing extensively in foreign currencies. According to the Institute of International Finance, Turkey has more private-sector borrowing in foreign currency than any other major emerging market.
These twin debt loads make the "Gateway to Asia" uniquely susceptible to the kind of economic turmoil investors have witnessed over the last week.
However, the question remains - if Turkey's unique case makes contagion unlikely, why are American stocks seesawing between steep declines and fresh gains?
The answer is simpler than you think...