Earnings season may be winding to a close, but it isn't dead yet. In fact, there are 20 S&P 500 companies on the docket this week.
One sector seeing a considerable amount of activity this week is retail, with 15 (about 20%) of the SPDR S&P Retail Index (NYSE Arca: XRT) reporting.
Although several big names have already had their turn in the earnings confessional - including Walmart Inc. (NYSE: WMT), Macy's Inc. (NYSE: M), and Home Depot Inc. (NYSE: HD) - this week has a respectable lineup with the likes of Kohl's Corp. (NYSE: KSS), Lowe's Companies Inc. (NYSE: LOW), and Target Corp. (NYSE: TGT).
Earnings can be a tricky trade, as there are many moving parts.
Of course, there are earnings and revenue and their accompanying analyst expectations. Then there's the guidance that some companies choose to provide.
And many companies have distinct metrics that grab the Street's attention, such as specific product sales (e.g., iPhones), subscriber growth for cell providers, or same-store sales in the retail space.
Beyond that, of course, is how the market reacts to all this information. That can be the trickiest part of all, as results may beat expectations but still not live up to investor expectations.
We often see this for stocks that have run up into earnings, only to fall back on a solid report that failed to beat estimates by a wide enough margin.
While I usually trade stocks before earnings, I also like the post-earnings play. By taking the uncertainty of earnings and the subsequent reaction out of play, I can rely on my tried and true indicators that underlie my Best in Breed (BIB) methodology.
With that in mind, my BIB model identified two stocks that should outperform the broader retail sector over the next month.
One is a well-known name that just reported this morning. The other you may not be as familiar with, though it is a no less bullish play than the first stock.
Let's take a look...
[mmpazkzone name="in-story" network="9794" site="307044" id="137008" type="4"]
This Stock Has More Than Doubled Over the Past Year, but Nobody Seems to Have Noticed
We'll start out with one of today's earnings standouts - Kohl's. Before the bell today, Kohl's was three for three in terms of beats - profit, revenue, and guidance.
And it also easily beat the same-store sales growth estimate. Yet the stock's initial reaction was lower in the first half hour of trading. But by mid-afternoon, the stock had recovered to hit a record high at $80.
Kohl's is one of those stocks everyone has heard of but doesn't really follow. And that's too bad, since the shares are up a whopping 127% going back a little more than a year to the June 2017 low.
That's better than Apple and Amazon, which is hard to believe.
LIVE ON CAMERA: Watch America's No. 1 Pattern Trader officially become $1,050 richer in 15 seconds! His secret to becoming a multimillionaire is so easy that anybody can do it. Click here for details...
The shares are currently bouncing off the support of their 50-day moving average, which has ably contained recent pullbacks.
What's more, today's strength has taken out potential multi-top resistance from peaks in June 2018, April 2015, April 2007, and May 2002.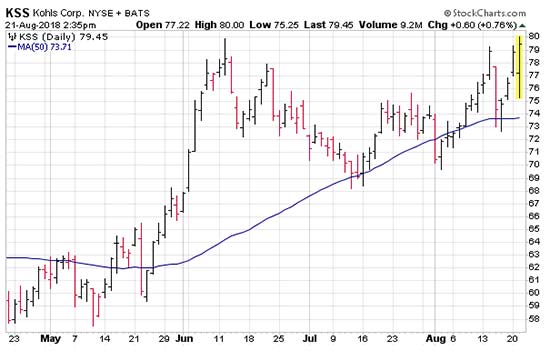 But as surprising as the recent performance has been, what really blows me away is the high level of short interest on the stock.
In fact, the short interest ratio has ballooned from below 5 to above 11 in just the past two months. And it's currently challenging the highest ratio levels of the past two years.
Remember, this is a stock that has more than doubled in the past year!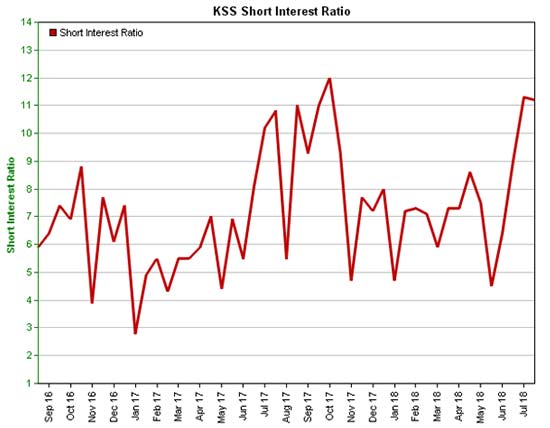 Furthermore, covering analysts remain lukewarm on Kohl's, with just a third considering the stock a "Buy." Are they looking at the same chart I am? What are they waiting for?
KSS is a classic example of a stock that has had a huge run-up that nobody appears to believe in. The company just knocked the cover off the ball in its earnings report, and the stock is trading at an all-time high.
Short interest is more than strong enough to trigger a short-covering rally, while you'd have to expect analysts to start jumping aboard the Kohl's bandwagon sooner rather than later. That spells "B-U-Y" in my book.
This Company Isn't on Your Radar, but It Should Be
This second stock - Sprouts Farmers Market Inc. (Nasdaq: SFM) - is based in Phoenix and operates in the natural/organic foods space with 285 grocery stores in 15 states. Founded in 2002, Sprouts has a market cap north of $3 billion, so it's not exactly small potatoes.
Earlier this month, Sprouts reported quarterly results that met estimates on profits and beat on revenue. And the company upped its earnings and sales growth projections for fiscal 2018.
In response, the shares received a couple of target price upgrades from analysts.
MUST SEE: Watch this guy officially become $1,050 richer in 15 seconds... $940 richer in 11 seconds... $1,260 richer in eight seconds... and $988 richer in seven seconds! Then discover how you could do this all yourself. Click here...
Unlike Kohl's, Sprouts has not had a good 2018 ... until recently. In fact, after hitting a 52-week high in January, the stock sank more than 25% over the ensuing five months.
But the recent earnings report changed all that. Thanks to a 12% pop on earnings day, Sprouts has been powering higher, using its 200-day moving average for support. And the 50-day moving average is now pointed higher, which is significant.
The last time the 50-day reversed higher also came after an earnings report last November. That set off a monster rally that saw the stock gain more than 60% in just three months.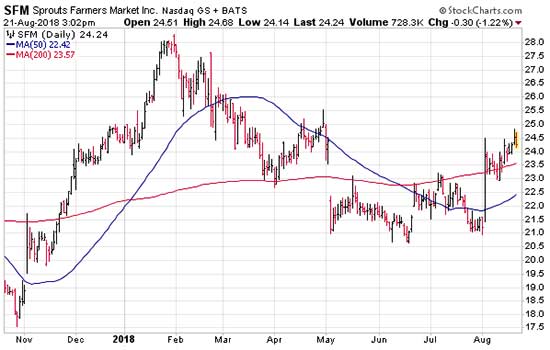 But that's not the whole story.
Like Kohl's, Sprouts is heavily shorted, with a short interest ratio above 11. And the ratio has been on the rise for the past few months.
With Sprouts' newfound strength, the shorts are likely feeling some pain, which could provide added rally fuel from short covering. Further buying pressure could come from analyst upgrades, as just 57% rate SFM a "Buy."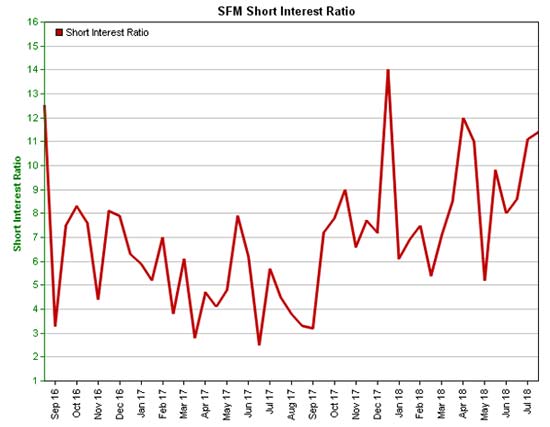 Sprouts differs from Kohl's in that its short interest and analyst coverage is consistent with its first-half price weakness. But the renewed strength on the heels of a solid earnings report looks a lot like late last year when the stock started a huge rally.
Jump on board this name now before the shorts and analysts have a change of heart.
This Trader Is Betting It All He Can Show You How to Turn $5,000 into AT LEAST $174,500
Chris Johnson is on pace to see 3,390% total winning gains this year.
And now he's guaranteeing his recommendations will give you the chance to do the same.
If not, he's working for free.
So mark your calendar for one year from today...
Set a reminder on your phone...
And click here to learn how to join right now.
Follow Money Morning on Facebook, Twitter, and LinkedIn.
About the Author
Chris Johnson is a highly regarded equity and options analyst who has spent much of his nearly 30-year market career designing and interpreting complex models to help investment firms transform millions of data points into impressive gains for clients.
At heart Chris is a quant - like the "rocket scientists" of investing - with a specialty in applying advanced mathematics like stochastic calculus, linear algebra, differential equations, and statistics to Wall Street's data-rich environment.
He began building his proprietary models in 1998, analyzing about 2,000 records per day. Today, that database, which Chris designed and coded from scratch, analyzes a staggering 700,000 records per day. It's the secret behind his track record.
Chris holds degrees in finance, statistics, and accounting. He worked as a licensed broker for 11 years before taking on the role of Director of Quantitative Analysis at a big-name equity and options research firm for eight years. He recently served as Director of Research of a Cleveland-based investment firm responsible for hundreds of millions in AUM. He is also the Founder/CIO of ETF Advisory Research Partners since 2007, noted for its groundbreaking work in Behavioral Valuation systems. Their research is widely read by leaders in the RIA business.
Chris is ranked in the top 99.3% of financial bloggers and top 98.6% of overall experts by TipRanks, the track record registry of financial analysts dating back to January 2009.
He is a frequent commentator on financial markets for CNBC, Fox, Bloomberg TV, and CBS Radio and has been featured in Barron's, USA Today, Newsweek, and The Wall Street Journal, and numerous books.
Today, Chris is the editor of Night Trader and Penny Hawk. He also contributes to Money Morning as the Quant Analysis Specialist.