For retail investors, penny stocks are one of the best ways to grab 100% returns without breaking the bank. That's why we're bringing you the three penny stocks to buy in September 2018.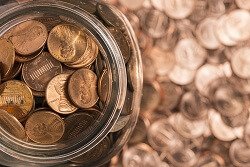 To find the penny stocks with the best profit potential, we use the Money Morning Stock VQScore™ system. We use the VQScore system to screen for stocks that trade for under $5 a share - the U.S. Securities and Exchange Commission's definition of a penny stock.
Using that system, we've found three penny stocks with the potential to double. In fact, our top September penny stock could jump over 136%...
Best Stocks to Buy in September 2018, No. 3: City Office REIT
City Office REIT Inc. (NYSE: CIO) specializes in acquiring and operating real estate in the United States and Canada, with a focus on upper-end offices.
In its most recent earnings, CIO beat analyst expectations by reporting earnings per share of $0.28 - $0.02 more than the analyst forecast. Its revenue for the quarter was up more than 24% from the year-prior period, to $31.5 million.
CIO had over three sustained years of gross profit growth, expanding its bottom line by over 100% since 2014.
How to Profit off This $11.1 Billion Money Pool: By following a few simple steps, one IRS directive could help set you up to receive checks of up to $1,795 every single month thanks to a genius investment. Learn more...
And it doesn't look like this growth is slowing down anytime soon.
CIO management has given earnings guidance of $7.23 million in the future, a 25% rise that is certain to show up in shareholder returns.
CIO stock currently trades at $12.84. Wall Street analysts have placed a target price of $15.50 on the shares, a potential 21% advance - and that's on the conservative side.
Best Stocks to Buy in September 2018, No. 2: Alexander & Baldwin
Alexander & Baldwin Inc. (NYSE: ALEX) is based in Hawaii and engaged in real estate, diversified agriculture, and sugar cane production.
For investors who bought ALEX when it first made its appearance on the top 25 VQStocks, ALEX has already returned a nice 15% profit. However, this stock is just getting started.
In the latest quarter, ALEX turned in an earnings beat, reporting $0.66 in EPS versus a $0.42 analyst forecast.
ALEX also reported a 22% rise in revenue over the year-prior quarter, to $113.3 million. The earnings report was one of the factors that put ALEX in our top 25, and it has risen steadily since then.
Plus, it has a profit catalyst likely to drive these returns even higher.
The company recently completed a sale to the state of Hawaii of 313 acres of ALEX's agricultural property for $8.6 million.
ALEX plans to utilize some of the sale price to further redevelop its Lau Hala shops on Oahu, one of Hawaii's islands. Lau Hala is receiving huge demand, with 88% of the available real estate already leased before the shops even open.
Right now, ALEX stock trades at $23.65. Analyst forecasts for the price, however, see it climbing as high as $35 per share, a potential 47% profit from current levels.
That's a great gain. However, our top penny stock for September has the potential to surge 136%...
[mmpazkzone name="in-story" network="9794" site="307044" id="137008" type="4"]
Best Stocks to Buy in September 2018, No. 1: Exelixis Inc.
Located in Alameda, California, Exelixis Inc. (Nasdaq: EXEL) focuses on developing new treatments for a wide range of cancers using genomics - the study and editing of genomes.
The company's flagship drug, Cometriq, is a breakthrough treatment for medullary thyroid cancer.
Since receiving approval for Cometriq in 2012, Exelixis has struck several deals to distribute Cometriq internationally, boosting the company's gross profits by 136% between 2016 and 2017.
In 2016, the U.S. Food and Drug Administration gave Exelixis approval to use cabozantinib, the underlying drug in Cometriq, to treat kidney cancer, considerably expanding the market size of the company's flagship drug.
With the European Union granting similar approval in May, Exelixis is likely to outpace expectations for the foreseeable future. In fact, it already is: Exelixis beat Q2 earnings estimates last month by a staggering 75%.
This kind of performance has led analysts to give Exelixis a high price target of $40 - a 136% increase over today's price of $18.
That's a great return from one of the biotech industry's cutting-edge companies. However, if you want even stronger returns, you have to check this out...
This New Cash Grab Is Changing Lives
An unprecedented phenomenon has effectively put $31 billion worth of new money up for grabs.
Every single day for the past year, this "cash grab" has presented an average of five new people the opportunity to collect rare seven-figure payouts.
Twenty-four people a day have been able to receive an exceptional six figures... and countless others have between $10,000 and $99,000 waiting for them. In fact, on top of the whopping $31 billion that's already in play, as much as $10.7 million is being distributed every single day.
It's time for you to be like them and claim your share - learn how here...