This rare market distortion is a prime moneymaking opportunity.
We found one stock that could double your money if you get in right now.
---
If you want to make serious money – we're talking "retire early" money – in today's markets, you need to do more than simply match the indexes. Even spotting a good company with an innovative new product isn't good enough.
After all, every other investor on the planet is trying to do the same thing.
But one way you can get ahead is digging deeper and finding the sort of data, patterns, and forecasts the average investor simply overlooks.
Don't Miss Out: The Treasury is sitting on an $11.1 billion cash pile, and a loophole entitles Americans to a sizable portion. Some are collecting $1,795, $3,000, or $5,000 every month thanks to this powerful investment…
That's why we're showing Money Morning readers how a disruption to one pattern could send gold stocks soaring.
And we'll show you one stock at the center of this pattern with the potential to double your money…
How to Double Your Money with Gold Stocks
Companies producing and selling gold see their profits (and share prices) fluctuate right along with gold prices.
The relationship is so strong, gold traders have long turned to the gold-to-gold-stocks ratio to spot trends in the gold market.
And we're currently witnessing a unique moment in this relationship.
Instead of gold stocks moving with the price of gold, they've actually been falling much further than gold prices.
Take a look at the relationship between the SPDR Gold Trust ETF (NYSEArca: GLD), which tracks the price of gold, and the VanEck Vectors Gold Miners ETF (NYSEArca: GDX) in the chart below.
Gold mining stocks largely tracked gold prices a year ago, but they've trailed substantially since then, and that's a bullish signal for gold stocks…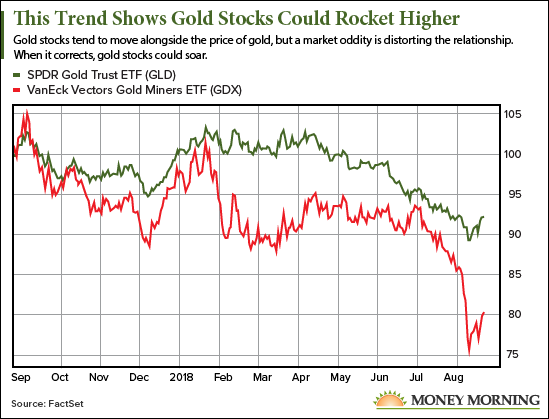 You see, this situation will eventually correct itself, and gold stocks will snap back to their typical behavior mirroring gold prices.
And for that to happen, gold stocks will have to rocket higher to catch up to gold prices.
When the divergence between gold and gold stocks last peaked in January 2016, the GDX rocketed 136% higher by August 2016.
But it gets even better…
When the GDX last trailed GLD so much, gold prices hit their bottom. That kicked off a gold rally that amplified the gold stocks' rebound.
That's almost exactly like the scenario we're witnessing today. In fact, Money Morning Resource Specialist Peter Krauth thinks gold prices are hitting their bottom right now, meaning a gold rally will kick off soon.
That will add even more fuel to gold stocks' explosive potential.
But you don't want to own just any gold stock. Even ETFs are bogged down by the worst stocks in the index.
Instead, we've found a gold stock with the potential to double your money in less than a year.
It's a gold producer poised to rocket higher when gold stocks rally back to match gold prices.
And our proprietary stock ranking system says it's the perfect buy right now…