Apple Inc. (Nasdaq: AAPL) recently hit the largest market capitalization any company has ever hit, rising over $1 trillion.
But the soaring market cap might make some investors skeptical about investing in Apple right now. After all, after shattering this record, it might not go much higher.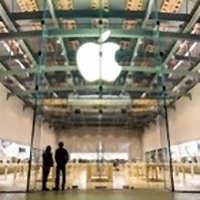 In fact, analysts on Wall Street have a one-year price target on the stock of just $215.46, according to a survey on Yahoo Finance. And FactSet carries an even lower price target, $211.99.
We're here to tell you that's way too pessimistic for one of the best stocks you can own.
Our latest Apple stock price prediction calls for the stock to soar to $300 a share by 2020.
That's a projected 36% climb from today's share price of $221.48.
Here's exactly why Wall Street is getting this so wrong - and why you can count on years of Apple share price growth...
Why Wall Street Has a Poor Record on Apple Stock Predictions
Wall Street analysts have consistently underrated Apple stock. They hype any negatives about the company's plans and products and fail to see its opportunities and track record.
Here's an example. Before AAPL reported second-quarter earnings, the stock dropped 10% because analysts were expecting very poor results from iPhone X sales. Some analysts urged the company to drop the model entirely and to focus on earlier iPhone models.
Wall Street was wrong.
Don't Miss: This secret stock-picking method has uncovered 217 double- and triple-digit peak-gain winners since 2011. Find out how it's done...
Sales of the iPhone X increased 3% year over year, and revenue rose a robust 14%. The iPhone X proved to be another moneymaker for Apple.
While these analysts continue to focus on the sky-is-falling, worst case scenarios for Apple, we look at the facts.
And the facts show Apple earnings are only rising...
Our Apple Stock Price Prediction Is Based on a Rising Earnings Forecast
While analysts fret about Apple's ability to top the iPhone, we're focused on the actual money the company is raking in.
FactSet, for example, projects Apple's earnings per share (EPS) in fiscal 2020 (ending September) will be $15.13.
Its current EPS on trailing 12-month earnings is $11.03, so the fiscal 2020 EPS forecast is a 37% climb from current levels.
Not only is that a nice rise by any standard, but it can fuel a healthy stock price rise just by itself. Today's price/earnings (P/E) ratio is 18.83. If that were applied to the projected 2020 EPS, a stock price of roughly $285 would result. That's just under our $300 stock price forecast.
That means the current one-year price targets Wall Street expects are extremely low. One year from now, we expect the AAPL stock price to be closer to $250 than to $215.
There's more...
The company looks highly likely to beat the EPS consensus for its 2020 earnings. Even if it turns in FY 2020 earnings that beat consensus by $0.80, which is just over 5%, the EPS would be $15.93 and the stock price on its current P/E would be $300.
There's precedent for this. FactSet consensus EPS for fiscal 2018 as of two years ago was $2.19 less than the current estimate of $9.51. So in other words, Wall Street has raised its consensus by 23% from that time.
Last year, the FY 2020 consensus earnings forecast was $11.69, $3.44 under the current consensus. In fact, last year's 2020 prediction is nearly on the nose with the current forecast of what AAPL is expected to earn this year, a nearly 30% rise of consensus forecasts in just a year.
In short, analysts continually underestimate Apple's earnings. It's very realistic that they've underestimated them yet again.
And part of the reason analysts underestimate Apple is because its services sector is an increasingly larger part of the company's growth.
In fact, what Apple is doing is flying under the radar...
Apple Is More Than the iPhone
[mmpazkzone name="in-story" network="9794" site="307044" id="137008" type="4"]
Revenue from services rose an impressive 31% from year-ago levels in the most recent earnings period.
In early 2017, Apple's chief executive officer, Tim Cook, indicated that AAPL's goal was to double the revenue in services by 2020.
That's huge for the company's profitability since margins on services are a massive 60%.
One way Apple can achieve this goal is through its new streaming video service. In June, it was revealed the company had hired several veteran television executives. Apple is also starting to invest more in the development of original content.
That could enter Apple into the arena with Netflix Inc. (Nasdaq: NFLX) and Amazon.com Inc. (Nasdaq: AMZN).
Creating a successful streaming service could be a massive boon to Apple's earnings.
Forecasting the stock to hit $300 by 2020 could even be too conservative.
Start Building the Retirement of Your Dreams with the Gains from One $10 Stock
One tiny company is at the center of a new breakthrough technology that could one day be used by every person and business in the world.
This new tech lets companies detect and prevent cyberattacks... homeowners avoid break-ins... hospitals better monitor patients and regulate temperature conditions for storing critical vaccines...
And a single company is manufacturing the parts needed to roll out this technology ASAP. It recently inked four major deals that could spark a 466.6% revenue surge.
Early investors could reap huge fortunes. This $10 stock has the potential to deliver a 471.9% gain, turning every $1,000 invested into $4,719. And not years from now, but in just months or weeks.
The gains on this one stock could single-handedly earn you enough to retire. Click here now to learn more...