Earlier this week, I told you that my Best in Breed (BIB) methodology revealed the August-September timeframe is the perfect time to buy into the retail and consumer discretionary sectors.
The reasoning underlying these sectors' strength is as old as the market itself.
You see, investors buy (the rumor) heading into the traditional back-to-school/Halloween/holiday shopping seasons and take profits (sell the news) when the sales results start coming in around the beginning of December.
Today, I want to give you the names of the strongest stocks in these very strong sectors…
This Consumer Stock Is Hitting New Highs
Let's start with Darden Restaurants Inc. (NYSE: DRI), a component of the Consumer Discretionary Select Sector SPDR ETF (NYSEArca: XLY). Orlando, Fl.–based Darden owns and operates several well-known restaurant brands, including Olive Garden, LongHorn Steakhouse, and Capital Grille.
The stock has been a solid performer, gaining 20% in 2018, more than double the return of the S&P 500.
In fact, Darden hit an all-time high Thursday morning.
Don't Miss: This secret stock-picking method is so good, if you started with a small stake, a string of these picks could have earned you $1.2 million. Find out how it's done…
The current rally has seen the shares gain 36% in just four months, thanks in part to strong support from the 50-day moving average. Maybe the fact that Olive Garden sold out of its Never Ending Pasta Passes helped as well.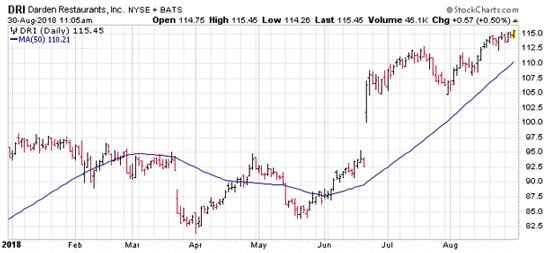 Despite the stock's strength, short sellers remain unwisely resolute. In fact, Darden's short-interest ratio has spiked in the past two months from below 3 to just under 7. That tells me there is plenty of short-covering fuel that should keep the rally intact.
What's more, only a third of the covering analysts consider Darden a "Buy," which is hard to understand for a stock hitting new highs. Look for some upgrades to come Darden's way should the current rally continue.
Here's How to Make an Extra $2,449 by 3 p.m. Friday: It's the fastest, easiest money you'll ever make. Just follow Tom Gentile's step-by-step instructions Monday, and in just four and a half minutes, you could collect your "Friday Night Fortune" in just four days or less. It's that simple. Click here to learn more.
Darden reports earnings on Sept. 20. Last quarter, the stock soared 15% the day following earnings, thanks to impressive same-store sales results.
Though I'm not predicting another spike like that this quarter, I expect the rally to continue. To leverage the expected move, the $115 call expiring on Jan. 18, 2019, looks like a tasty option (pun definitely intended).
Despite a 5% Drop, We're Still Bullish on This Retail Stock
Join the conversation. Click here to jump to comments…
About the Author
Chris Johnson is Quantitative Specialist for Money Map Press. He's obsessed with building and perfecting mathematical models that allow him to predict, with startling accuracy, the direction of the markets, entire sectors, and individual securities. For the last year, he's been researching and building a new system that lets him move swiftly in and out of the hottest stocks in the market for life-changing gains - entirely on his own terms. The results of his newly-minted Night Trader system are nothing short of amazing.