Earlier this week, I told you that my Best in Breed (BIB) methodology revealed the August-September timeframe is the perfect time to buy into the retail and consumer discretionary sectors.
The reasoning underlying these sectors' strength is as old as the market itself.
You see, investors buy (the rumor) heading into the traditional back-to-school/Halloween/holiday shopping seasons and take profits (sell the news) when the sales results start coming in around the beginning of December.
Today, I want to give you the names of the strongest stocks in these very strong sectors...
This Consumer Stock Is Hitting New Highs
Let's start with Darden Restaurants Inc. (NYSE: DRI), a component of the Consumer Discretionary Select Sector SPDR ETF (NYSEArca: XLY). Orlando, Fl.--based Darden owns and operates several well-known restaurant brands, including Olive Garden, LongHorn Steakhouse, and Capital Grille.
The stock has been a solid performer, gaining 20% in 2018, more than double the return of the S&P 500.
Sign up for SMS so you never miss special events, exclusive offers, and weekly bonus trades.
In fact, Darden hit an all-time high Thursday morning.
Don't Miss: This secret stock-picking method is so good, if you started with a small stake, a string of these picks could have earned you $1.2 million. Find out how it's done...
The current rally has seen the shares gain 36% in just four months, thanks in part to strong support from the 50-day moving average. Maybe the fact that Olive Garden sold out of its Never Ending Pasta Passes helped as well.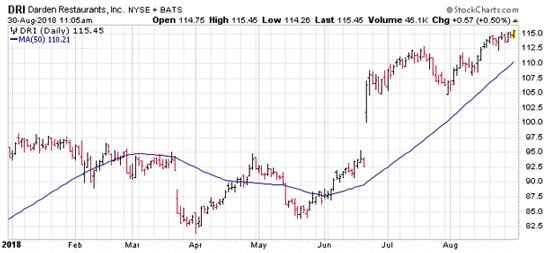 Despite the stock's strength, short sellers remain unwisely resolute. In fact, Darden's short-interest ratio has spiked in the past two months from below 3 to just under 7. That tells me there is plenty of short-covering fuel that should keep the rally intact.
What's more, only a third of the covering analysts consider Darden a "Buy," which is hard to understand for a stock hitting new highs. Look for some upgrades to come Darden's way should the current rally continue.
Here's How to Make an Extra $2,449 by 3 p.m. Friday: It's the fastest, easiest money you'll ever make. Just follow Tom Gentile's step-by-step instructions Monday, and in just four and a half minutes, you could collect your "Friday Night Fortune" in just four days or less. It's that simple. Click here to learn more.
Darden reports earnings on Sept. 20. Last quarter, the stock soared 15% the day following earnings, thanks to impressive same-store sales results.
Though I'm not predicting another spike like that this quarter, I expect the rally to continue. To leverage the expected move, the $115 call expiring on Jan. 18, 2019, looks like a tasty option (pun definitely intended).
Despite a 5% Drop, We're Still Bullish on This Retail Stock
Join the conversation. Click here to jump to comments…
About the Author
Chris Johnson is a highly regarded equity and options analyst who has spent much of his nearly 30-year market career designing and interpreting complex models to help investment firms transform millions of data points into impressive gains for clients.
At heart Chris is a quant - like the "rocket scientists" of investing - with a specialty in applying advanced mathematics like stochastic calculus, linear algebra, differential equations, and statistics to Wall Street's data-rich environment.
He began building his proprietary models in 1998, analyzing about 2,000 records per day. Today, that database, which Chris designed and coded from scratch, analyzes a staggering 700,000 records per day. It's the secret behind his track record.
Chris holds degrees in finance, statistics, and accounting. He worked as a licensed broker for 11 years before taking on the role of Director of Quantitative Analysis at a big-name equity and options research firm for eight years. He recently served as Director of Research of a Cleveland-based investment firm responsible for hundreds of millions in AUM. He is also the Founder/CIO of ETF Advisory Research Partners since 2007, noted for its groundbreaking work in Behavioral Valuation systems. Their research is widely read by leaders in the RIA business.
Chris is ranked in the top 99.3% of financial bloggers and top 98.6% of overall experts by TipRanks, the track record registry of financial analysts dating back to January 2009.
He is a frequent commentator on financial markets for CNBC, Fox, Bloomberg TV, and CBS Radio and has been featured in Barron's, USA Today, Newsweek, and The Wall Street Journal, and numerous books.
Today, Chris is the editor of Night Trader and Penny Hawk. He also contributes to Money Morning as the Quant Analysis Specialist.