The "September slide" this week has been excellent for my paid-up subscribers - even some positions that had been sluggish moved higher - because we were well prepared for stocks to gap lower.
We closed out two more winners in Western Digital Corp. (Nasdaq: WDC) puts, and on the "other side" of the market, DSW Inc. (NYSE: DSW) calls for a nice 174% and 78% in gains.
Those results certainly show how our proven "Best in Breed" (BIB) stock-picking methodology works hand in hand with portfolio balance. A mix of calls, puts, bullishness, and bearishness has helped us capitalize on the market's recent swings.
Right now, BIB is showing retailers as an area of strength for the next couple of months, which is why I've been so bullish on them here in Money Morning recently - just look at our DSW position.
Meanwhile, BIB bull's-eyed the technology sector as a laggard, and sure enough, it's no longer leading the market higher. Puts in WDC yielded a huge profit. And our other bearish plays in the sector are bouncing back in our favor.
Now let's take a look at what the market's showing us for the next four weeks or so...
[mmpazkzone name="in-story" network="9794" site="307044" id="137008" type="4"]
The September Slowdown's Not Necessarily Bad News
The end of summer is getting off to its "traditional" start as the broad-market indexes are rolling over from their recent all-time highs. The S&P 500, for example, was rejected at 2,900 just after it hit an "Oversold" reading following the most recent in a series of record highs last week.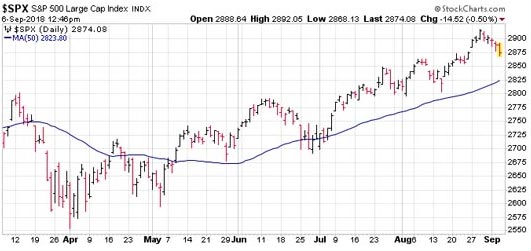 Look, being technically oversold is a simple explanation for the short-term weakness we're seeing...
But I've got deeper concerns that we might see September and October once again raining on a bull parade:
Small-cap stocks are rolling over from their highs. A continuation of this pattern will indicate that investors are moving from simple profit-taking to risk aversion, a more bearish stance.
While the risk-premium trade is bending, a true break would be signaled by a move below 170 by the small-cap iShares Russell 2000 ETF (NYSEArca: IWM).
You Have to See It to Believe It: Chris Johnson is the Night Trader, and his most powerful tool tells him exactly which stocks are set to go up tomorrow, the next day, the day after that, and beyond. And it is rarely ever wrong. Click here to learn more...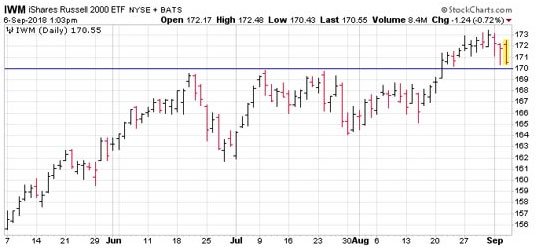 Technology stocks are seeing the brunt of the selling pressure right now, as profit-taking is more prevalent in the group. In fact, the Nasdaq is down close to 3% from its all-time high, which it reached the last week of August.
What's more, leadership in the sector appears absent as we've seen correlation among these stocks drop further.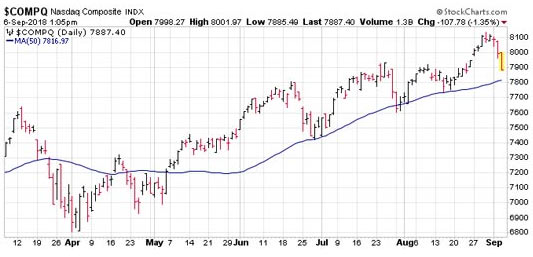 Finally, the CBOE Volatility Index (VIX) was trading back above 15 on Friday for the second consecutive day since a short-term sell-off in August.
A close above 14.67 would be the first above its 200-day moving average since July's pullback.
The recent uptrend adds pressure to the short-term bearish scenario that is beginning to color my September outlook.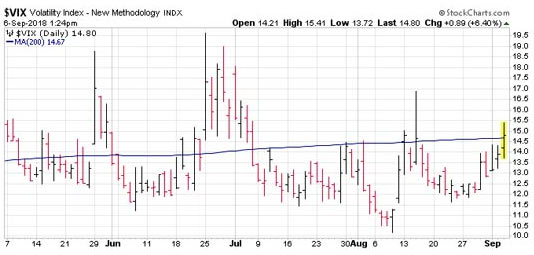 For all that, it's way too early to say we're headed for a correction.
Billions Are Now in Play: Millions of Americans could collect "Federal Rent Checks" - to learn how to claim your portion of an $11.1 billion money pool using this backdoor investment, click here now...
After all, the market has endured similar kinds of pullbacks within just the past couple of months, and they ultimately reversed into new highs.
Here's the Smart Way to Play It
To tell whether "this time is different," I'm closely watching the following levels:
20 on the VIX: A move above 20 will signal that the market is shifting into short-term correction mode, which would warrant an increase in puts and shorts.
2,850 on the S&P 500: This level represents the lower band of a bullish trend channel that has helped to support stock prices since early 2016.
7,820 on the Nasdaq Composite: This is the approximate location of the Nasdaq's 50-day moving average. A breach below this trendline will increase selling pressure on the market. And with the Nasdaq getting hit hardest of late, this level could come into play within the next few trading days.
The bottom line is that a bearish bias - puts and short positions - should see you clean up this month and very likely into October.
That's what I'm recommending for my paid-up subscribers, too. Plus, I'm adding more puts to the portfolio. In addition, it's a smart move to close out winning put or short positions as soon as you're happy with the profits, as any positive news could cause the market to experience swift upside volatility.
Chris Johnson Is Betting It All He Can Show You How to Turn $5,000 into AT LEAST $174,500
He's on pace to see 3,390% total winning gains this year.
And now, he's guaranteeing his recommendations will give you the chance to do the same.
If not, he's working for free.
So mark your calendar for one year from today...
Set a reminder on your phone...
And click here to learn how to join right now.
Follow Money Morning on Facebook, Twitter, and LinkedIn.
About the Author
Chris Johnson is a highly regarded equity and options analyst who has spent much of his nearly 30-year market career designing and interpreting complex models to help investment firms transform millions of data points into impressive gains for clients.
At heart Chris is a quant - like the "rocket scientists" of investing - with a specialty in applying advanced mathematics like stochastic calculus, linear algebra, differential equations, and statistics to Wall Street's data-rich environment.
He began building his proprietary models in 1998, analyzing about 2,000 records per day. Today, that database, which Chris designed and coded from scratch, analyzes a staggering 700,000 records per day. It's the secret behind his track record.
Chris holds degrees in finance, statistics, and accounting. He worked as a licensed broker for 11 years before taking on the role of Director of Quantitative Analysis at a big-name equity and options research firm for eight years. He recently served as Director of Research of a Cleveland-based investment firm responsible for hundreds of millions in AUM. He is also the Founder/CIO of ETF Advisory Research Partners since 2007, noted for its groundbreaking work in Behavioral Valuation systems. Their research is widely read by leaders in the RIA business.
Chris is ranked in the top 99.3% of financial bloggers and top 98.6% of overall experts by TipRanks, the track record registry of financial analysts dating back to January 2009.
He is a frequent commentator on financial markets for CNBC, Fox, Bloomberg TV, and CBS Radio and has been featured in Barron's, USA Today, Newsweek, and The Wall Street Journal, and numerous books.
Today, Chris is the editor of Night Trader and Penny Hawk. He also contributes to Money Morning as the Quant Analysis Specialist.