By investing in marijuana penny stocks now, you're claiming your piece of what some are calling the new "gold rush."
Legal marijuana sales in North America totaled $10 billion in 2017, and that's expected to skyrocket 145% by 2021.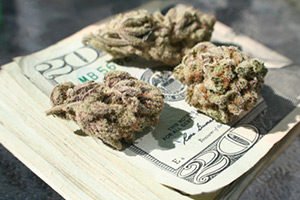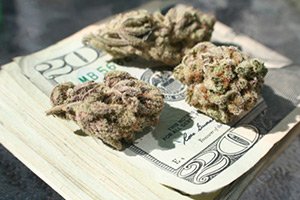 By now, everyone knows the dangers of investing in pot penny stocks. You should never invest what you can't afford to lose.
But because the share price for one of these marijuana penny stocks is expected to climb over 300%, we had to make sure you saw this list today...
Marijuana Penny Stocks to Watch, No. 3: Easton Pharmaceuticals Inc.
Sign up for SMS so you never miss special events, exclusive offers, and weekly bonus trades.
Easton Pharmaceuticals Inc.
 (OTCMKTS: 
EAPH
) is known for making motion-sickness gel Nauseasol and anti-aging wrinkle cream Skin Renou HA.
Now it's getting into the cannabis industry...
According to a 2017 report from Benzinga, Easton is part of a $1.3 million cannabis business deal with a Canada-based company, the Alliance Group. It's already advanced the company $575,000. When the deal is final, Easton will receive a stake in 45 acres of a 135-acre parcel of land used for cannabis cultivation and production.
Until money is generated from the cannabis crops, Easton will receive 50% of Alliance's revenue from its other businesses.
NINE LITTLE WORDS that could make you up to $1 million richer this election year. Click here...
It's unclear if Easton will use the cannabis for its own business or just sell it to other pharmaceutical companies.
However, with Canada ready to completely legalize marijuana by Oct. 17, there should be increased demand from pharmaceutical and recreational companies to buy cannabis.
Over the last 52 weeks, the EAPH stock price has traded between $0.01 and $0.03 per share. Currently, the EAPH stock price trades at $0.01 per share.
The next marijuana stock on our list is creating a cannabis advertising solution for the $10 billion legal North American industry...