Biotech firms offer extraordinary growth potential thanks to their development of new drugs.
If a drug wins FDA approval, the company's stock has the chance to rocket higher.
That's why we're bringing you the best biotech stocks to buy in September 2018...
In fact, it gets even better for biotech stocks. The biotech market is forecast to grow 419% over the next six years.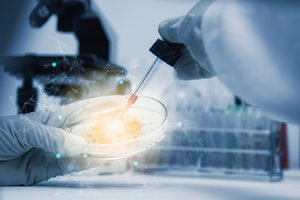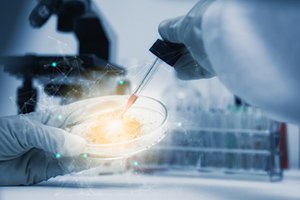 Acquisitions are skyrocketing as well. Wall Street traders are vying with each other to buy lucrative companies specializing in biotech. Over the past eight months, acquisitions in biotech have hit $17 billion.
But let's face it. Throwing a dart at a list of biotech stocks is not going to help you find one of the best biotech stocks to buy this month.
Instead, we use the Money Morning Stock VQScore™ system to find the best stocks to buy.  That's helped us narrow down the field to our favorite biotech stocks for September.
Every one of the best biotech stocks to buy in September have a VQScore of 4, the highest rating possible. Our top score means the stock is poised for serious growth, making right now the best time to buy.
These are our best biotech stocks to buy right now...
Best Biotech Stocks to Buy, No. 3: Shire Plc.
Dublin-based Shire Plc. (Nasdaq: SHPG) is an international firm that focuses on developing medications for chronic conditions and rare diseases.
Shire makes some of the top-selling medications for mental disorders in which hyperactivity is a symptom, including the popular drugs Vyvanse and Adderall XR.
But Shire's most impressive growth potential comes from its past three years of acquisitions.
Rare gain could have turned a $10,000 investment into $1.4 million - discover the ONLY type of stock that could also deliver incredible profits today. Read more...
Three years ago, it bought NPS Pharmaceuticals for $5.2 billion. The buyout provided Shire with distribution rights to Natpara, a widely used prescription medication for hypoparathyroidism. The condition can lead to low calcium levels in the body.
But Shire wasn't done there.
At roughly the same time, it bought Foresight Biotherapeutics, Meritage Pharma, and Dyax Biotech for a total of approximately $7 billion. These purchases heightened the company's ability to provide treatments for gastrointestinal disorders and rare diseases.
The purchases have all meant large jumps in the company's bottom-line results. In 2015, gross profit stood at $5.4 million. Now, it's $11.2 million, a jump of 104% in just three years. And you know what soaring profits mean. Stock prices follow profits.
In early May of this year, Shire was itself acquired by Takeda Pharmaceutical Co. The acquisition valued Shire at $62 billion.
Takeda purchased Shire so that Takeda could expand its U.S. pharmaceutical distribution operations. That, in turn, will cause Shire's results to climb.
Wall Street analysts have forecast a Shire stock price at $238. That's a 35% advance in the stock price from current levels of $175.79.
But our next biotech stocks offer even more gains...
Best Biotech Stocks to Buy, No. 2: Corcept Therapeutics Inc.
Corcept Therapeutics Inc. (Nasdaq: CORT) develops medical treatments for severe metabolic disorders and cortisol-related effects. Cortisol is the hormone associated with stress.
Now, Corcept's $1.6 billion market capitalization makes it one of the smaller companies on our list. But what it lacks in size, it makes up for in admirable financial returns.
Right now, Corcept has an over 95% return on equity. That indicates very low or no debt, which, in turn, enables Corcept to increase and use the company's capital without resorting to borrowing.
Because it has little or no debt, the company can steadily reinvest in its flagship drug, Korlym. The drug is a hyperglycemia treatment, and Corcept is engaged in its distribution and development.
The strategy has allowed Corcept to grow its gross profits 520% in just four years. In the same four years, the stock has risen an astounding 394%.
But don't think the upside is gone. It isn't.
In early August, the company announced a buyback program for $100 million worth of shares. The program is likely to add to profits for shareholders in the short term.
The company's pipeline also has several medications in it. One is Relacorilant, an improved Korlym, which turned in good results in a phase 2 trial. Its results were similar to Korlym's, but it didn't display two of the latter's significant side effects.
If Relacorilant gains FDA approval, Corcept will be staying ahead of its generic drug competitors. Generics can impact drug sales, so staying ahead of them is good business, as well as good for patients.
But that's not all. Given its smaller market cap and lack of debt, the company makes an attractive buyout candidate for a bigger pharmaceutical or biotech firm. And acquisitions can make a stock price soar.
Analysts expect a share price for Corcept of $27.50 in a year, a skyrocketing 83% above the current $15 per share price.
But our last biotech stock to buy has the potential to double your money...