It's easy when watching the financial news media to focus on the bright, shiny objects constantly dangled before us. You know, the Apple Inc.'s (NASDAQ: AAPL) Amazon.com Inc.'s (NASDAQ: AMZN), and Facebook Inc.'s (NASDAQ: FB) of the world.
One of the things I've designed my Best in Breed (BIB) model to do is ignore the hype and focus on the sectors and stocks that are the true outperformers and laggards.
That means mining the data for not only the best of the best and worst of the worst, but also determining whether that performance trend will continue.
Lost in the hype of Apple's new product line, Amazon becoming a trillion-dollar company, and the latest craziness at Tesla is a sector that nobody is talking about – the transportation group.
It just so happens to be the hottest off-the-radar sector out there in the second half of the year. Neither energy, technology, biotech, financials, retail, nor any of the major market indexes can match it.
The iShares Transportation Average (IYT) has been on fire since the beginning of July, gaining around 11%. In fact, IYT set a record high this week. The ETF's top 10 holdings represent a mix of delivery, trucking, railroad, and marine stocks.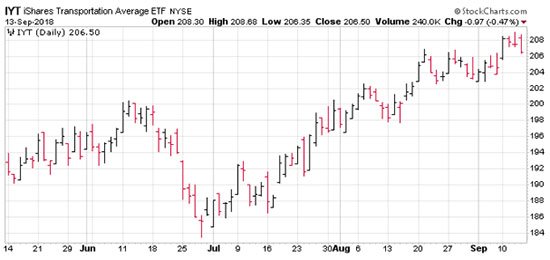 Today, I want to focus on the two main trucking stocks in IYT that I believe have plenty left in their tanks to keep their rallies alive, so let's take a look…
Join the conversation. Click here to jump to comments…
About the Author
Chris Johnson is Quantitative Specialist for Money Map Press. He's obsessed with building and perfecting mathematical models that allow him to predict, with startling accuracy, the direction of the markets, entire sectors, and individual securities. For the last year, he's been researching and building a new system that lets him move swiftly in and out of the hottest stocks in the market for life-changing gains - entirely on his own terms. The results of his newly-minted Night Trader system are nothing short of amazing.