It's easy when watching the financial news media to focus on the bright, shiny objects constantly dangled before us. You know, the Apple Inc.'s (NASDAQ: AAPL) Amazon.com Inc.'s (NASDAQ: AMZN), and Facebook Inc.'s (NASDAQ: FB) of the world.
One of the things I've designed my Best in Breed (BIB) model to do is ignore the hype and focus on the sectors and stocks that are the true outperformers and laggards.
That means mining the data for not only the best of the best and worst of the worst, but also determining whether that performance trend will continue.
Lost in the hype of Apple's new product line, Amazon becoming a trillion-dollar company, and the latest craziness at Tesla is a sector that nobody is talking about - the transportation group.
It just so happens to be the hottest off-the-radar sector out there in the second half of the year. Neither energy, technology, biotech, financials, retail, nor any of the major market indexes can match it.
The iShares Transportation Average (IYT) has been on fire since the beginning of July, gaining around 11%. In fact, IYT set a record high this week. The ETF's top 10 holdings represent a mix of delivery, trucking, railroad, and marine stocks.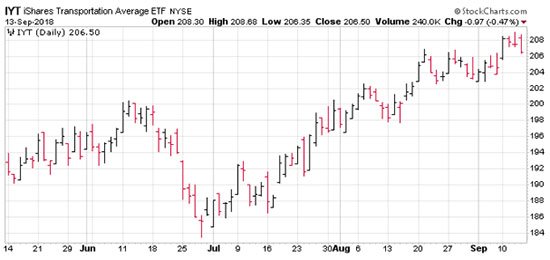 Today, I want to focus on the two main trucking stocks in IYT that I believe have plenty left in their tanks to keep their rallies alive, so let's take a look...
Join the conversation. Click here to jump to comments…
About the Author
Chris Johnson is a highly regarded equity and options analyst who has spent much of his nearly 30-year market career designing and interpreting complex models to help investment firms transform millions of data points into impressive gains for clients.
At heart Chris is a quant - like the "rocket scientists" of investing - with a specialty in applying advanced mathematics like stochastic calculus, linear algebra, differential equations, and statistics to Wall Street's data-rich environment.
He began building his proprietary models in 1998, analyzing about 2,000 records per day. Today, that database, which Chris designed and coded from scratch, analyzes a staggering 700,000 records per day. It's the secret behind his track record.
Chris holds degrees in finance, statistics, and accounting. He worked as a licensed broker for 11 years before taking on the role of Director of Quantitative Analysis at a big-name equity and options research firm for eight years. He recently served as Director of Research of a Cleveland-based investment firm responsible for hundreds of millions in AUM. He is also the Founder/CIO of ETF Advisory Research Partners since 2007, noted for its groundbreaking work in Behavioral Valuation systems. Their research is widely read by leaders in the RIA business.
Chris is ranked in the top 99.3% of financial bloggers and top 98.6% of overall experts by TipRanks, the track record registry of financial analysts dating back to January 2009.
He is a frequent commentator on financial markets for CNBC, Fox, Bloomberg TV, and CBS Radio and has been featured in Barron's, USA Today, Newsweek, and The Wall Street Journal, and numerous books.
Today, Chris is the editor of Night Trader and Penny Hawk. He also contributes to Money Morning as the Quant Analysis Specialist.