Corporate America is finally jumping into the legal cannabis market, and it could cause our latest marijuana stock pick to soar.
You see, big business has finally decided that it would like a piece of the $10 billion pie. People are now more aware of the medical benefits of cannabis, and an increasing number of states and developed countries are legalizing its use.
And the industry is set to grow even more, which is exactly why major brands have decided they want in.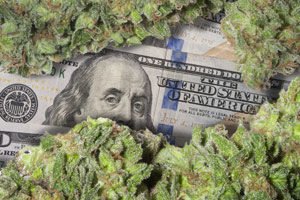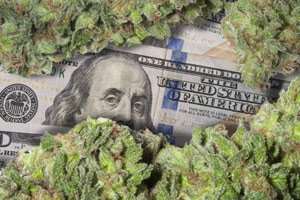 According to ArcView Market Research, spending on legal cannabis is expected to skyrocket close to 250% over the next five years.
While that sort of growth isn't surprising to those who've followed the cannabis industry's incredible growth, one of the catalysts behind its growth is.
The alcohol industry is going to be one of the key drivers behind the marijuana industry's booming growth.
This is why our top pick among pot stocks to watch is one with a lucrative cannabis company stake.
One of the Best Marijuana Stocks You Can Own
Constellation Brands Inc. (NYSE: STZ) is a mainstream international producer and marketer of beer, wine, and spirits.
And it's one of our favorite marijuana stocks right now...
This 70-year-old New York--based company has worldwide operations, roughly 40 facilities, and over 9,000 employees. It is a Fortune 500 company with a reported $7.33 billion in revenue in 2017 and more than $18.6 billion in assets.
The 4 Cannabis Stocks to Buy Now - Profits of up to 1,000% Could Be Likely This Election Year!
The company holds more than 100 brands in its portfolio that include Robert Mondavi, Svedka Vodka, Corona beer, and Black Velvet Canadian Whisky.
Last year, Constellation decided it was time to get involved in the legal cannabis market by buying a stake in one of North America's top pot producers.
In October 2017, the company paid roughly $191 million for a 9.9% stake in Canopy Growth Corp. (NASDAQ: CGC). At the time, this was the first move by a Fortune 500 company or a major alcoholic beverage maker to own a stake a marijuana business.
Canopy has over 30% of the Canadian legal cannabis market share. It has also secured marijuana supply contracts with more Canadian territories and provinces than any other producer.
Considering full legalization in Canada starts on Oct. 17, this is huge.
Canopy is a big name in Canada, but it is also an international cannabis company. It has expanded its borders to include business deals in Australia, Brazil, Germany, and Spain.
In August 2018, Constellation increased its investment in Canopy another $4 billion, which would boost its share of the company to 38%. Canopy Growth President Bruce Linton indicated that the additional funds would be used for international expansion.
One of the most noteworthy things about this deal is that it isn't just an investment, but a partnership.
You see, there are plans to create marijuana-infused beverages on the horizon.
And that could be a hugely lucrative partnership.
Deloitte reports that 60% of probable legal marijuana customers refuse to smoke the product. Instead, they would rather consume it via other products such as edibles, oils, or through beverages.
Constellation is completely convinced that this will result in synergy for the two companies, which is why it is our number one pot stock pick.
But this isn't the only beverage company that has decided to enter the legal cannabis market.
How Alcohol and Cannabis Companies Are Joining Forces