The pet care industry is one of the most surprising (and profitable) industries you can target. And it's presented us with one of the best stocks you can buy today.
In 2013, it was worth $55 billion. Now, it's worth $86 billion and is expected to more than double to $202 billion by 2025, according to Grand View Research Inc.
And we don't see any signs of it slowing down...
The biggest demographic pushing this industry growth is millennials. The younger generation is having fewer children and adopting pets instead.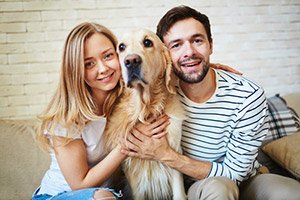 According to the research firm Mintel, 75% of American millennials have dogs, 51% have cats, and only 48% have kids.
Putting this in perspective, 57% of Gen Xers had kids when they were the same age as millennials today.
Plus, 50% of the overall U.S. population has dogs, and 35% have cats.
Those numbers are also up since 2012, when only 36% of Americans owned dogs and 30% owned cats.
Although it's not necessarily cheap to own a pet, many millennials are opting for pets over children to save themselves money.
The Gains on This One $10 Stock Alone Could Earn You Enough to Retire: Click here now for details.
The average cost to own a dog can range from $2,674 to $3,536 per year, while a newborn averages between $12,800 to $14,970.
And we don't only love this industry because of its growth - it's also one of the hottest markets for mergers and acquisitions.
Mergers Are a Major Catalyst for the Pet Care Industry
From January to June 2018, there were 31 mergers and acquisitions within the pet care industry. Traditional consumer staple companies are searching for the next best pet care company to profit from this rapidly growing sector.
J.M. Smucker Co. (NYSE: SJM) acquired Ainsworth Pet Nutrition for $1.9 billion in April. Before that, General Mills Inc. (NYSE: GIS) purchased Blue Buffalo Pet Products Inc. in February for $8 billion.
And we very well may have just found the next acquisition target.
In fact, we've been recommending this stock since 2016. If you bought in, you're currently sitting on gains over 100%. But that's just the start for this stock.
We're recommending it again today because it's still growing exceptionally fast and is the perfect acquisition target.
Here's Our No. 1 Stock to Buy in Pet Care Industry
[mmpazkzone name="in-story" network="9794" site="307044" id="137008" type="4"]
The pick is Central Garden & Pet Co. (NASDAQ: CENT), and it just received a perfect Money Morning Stock VQScore™.
I love this company because it's a total cash machine.
First, CENT has an industry-leading free cash flow conversion rate near 150% over the last three years.
From fiscal 2016 to fiscal 2017, the company nearly doubled its earnings from $44.5 million to $79 million.
And the room for growth is tremendous...
Through the first two quarters 2018, this company has already generated a profit of $86 million, meaning it's on pace to earn $172 million - more than double last year's net income.
With a relatively small market cap of $2 billion, is now in a "sweet spot" where it can get acquired by behemoths like Target Corp. (NYSE: TGT) or Walmart Inc. (NYSE: WMT).
Central owns 68 brands of its own, and management has a favorable reputation of M&A deals.
Central's dog and cat brands include TFH, Nylabone, Four Paws, Cadet, and Pinnacle. It also owns Nutrident and Comfort Zone, a cat anti-clawing spray.
CENT also generates a significant amount of revenue from Walmart Inc. for manufacturing the retail giant's private-label-brand grass seed.
Even without the acquisition, expect a double-digit pop to $45 per share by the end of the year.
This Tiny Stock Could Turn Every $1,000 Invested into $4,719
The biggest tech breakthrough of the decade could be game-changing - and life-changing.
One tiny firm is rapidly developing the parts needed for this new technology, and it recently inked four deals with major players.
Its stock is trading for less than $10 now... but estimates show it could climb to $57.19 by 2025 - a 471.9% gain for those who get in now.