The soaring stock market, sizzling economy, and still historically low interest rates in the United States make it all too easy to forget about the wider world beyond these shores.
But the world is out there... and right now, it's not pretty.
The emerging markets, the one-time investment darlings that used to boast two and three times the growth of North America and Western Europe, have hit the skids.
It's no exaggeration to use the word "crisis."
You can really take your pick here, but Venezuela, Argentina, Turkey, Iran, South Africa, Mexico, Brazil, and Indonesia are the easy ones to point out.
All have seen their currencies take sharp haircuts over the past several months - quite a few of these currencies are in outright free fall - and the outlook is not promising.
One major headwind for them is the relative strength of the U.S. dollar.
The greenback has risen by 8% against a basket of the most utilized major world currencies and much more against those of emerging markets.
Turkey, for instance, is in the throes of economic turmoil. Argentina has come hat in hand to the IMF's door for a $50 billion loan. During "rough" weeks, savers and shoppers in Iran and Venezuela watch their net worth depreciate by the hour.
Anyone who's old enough to remember the late 1990s knows such events in emerging markets have a tendency to spread, and the contagion effect can rapidly spiral outward, engulfing entire regions like wildfire.
The easy call: If you're in, it's time to get out.
But there's a much more visionary, lucrative call to make in these desperately troubled markets...
[mmpazkzone name="in-story" network="9794" site="307044" id="137008" type="4"]
This Eurasian Giant Has Byzantine Problems
Some of the most vulnerable, volatile emerging markets right now are Turkey, Argentina, and Indonesia.
While each has its own quirks, the similarities are considerable, and that has markets on edge.
YOU KNOW IT IN YOUR GUT: Look at how things are going. Financial turmoil is coming just around the corner, maybe just a few months away. Click here...
Let's look at each individually.
Turkey is the poster child for the current emerging markets crisis. Its currency, the lira, has fallen almost 50% against the U.S. dollar since the start of 2018.
Inflation is rampant at 16% in August alone. Private-sector debt is high, much of that having come from foreign investment.
The Central Bank of the Republic of Turkey's independence is in serious doubt, and it's under pressure from autocratic President Recep Tayyip Erdoğan. He appointed his own son as finance minister and insists on holding interest rates low, believing that supports lower inflation.
The opposite, of course, is true, which is why inflation is spiraling upward. By refusing to raise rates, investors are shunning the lira as it loses value to inflation. The country's foreign currency debts run at an eye-watering 30% of its GDP.
Foreigners are pulling their money out of the lira. European banks have considerable exposure having made loans to Turkish industry. Those Turkish entities that have borrowed in U.S. dollars or euros, for example, are facing much higher costs to repay those debts.
Now Departing Buenos Aires: Billions in Precious Capital
Argentina is facing economic chaos... Again.
So far this year, the peso has lost over 40% of its value against the U.S. dollar... Again. Inflation is all but out of control... Again.
President Mauricio Macri was elected almost as a reaction against the freewheeling, free-spending ways of his two immediate predecessors, Néstor Kirchner, and his wife and political successor, Cristina Fernandez Kirchner.
Throughout both Kirchners' administrations, the nation's finances were troubled by severe mismanagement, highly questionable dealings, and near-constant scandal - a can't-fail recipe for capital flight.
Former civil engineer and businessman Macri won on a center-right platform of reviving the economy, cutting public spending, ending capital controls, and cutting social programs.
On paper, Macri's platform was strong medicine, a straight and narrow path to the sobriety, solvency, and stability that have long eluded Argentina - once the wealthiest country in the world.
It hasn't quite gone according to plan.
In May 2018, Macri, faced with a weakening peso and renewed capital flight, asked the International Monetary Fund (IMF) for assistance.
Trouble is, Argentina has a fraught relationship with the IMF. In 2001, the organization withdrew and denied financial support for Argentina in the face of monumental mismanagement.
In short order, the government defaulted on its debts. Its banking system seized up. To avoid a run on the banks, constraints were imposed, and for a year accountholders faced draconian withdrawal limits.
That history left a bad taste of the IMF in Argentine mouths, so its current $50 billion bailout loan has its skeptics.
Meanwhile, the country's inflation prompted the Central Bank of the Argentine Republic to raise rates to a world record 60%. But the deep fiscal deficit, imminent debt obligations, and falling commodities prices are keeping Argentina in turmoil.
With some 70% of Argentina's debt denominated in U.S. dollars, this problem isn't going away anytime soon.
This Massive Archipelago Is Seriously Underwater
Indonesia, the world's fourth most populous nation, has a history steeped in emerging-market crisis contagion.
But its problem is obvious. A dubious but overwhelming penchant for financing its deficits with foreign money is the chief culprit.
You Must Act Now: America is headed for an economic disaster bigger than anything since the Great Depression. If you lost out when the markets crashed in 2008, then you are going to want to see this special presentation...
In 2013, foreigners already held as much as 33% of Indonesian government debt. By 2017, that number had grown to 40%.
Today $57 billion of that debt is held by foreigners. Many are long-term investors like sovereign wealth funds. Japan has the biggest slice at 14%, and Norway is next with 5%.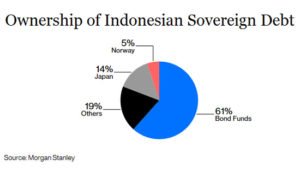 Meanwhile, the relative strength in the U.S. dollar has pressured the Indonesian rupiah. It's lost 9% already in 2018 and is nearing its 2015 low.
The country's current account deficit has grown from 2.36% in the second quarter of 2018, up from 2.04%. Even interest rate hikes all the way up to 5.25% have done little to help support the currency.
But rate hikes are delicate dance: Too slow, and inflation gets out of hand... Too fast, and you risk stalling economic growth.
Either way, Indonesia is close to a place it knows only too well: full-blown economic crisis.
Heading off contagion from other emerging markets looks increasingly unlikely.
How to Profit as These Economies Hit the Skids
A simple way for investors to make hay of this opportunity is through an inverse ETF.
The ProShares Short MSCI Emerging Markets ETF (NYSE Arca: EUM) seeks to mimic a return inverse to the daily performance of the MSCI Emerging Markets Index.
This index is broadly allocated across multiple emerging market nations, including both Turkey and Indonesia.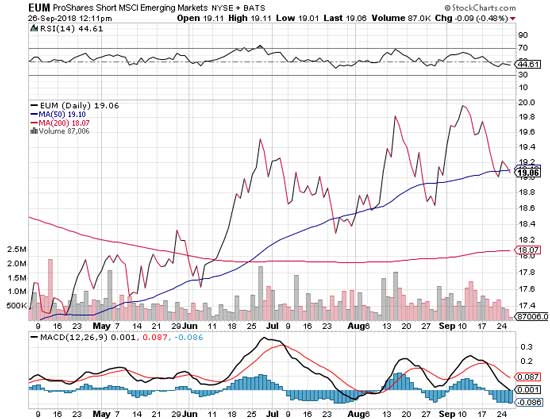 Since the start of 2018, EUM shares appear to have bottomed and are up 17% so far.
But momentum and fundamentals seem to be on its side. The relative strength index and moving average convergence divergence indicators are both confirming the current uptrend, and there appears room to move higher. The 50-day moving average has likely flattened and turned up.
On a macro level, we've got trade wars ramping up worldwide. Emerging markets are among the most vulnerable targets after having taken on over $3.7 trillion in U.S. dollar-based debt.
Investors need to ask themselves: How on earth will these countries be able to handle this astronomical dollar-denominated debt that gets more expensive with each passing month?
Default risks are sky-high, and the possibility of contagion, never all that remote to begin with, is elevated as well.
The bottom line: Shorting these markets is looking less and less like a speculative profit play and more like an investment necessity with each passing day.
No Place for Fear, Panic, or Mistakes: You may only have a few months to prepare. A market signal that showed up before the Great Depression... before the dot-com crash... and before the 2008 financial crisis has just appeared again. Each time this signal appears, investors only have a few short months before chaos strikes. So if you want to protect yourself and your family, there is no place for fear, panic, or mistakes. You must act now. Click here to discover how.