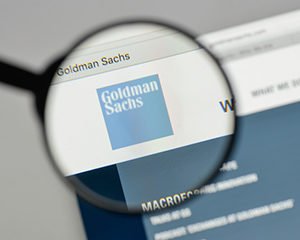 Wall Street loves a good turnaround story. In the banking sector, Goldman has been lagging behind peers like JPMorgan Chase & Co. (NYSE: JPM) and Bank of America Corp. (NYSE: BAC) for most of this year.
However, Money Morning Chief Investment Strategist Keith Fitz-Gerald sees this as a classic turnaround play.
The good news is, Wall Street doesn't see it.... yet.
When it does, there are strong odds Goldman will catch up to the others, giving investors a great opportunity for quick profits. In fact, we've found a way you can double your money.
The question is why will Goldman make such a move? Fitz-Gerald likes the company's changes to its leadership ranks. It is one of those catalysts that can get a stock's juices flowing.
And he recently outlined several additional catalysts:
1 - The firm's new CEO, David Solomon, takes over Sept. 30. He has broad experience on Wall Street with a strong path to top leadership. His bold style should give Goldman the swift kick it needs to get back on top of the field.
The 4 Cannabis Stocks to Buy Now - Profits of Up to 1,000% Could Be Likely This Election Year!
2 - Solomon named Stephen Scherr and CFO, John Waldron as president, and Tim O'Neill as its vice chair. A well-rounded and handpicked team will soon be in place.
As Fitz-Gerald noted, these and other moves suggest the new boss has three priorities: 1) further expanding into consumer banking, 2) pushing deeper into commercial banking, and 3) expanding Goldman's client "footprint."
It's a big change from Goldman's trading-centric culture - a relic of the Gordon Gekko-inspired 1908s. The shift to relationship-centric businesses could be worth billions to the bottom line.
And with this strategy, Fitz-Gerald thinks you can double your money on GS within the next two months...
How to Double Your Money on Goldman's Resurgence