There's more noise than usual in the markets right now - Trump, tariffs, interest rates, pot stocks, new highs, you name it.
Getting lost in all of that are some cases of true outperformance.
Take oil and gas explorers, for instance. They're having an excellent year.
In fact, the SPDR Oil & Gas Explorer and Production ETF (NYSEArca: XOP) is running neck-and-neck with the NASDAQ Composite for gains in 2018. And XOP has gained nearly twice what the S&P 500 has managed and has more than doubled the Dow's performance.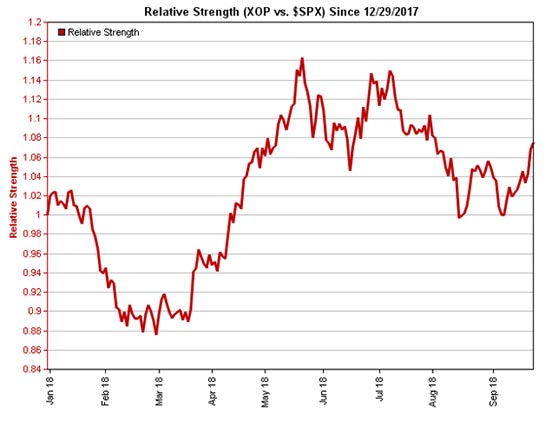 Now, there's no doubt that oil-related stocks have been boosted by the surge in oil prices. London benchmark Brent crude is trading at three-year highs, above $80 per barrel.
At the same time, OPEC is threatening to curtail supply, and the United States wants help in keeping Iranian oil off the market, further reducing supply.
There's also no doubt that higher oil prices means shelling out more at the gas pump. In fact, the U.S. national average is nearly 12% higher than it was a year ago, according to the American Automobile Association (AAA).
But I'm not here to talk about money coming out of your pocket. I'm here because my Best in Breed (BIB) analysis has identified a couple of XOP components that will put money into your pocket.
[mmpazkzone name="in-story" network="9794" site="307044" id="137008" type="4"]
I Like Playing the Sector's Strongest Stocks Together
As I've said before, finding the hot sectors is easy - a quick Google search will do the trick. Best in Breed takes the next step by identifying the stocks that not only have been hot but that should continue to beat the market.
The Night Trader's Secret: A former Wall Street insider just revealed a new strategy for executing night trades that could set you up for potential $850, $2,250, or $6,775 paydays - overnight. Click here.
We'll start with the better known of the two - explorer and producer Hess Corp. (NYSE: HES). Hess has been a beast in 2018, gaining nearly 50%. And as the chart below shows, it's been steadily walloping the XOP throughout the year.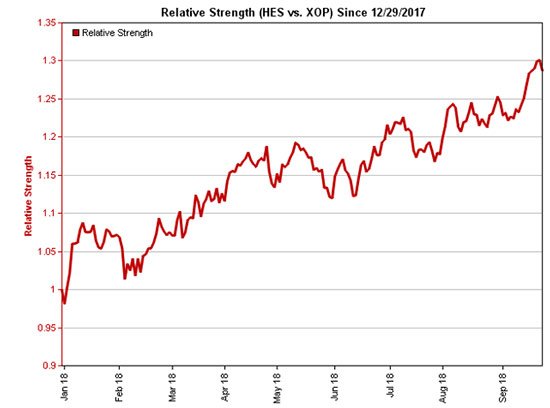 What's more, the stock set a three-year high earlier this week.
Now here's the thing, 2018 has been stellar, but HES is a long way from its all-time high of $137, reached in 2008.
Looking at the longer term, this year's strength has turned the 20-month moving average higher for the first time since late 2014. The last time the 20-month turned higher was in early 2013, as the stock was in the midst of a two-year rally that boosted the share price by more than 160%.
Regular readers of my columns know that one of my Ten Trading Commandments is "Short sellers are usually a bull's best friend." That certainly holds true for HES shares, which has been boosted by a massive unwinding of short positions since April.
You Have to See It to Believe It: Chris Johnson is the Night Trader, and his most powerful tool tells him exactly which stocks are set to go up tomorrow, the next day, the day after that, and beyond. And it is rarely ever wrong. Click here to learn more...
In fact, the amount of short interest has been reduced by more than half as short sellers have been forced to cover their positions by buying stock. But the short squeeze isn't over, as Hess' short-interest ratio is still at a healthy 7.0. That tells me there's more than enough short interest to continue the squeeze that will power HES higher.
With plenty of short interest available, room to run on the chart, and ample pressure on oil prices, I'm looking at the 2015 high at $79 as my near-term target for HES.
My second XOP outperformer is Bermuda-based Kosmos Energy Ltd. (NYSE: KOS). Kosmos is an explorer and producer with assets primarily in Africa and South America. Like Hess, Kosmos has easily outdistanced the XOP, returning 36% so far this year.
More impressively, the stock hit a three-year high on Tuesday that was nearly 90% above its 2018 low in February.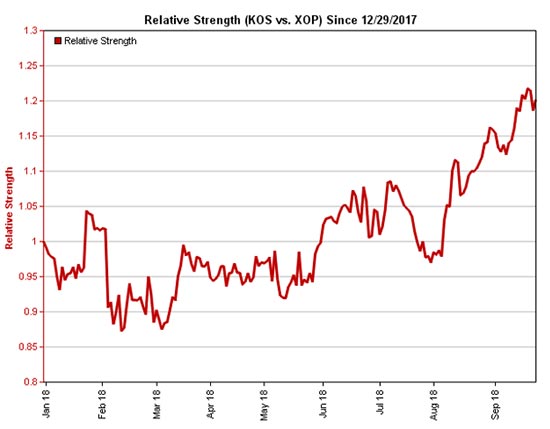 Like Hess, a longer-term view tells a bullish story.
KOS shares have been rallying since hitting an all-time low in early 2016. The rally has seen the shares triple in price and has pulled the 20-month moving average into a bullish cross above the 50-month moving average.
Over the past year, Kosmos' upward drive has been aided by a short squeeze that has sliced the total amount of short interest in half. Yet, like HES, the current short-interest ratio stands at a very "squeezable" 8.9, meaning the short covering is far from over.
With strong technicals, no resistance overhead, oil price strength and a short-covering rally that has room to run, I'm targeting a move to $11, which retraces about a third of the stock's huge decline from late 2009 through 2015.
The KOS April 18, 2019 $7.50 call (KOS190418C00007500) is well priced to take advantage of the stock's expected strength. It's one of the longest-dated in the money calls available for Kosmos.
Potential short squeezes are a great reason to jump aboard a stock that is technically strong. But when the short covering is in progress, as with HES and KOS, the rally has a much better chance of continuing.
Grab these stocks now before the short interest runs out and play the options to juice what should be very strong gains.
This Trader Is Betting It All He Can Show You How to Turn $5,000 into AT LEAST $174,500
Chris Johnson is on pace to see 3,390% total winning gains this year.
And now, he's guaranteeing his recommendations will give you the chance to do the same.
If not, he's working for free.
So mark your calendar for one year from today...
Set a reminder on your phone...
And click here to learn how to join right now.
Follow Money Morning on Facebook, Twitter, and LinkedIn.
About the Author
Chris Johnson is a highly regarded equity and options analyst who has spent much of his nearly 30-year market career designing and interpreting complex models to help investment firms transform millions of data points into impressive gains for clients.
At heart Chris is a quant - like the "rocket scientists" of investing - with a specialty in applying advanced mathematics like stochastic calculus, linear algebra, differential equations, and statistics to Wall Street's data-rich environment.
He began building his proprietary models in 1998, analyzing about 2,000 records per day. Today, that database, which Chris designed and coded from scratch, analyzes a staggering 700,000 records per day. It's the secret behind his track record.
Chris holds degrees in finance, statistics, and accounting. He worked as a licensed broker for 11 years before taking on the role of Director of Quantitative Analysis at a big-name equity and options research firm for eight years. He recently served as Director of Research of a Cleveland-based investment firm responsible for hundreds of millions in AUM. He is also the Founder/CIO of ETF Advisory Research Partners since 2007, noted for its groundbreaking work in Behavioral Valuation systems. Their research is widely read by leaders in the RIA business.
Chris is ranked in the top 99.3% of financial bloggers and top 98.6% of overall experts by TipRanks, the track record registry of financial analysts dating back to January 2009.
He is a frequent commentator on financial markets for CNBC, Fox, Bloomberg TV, and CBS Radio and has been featured in Barron's, USA Today, Newsweek, and The Wall Street Journal, and numerous books.
Today, Chris is the editor of Night Trader and Penny Hawk. He also contributes to Money Morning as the Quant Analysis Specialist.