There's more noise than usual in the markets right now – Trump, tariffs, interest rates, pot stocks, new highs, you name it.
Getting lost in all of that are some cases of true outperformance.
Take oil and gas explorers, for instance. They're having an excellent year.
In fact, the SPDR Oil & Gas Explorer and Production ETF (NYSEArca: XOP) is running neck-and-neck with the NASDAQ Composite for gains in 2018. And XOP has gained nearly twice what the S&P 500 has managed and has more than doubled the Dow's performance.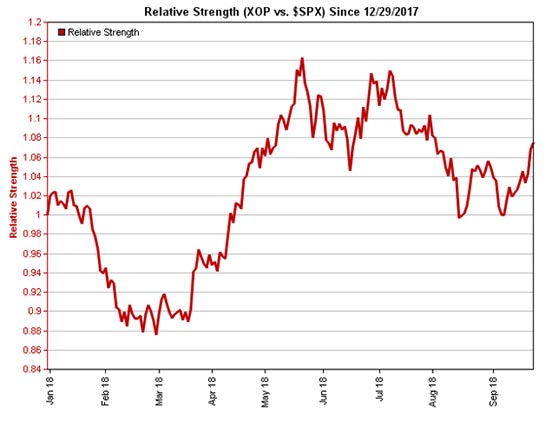 Now, there's no doubt that oil-related stocks have been boosted by the surge in oil prices. London benchmark Brent crude is trading at three-year highs, above $80 per barrel.
At the same time, OPEC is threatening to curtail supply, and the United States wants help in keeping Iranian oil off the market, further reducing supply.
There's also no doubt that higher oil prices means shelling out more at the gas pump. In fact, the U.S. national average is nearly 12% higher than it was a year ago, according to the American Automobile Association (AAA).
But I'm not here to talk about money coming out of your pocket. I'm here because my Best in Breed (BIB) analysis has identified a couple of XOP components that will put money into your pocket.
Join the conversation. Click here to jump to comments…
About the Author
Chris Johnson is Quantitative Specialist for Money Map Press. He's obsessed with building and perfecting mathematical models that allow him to predict, with startling accuracy, the direction of the markets, entire sectors, and individual securities. For the last year, he's been researching and building a new system that lets him move swiftly in and out of the hottest stocks in the market for life-changing gains - entirely on his own terms. The results of his newly-minted Night Trader system are nothing short of amazing.