There's more noise than usual in the markets right now - Trump, tariffs, interest rates, pot stocks, new highs, you name it.
Getting lost in all of that are some cases of true outperformance.
Take oil and gas explorers, for instance. They're having an excellent year.
In fact, the SPDR Oil & Gas Explorer and Production ETF (NYSEArca: XOP) is running neck-and-neck with the NASDAQ Composite for gains in 2018. And XOP has gained nearly twice what the S&P 500 has managed and has more than doubled the Dow's performance.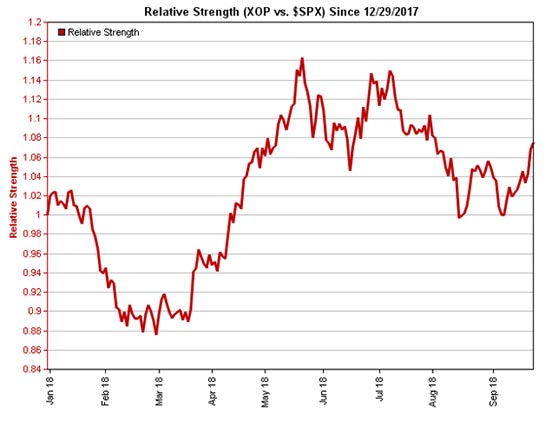 Now, there's no doubt that oil-related stocks have been boosted by the surge in oil prices. London benchmark Brent crude is trading at three-year highs, above $80 per barrel.
At the same time, OPEC is threatening to curtail supply, and the United States wants help in keeping Iranian oil off the market, further reducing supply.
There's also no doubt that higher oil prices means shelling out more at the gas pump. In fact, the U.S. national average is nearly 12% higher than it was a year ago, according to the American Automobile Association (AAA).
But I'm not here to talk about money coming out of your pocket. I'm here because my Best in Breed (BIB) analysis has identified a couple of XOP components that will put money into your pocket.
Join the conversation. Click here to jump to comments…
About the Author
Chris Johnson is a highly regarded equity and options analyst who has spent much of his nearly 30-year market career designing and interpreting complex models to help investment firms transform millions of data points into impressive gains for clients.
At heart Chris is a quant - like the "rocket scientists" of investing - with a specialty in applying advanced mathematics like stochastic calculus, linear algebra, differential equations, and statistics to Wall Street's data-rich environment.
He began building his proprietary models in 1998, analyzing about 2,000 records per day. Today, that database, which Chris designed and coded from scratch, analyzes a staggering 700,000 records per day. It's the secret behind his track record.
Chris holds degrees in finance, statistics, and accounting. He worked as a licensed broker for 11 years before taking on the role of Director of Quantitative Analysis at a big-name equity and options research firm for eight years. He recently served as Director of Research of a Cleveland-based investment firm responsible for hundreds of millions in AUM. He is also the Founder/CIO of ETF Advisory Research Partners since 2007, noted for its groundbreaking work in Behavioral Valuation systems. Their research is widely read by leaders in the RIA business.
Chris is ranked in the top 99.3% of financial bloggers and top 98.6% of overall experts by TipRanks, the track record registry of financial analysts dating back to January 2009.
He is a frequent commentator on financial markets for CNBC, Fox, Bloomberg TV, and CBS Radio and has been featured in Barron's, USA Today, Newsweek, and The Wall Street Journal, and numerous books.
Today, Chris is the editor of Night Trader and Penny Hawk. He also contributes to Money Morning as the Quant Analysis Specialist.