Learn why right now is the best time to invest in banks.
Find out why all bank stocks aren't equal and how one is heads and shoulders above the rest.
---
You already know the Fed is hiking interest rates. After all, the cost of a new mortgage, car loan, home improvement loan, and even credit card debt is rising.
While more expensive borrowing is putting the squeeze on the average Americans, banks are raking in even more cash.
But you don't have to be a bystander as bank profits soar.
By owning the right bank stocks, you can cash in right alongside them...
Why Rate Hikes Are Rocket Fuel for Banks
High finance might be complicated enough to warrant its own language, but don't be fooled: the way banks make money is simple.
They pay customers to deposit their money and then loan the money out at interest. And it's a nearly foolproof business model.
That's why we say bankers subscribe to the "3-6-3 rule."
Pay 3% interest on deposits, loan the money out at 6% interest, and be on the golf course by 3 p.m.
Piece of cake.
But here's what matters for you. When the Fed hikes interest rates, the banks can lend the money out at even higher rates, which makes them even more money.
Sign up for SMS so you never miss special events, exclusive offers, and weekly bonus trades.
You see, the prime rate for loans - the rate banks base their interest rates on - is set by the U.S. Federal Reserve. And that's what the Fed has been rapidly raising. In fact, it's on pace to hike the rate
four
times this year alone.
After slashing the rate to nearly 0% in the wake of the 2008 financial crisis, the Fed is finally comfortable with raising it back up to pre-crash levels.
That's great for banks.
This man makes more money than he knows what to do with - and you'll never guess how...
Higher interest rates boost their net interest margin, a measure we use to keep track of how much money banks are making on their investments.
The higher the margin, the better the bank is doing, and higher interest rates push this margin up.
But before you run off to buy just any banking stock, remember that not all banks are equal...
Technology Is Disrupting the Old-Fashioned Banking Industry
While banks have a time-tested business model, technological innovation is changing the game.
Customers no longer need to drive down to their community bank to make a deposit, apply for a loan, or cash a check. You can do it all online now.
Not only is that more convenient for customers, but some banks aren't even bothering to build and open brick-and-mortar locations any more. These new banks operate 100% online with no physical retail outlets.
That makes a lot of sense when you realize roughly two out of three Americans do most of their banking using online or mobile resources, according to the American Bankers Association. Fewer than two out of 10 Americans rely on brick-and-mortar outlets.
And while traditional banks also offer online and mobile options to keep their customers satisfied, online banks have one big advantage over their rivals.
Online banks are offering their customers four times more money to deposit with them than their average brick-and-mortar competitor.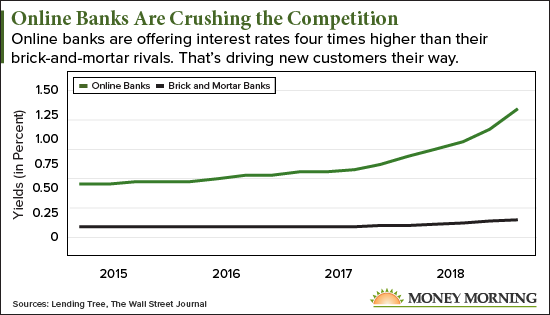 Because online banks don't have the expenses of a traditional bank - construction, maintenance, staffing, and security - they can offer their customers a higher yield on their deposits. As you can see, online banks have a dramatic advantage.
[pa_button slug="money-chart-of-the-week"]Get our simple, easy-to-read money charts delivered to your inbox every week.[/pa_button]
As Americans continue to move toward online and mobile banking and rely less and less on physical locations, the higher yield on deposits will help push customers into online-only outlets. Accenture Research reports a staggering 71% of banking customers cite pricing or value as their main motivation for switching banks.
And this is a trend we expect will only speed up as the Fed continues to hike rates.
Fortunately, that also means investors have time to get in early if they act quickly. To help you find which online bank stocks are worth owning, we did the research and found a top buy.
Not only is this one of the premier online banks in the world, but analysts are projecting the stock price will spike by 50% over just the next year.
But our proprietary valuation system says that's just the start for one of the best bank stocks to buy...
This Is One of the Best Bank Stocks to Own Right Now