Renewable energy firms are quickly becoming some of the hottest takeover targets in the world, and one of the biggest buyers is who you'd least expect...
Mergers and acquisitions in the renewable energy sector surged to a record high of $60 billion in the first half of 2018.
And just today (Oct. 9), Ørsted - the largest power provider in Denmark - bought Rhode Island-based Deepwater Wind for $510 million.
While plenty of clean energy firms are joining forces to broaden their reach, another group of companies with massive war chests is starting to buy up the best renewable companies too.
More importantly, this trend could be hugely profitable for you as this money starts to pour in.
That's why we're revealing our top takeover target in the renewable energy sector. It's one of the best solar energy companies on the market, and it could more than double your money...
If You Can't Beat Them, Buy Them
Big Oil firms are no longer content competing against renewable energy, they're now getting into the clean energy business themselves.
And when some of the biggest companies on the planet decide to start spending money, we're more than happy to get in on the action.
Exxon Mobil Corp. (NYSE: XOM), for example, has more than $3 billion of cash on hand they can deploy on renewable energy. In fact, that's exactly what Big Oil firms have just started doing.
As of last year, the oil majors spent a total of $6.2 billion on renewable energy firms, and they bought twice as many clean energy companies in 2016 as they did in 2015, the most recent years available.
Relying on oil alone simply won't be enough for the oil supermajors to sustain their profits.
Take a look at some of the most recent blockbuster Big Oil deals in renewable energy...
Earlier this year, Royal Dutch Shell Plc. (NYSE: RDS.A) spent $217 million to buy a 44% stake in Silicon Ranch Corp., a major U.S. solar developer. Shell is committing $1 billion a year to clean energy investments.
BP Plc. (NYSE: BP) spent $200 million for a 43% stake in Lightsource in 2017. Lightsource BP is Europe's largest solar development company.
Thanks to its 60% stake in SunPower Corp. (NASDAQ: SPWR), French super major Total SA (NYSE: TOT) now dominates the French solar power market. And to make its foothold even larger, Total paid $1.1 billion for Saft, an energy storage company, an essential service supporting renewable energy.
Even Chevron Corp. (NYSE: CVX), one of the last oil supermajors to embrace renewables is investing $100 million into a "Future Energy Fund" designed to help develop new clean energy technology.
And this is just the beginning of the trend.
Critical: A breakthrough technology could disrupt every major industry, and one tiny company is at the center of it all. Its stock is trading for less than $10 now, but it could deliver a 471.9% gain for early investors. Learn more...
You see, Big Oil has finally realized its future is at stake if it doesn't diversify. While there will always be demand for oil and gas, renewables are a growing part of the world's energy mix. More than half of all new electric power worldwide came from renewables last year.
Relying on oil alone simply won't be enough for the oil supermajors to sustain their profits.
Wood Mackenzie forecasts Big Oil firms will need to spend $350 billion on wind and solar by 2035 if they want to up their market share from 2% to 12%. That will give them the same market share in clean energy as they have in oil, and it's a reasonable forecast for what they'll need to stay competitive.
That's a potentially huge amount of money pouring into the renewable energy industry thanks to Big Oil alone.
And it's clear which type of renewable energy companies they are targeting...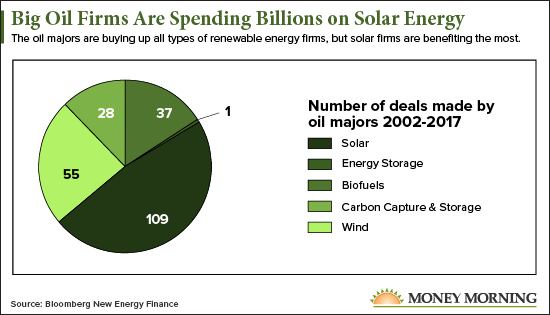 Solar companies are clearly the prime targets for Big Oil money. That's not surprising considering the incredible growth potential of the solar sector. The EIA forecasts the solar industry will grow an astonishing 500% over the next two decades.
That's exactly why we're showing you one solar energy company with one of our highest "buy" ratings today.
Not only is this stock a "buy" now, but it could be an acquisition target as Big Oil continues to pour money into renewables. A takeover could send its share price skyrocketing.
Its market cap is roughly $550 million, which means a 40% stake is worth around $220 million. That's almost exactly the price Shell and BP paid for stakes in solar firms already.
And it's just one reason analysts expect this solar stock's share price to soar 140% higher...
This Solar Stock Is the Ideal Takeover Target for Big Oil
[mmpazkzone name="in-story" network="9794" site="307044" id="137008" type="4"]
Vivint Solar Inc. (NYSE: VSLR) is the ideal takeover target for oil supermajors.
Its $550 million market cap is perfectly in line with previous solar acquisitions.
Its price/earnings (P/E) ratio is a mere 3.2, over 85% below the S&P 500's average P/E ratio of 23.56. That's a substantial value on the company's earnings.
Plus, Vivint is already profitable, raking in $209 million in profits last year.
Big Oil suitors would instantaneously own a profitable solar company at a fraction of the cost of the average S&P 500 company.
On paper, Vivint is an excellent value, but its innovative business model is what really catches our eye...
Vivint installs its solar systems on residential homes and businesses. That means customers don't have to pay for the up-front cost of a new solar system. Instead they simply pay Vivint for the solar power they use. And it also means customers no longer need to deal with their regional energy provider.
Vivint has already installed solar systems on 126,800 homes across the United States, but its partnership with California's largest homebuilder could push its growth into overdrive. California builds 80,000 new homes a year.
This is the perfect way for Big Oil to get a foothold in clean energy without having to invest in traditional utility firms and their notoriously stingy profit margins.
Most importantly for us, Vivint solar has a stellar Money Morning Stock VQScore™ of 3, making it a strong buy right now. A score of three means the company is undervalued and gaining momentum.
JMP Securities and Guggenheim both agree, as they just upgraded Vivint stock to a "Buy" over the summer.
Analysts are forecasting Vivint's revenue to jump more than 60% by next year, propelling its stock from $4.64 a share to $11.00 a share, a 138% gain for shareholders.
Finding diamonds in the rough like Vivint Solar is one of the best ways to lock in triple-digit gains.
And this method is Money Morning Special Situation Strategist Tim Melvin's specialty.
Tim finds stocks in exceptionally well-run companies that represent unreasonable values for shareholders.
That's how he's earned an undefeated track record in recommending stocks.
Tim has issued 119 trade recommendations with zero realized losses.
He's closed out 32 winning trades in a row, and 85 of his 87 open positions are in the green.
Find out how to never buy a losing stock again by clicking right here...