If there are two things I know a lot about, they're food and hedge funds.
No, I'm not a chef.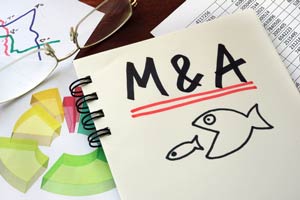 But I do have an MBA in Food and Agribusiness, and I have covered the hedge fund markets as an economist and reporter for a decade. I've also been incredibly intrigued by the hedge fund industry's fascination with food and beverage stocks over the last few years.
And that interest kicked into overdrive in recent days, as two big announcements this week show the acquisition spree in the food industry is growing...
First, hedge fund Trian Management is reportedly considering a bid to purchase the nations' third largest pizza chain, Papa John's International Inc. (NASDAQ: PZZA).
Second, hedge fund manager Bill Ackman announced a $900 million stake in Starbucks Corp. (NASDAQ: SBUX) on Oct. 9.
Ackman - who already has big stakes in industry giants like Chipotle Mexican Grill Inc. (NYSE: CMG), Restaurant Brands International Inc. (NYSE: QSR), and Mondelez International Inc. (NASDAQ: MDLZ) - predicts that the Seattle coffee chain's stock could double in just two years.
These hedge funds diving into the restaurant space tells me there's serious upside potential in the sector.
But we can find much better deals...
Following the recent buzz in the restaurant space, I looked at the entire universe of available stocks to determine who is most likely to draw the attention of a hedge fund manager next.
Not only is a significant investment possible (the stock price can climb because of the endorsement of a hedge fund), but I believe there's a good chance that one company is going to be purchased outright in the next few months.
And you could make big gains from either of these outcomes...
Consolidation in the Restaurant Industry Means Money in Your Pocket
It's been a difficult time for the restaurant space.
There's been a surge in new offerings from legacy brands and niche companies entering the space, but the foot traffic hasn't matched expectations.
In the digital age, consumers continue to change their dining habits, all while aiming for healthier, more convenient options.
Meanwhile, consolidation has picked up in the space as food stock prices have lagged.
Activist investors are stepping in, making big bets on their ability to cut costs, improve sales, and push the stock prices higher.
But the real story is what's happening with companies operating as the managers of several brands...
Case in point, Arby's announced on Nov. 28 that it would purchase Buffalo Wild Wings for $2.9 billion (a play that looks brilliant after the widespread legalization of sports gambling).
The merger created a new vehicle called Inspire Brands.
Billions Are Now in Play: Millions of Americans could collect "Federal Rent Checks" - to learn how to claim your portion of an $11.1 billion money pool using this backdoor investment, click here now...
I keep up to date with what Inspire is doing because I expect that it will make several major acquisitions in the food industry.
The firm is backed by Roark Capital Group, a private equity giant named after the protagonist in Ayn Rand's novel, "The Fountainhead."
The firm specializes in leveraged buyout investments in middle-market firms. This space includes franchise/multi-unit, restaurant and food firms, and retail healthcare.
It currently has access to cash to make deals, relationships in the space, and the experience to - as Inspire describes it -- "build a family of powerful, distinct restaurant brands that each have high-growth potential, both domestically and internationally."
The private equity firm also operates a group called Focus Brands, which owns Moe's Southwest Grill, McAlister's Deli, Cinnabon, Carvel, Auntie Anne's, and Schlotzsky's.
And it's looking to acquire even more...
Earlier this year, Inspire Brands CEO Paul Brown said his company would target firms with $1 billion to $4.5 billion in system sales.
More importantly, Inspire is only interested in buying companies it views trading at a discount.
This brings me to about 15 firms - a list that included Papa John's until Monday.
That's still a lot of names.
So, I'm going to need a little help.
To determine what is a good value for a group like Inspire Brands or a hedge fund, I will save myself some time.
I want to use a tool that helps me determine whether or not a stock is an ideal "Buy" right now to get a sense of its cash flow and its potential ability to break out.
For this reason, I'm going to use the Money Morning Stock VQScore™.
Money Morning tracks the 1,500 most profitable companies and assigns them a rating based on our proprietary formula. This formula predicts which stocks are set to break out.
And according to our proprietary formula, this restaurant stock is the ideal takeover target, and it's a stock that needs to be in your portfolio right now...
This Is the One Restaurant Stock to Buy Right Now
A few names stand out when I use the VQScore system.
But only one fits my criteria for synergy, system sales, and the ability to break out.
That stock is Red Robin Gourmet Burgers Inc. (NASDAQ: RRGB). Red Robin is a Denver-based, casual dining chain that focuses on what its name implies: gourmet hamburgers.
It has locations all across the country, with special focus on the Colorado, Illinois, Maryland, Washington, Massachusetts, Arizona, North Carolina, and Iowa markets.
Now, I have to let you know that the RRGB stock price has taken a big hit in 2018.
It's down nearly 30% since the start of the year.
But that's actually created a great entry point for us to pick up shares at a discount...
What investors aren't paying attention to has been the firm's shift from traditional dining to a faster, more casual approach. This includes a reduced reliance on servers, an increase in online ordering, and to-go capabilities that will reduce overhead.
The company also made a bold decision to shutter all of its Chicago locations.
Instead, it's launching a "virtual restaurant" model. This new iteration called Red Robin Express delivers food out of its shuttered Michigan Avenue location to proximate neighborhoods across the city.
The company has committed to evolving, which is rare, given that too many restaurants dig their heels in and swear that customers will "come around" and return to their old habits.
We're seeing this happen in brick-and-mortar retail - looking at you Sears Holdings Corp. (NASDAQ: SHLD) - and we're watching it again in the restaurant industry.
The firms that shift to meet their consumers' tastes and technology preferences - while continuing to deliver on quality and price - will succeed.
The rest will die...
Finding Value Under the Bun
At some point, however, you have to look at the price of the stock, the history of its brand, and whether the numbers justify speculating on a takeover.
Based on the numbers, this is a stock that will generate some buzz from interested buyers.
The company's enterprise value is 5.4 times earnings before interest tax, depreciation, and amortization. That makes the company well within the range of a buyer's comfort for an acquisition.
The stock is also trading at an attractive price-to-cash-flow of 8.46. This ratio is roughly three times lower than the industry average of 25.89.
But with a perfect VQScore of 4, it's squarely in the "Buy Zone."
Whether Red Robin is acquired or investors pile in as the company's success grows, the stock could make you a lot of money.
Consider this: Red Robin currently trades for 26.9 times earnings right now, but fast casual brands - where Red Robin is shifting its business - trade at much larger premiums. Shake Shack Inc. (NYSE: SHAK) trades for an insane 536.7 times earnings, Potbelly Corp. (NASDAQ: PBPB) trades for a gaudy 132.2 times earnings, and Chipotle trades for 72.31 times earnings.
If Red Robin shares jump to match even Chipotle's price/earnings ratio, the stock will be worth $104.74 a share, a 170% gain.
And that's a tasty proposition.
Public Law 92-313 Creates $11.1 Billion Cash Bonanza
Thanks to an obscure law, over 100 government agencies are required to pay rent, including the DOJ, FBI, and NASA.
This money is being funneled into the Treasury. And it's helped create an enormous $11.1 billion pool of money.
If you add your name to a special distribution list, you could begin collecting $1,795 or more every month from this powerful investment income stream.
Follow Money Morning on Facebook, Twitter, and LinkedIn.
Join the conversation. Click here to jump to comments…
About the Author
Garrett Baldwin is a globally recognized research economist, financial writer, consultant, and political risk analyst with decades of trading experience and degrees in economics, cybersecurity, and business from Johns Hopkins, Purdue, Indiana University, and Northwestern.