The price of silver had a strong start to last week just like its golden cousin.
I was very impressed to see silver prices shoot all the way up to $14.80 on Tuesday, Oct. 23.
That was a blistering gain of nearly 2% from the previous day's close, and a silver's highest level since late August.
What triggered so much buying?  In my view, it was heightened concerns about geopolitics and a weaker dollar that tipped the scales. Bond yields dropped as new buying emerged. That caused the 10-year treasury yield to dive to 3.13% and the U.S. dollar index to consolidate near 95.8.
The silver price did pull back slightly after that, but it remained stronger on balance than it had been for the previous couple of weeks.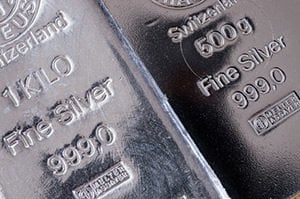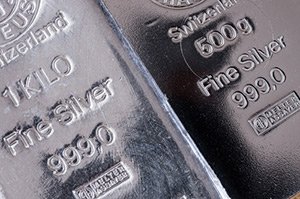 Here's exactly how the precious metal is trending...
Here's Why the Price of Silver Is Rallying
Like I pointed out, Tuesday's action was a big move in silver prices. Silver went from $14.53 at Monday's close to $14.80 by around 9:30 a.m. There was a big sell-off in stocks; the Dow fell 500 points (about 2%) thanks to concerns about earnings and geopolitics. More specifically, the EU told Italy its budget proposal was unacceptable and insisted on a revision within three weeks, while Brexit negotiations continued through a rough patch.
In Case You Missed It: Former Speaker of the House John Boehner was once marijuana's biggest enemy... now he's advising Americans to go "ALL IN" on cannabis. To see his shocking prediction, click here...
On Wednesday, the dollar index jumped quickly from 96 to "test" the 96.5 level through most of the day. It would end near 96.35, but equities took a deep dive with the S&P 500 losing 3%, the Dow 2.4% and the Nasdaq a big 4.4%. Unlike gold, the price of silver dialed back, but stayed above $14.60 and ended at $14.65.
Thursday brought more weakness as the DXY jumped again, this time to about 96.65 though the second half of the day. The driver was most likely thanks to the ECB leaving rates unchanged and Draghi promising accommodative policies. Equities regained some strength, but silver dropped to $14.57 before clawing back slightly to close at $14.61.
Here's the DXY action of the past five days: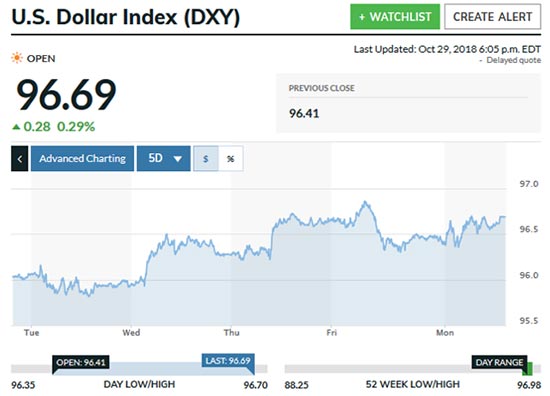 On Friday, the dollar reversed, dropping 50 basis points from 96.85 to 96.35. Silver bottomed just after 8 a.m. at $14.55, then rallied quickly to $14.73 before dropping to $14.65, where it closed.
Monday's action saw a rally to $14.71 just after 8 a.m. But that quickly reversed, and silver fell to $14.39 before climbing back to close at $14.41.
Now, here's where I see the price of silver heading from here...
Here's What's Next for the Price of Silver in November
[mmpazkzone name="in-story" network="9794" site="307044" id="137008" type="4"]
The dollar's been strong as the euro and yuan have weakened, allowing the DXY to run to 96.5.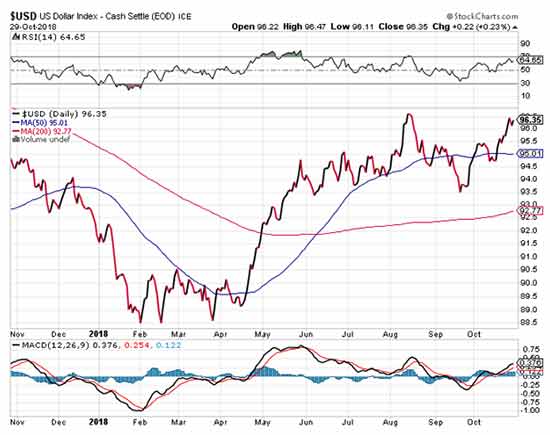 I think we could see the dollar begin to weaken once the midterm elections are over. That will remove some uncertainty, which is likely driving dollar safe-haven buying.
With that out of the way, I'd expect to see the dollar weaken and equities and precious metals rally.
Despite its recent high of early last week, silver's been struggling.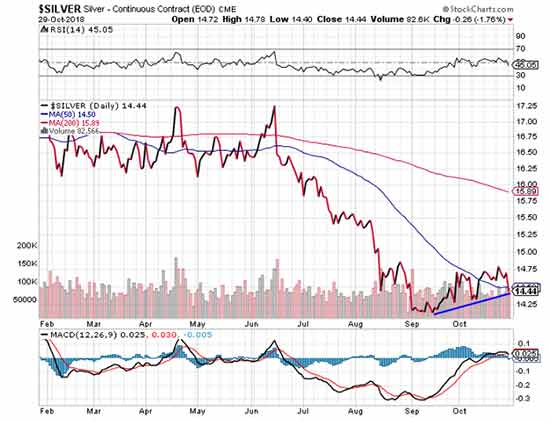 The relative strength index and moving average convergence divergence indicate the metal may be losing some momentum as both of these have begun to roll over. Also, Monday's close has pulled silver back just below its 50-day moving average.
If it can move sideways or higher, then we may at least have put in a higher low, which would be bullish.
Meanwhile, the gold-to-silver ratio is back at its recent multi-year peak of 85.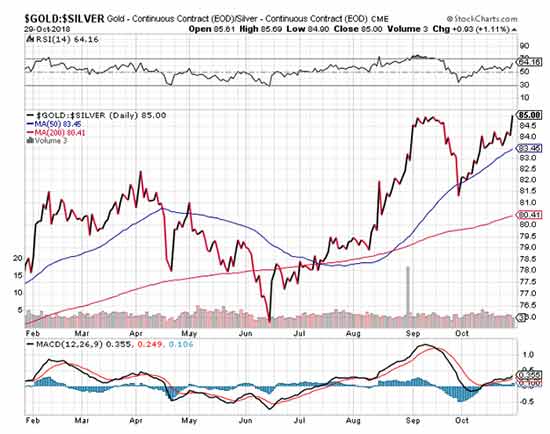 Momentum-wise, there's room for the ratio to move higher. But silver is already so cheap relative to gold, I'd have to put the odds on the reverse happening.
If the dollar remains strong at least through the midterms, I'd expect silver to be weighed down somewhat by that.
Silver needs to get back above $15, which could help trigger a lot more short covering as well as some momentum buying. From there, we'll need to see $15.65 in order to finally rally toward $16.
Did You See John Boehner's SHOCKING Marijuana Prediction?
At the American Cannabis Summit - the first-ever nationwide event for cannabis investors - former Speaker of the House John Boehner revealed why he's going ALL IN on marijuana... and exactly how ordinary Americans can make a fortune from this hundred-billion-dollar industry. To see a special rebroadcast of this historic event, click here.