On Tuesday (Oct. 23), the European Commission rejected a draft of the Italian government's 2019 budget, and it sent stocks tumbling. But it could get much worse...
Following the report, the Dow Jones Industrial Average fell as much as 442 points, adding to October's severe losses.
With losses mounting, there are clear signs that's Italy's debt crisis could ignite the next financial crisis.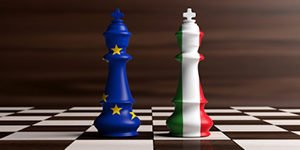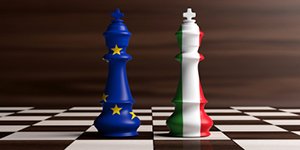 You see, Rome and Brussels are approaching the point of no return in their negotiations - and it has dire consequences for America's historic bull market.
Today, we'll take a close look how Italy could spark the next stock market crash. We'll also take a close look at a method you can use to protect your portfolio...
Europe Can't Stomach Italy's Mounting Debt
Italy's budget proposal calls for a substantial deficit increase in an effort to jump-start the Italian economy after years of sluggish growth. The proposed deficit increase is equal to 2.4% of Italy's gross domestic product (GDP).
Italy's additional borrowing would add to a total government debt already equal to 131% of the nation's GDP.
Brussels aggressively opposes the plan because it believes Italy's debt is already at unacceptable levels. In fact, the nation's current debt is twice the amount of the Eurozone's acceptable debt-to-GDP ratio.
You Must Act Now: America is headed for an economic disaster bigger than anything since the Great Depression. If you lost out when the markets crashed in 2008, then you are going to want to see this special presentation...
That sort of debt is a huge problem.
The Eurozone is still recovering from the 2010 debt crisis triggered by Greece's inability to cover its debts. Greece's defaults forced Europe's central banks to issue billions in bailout funds in order to keep the Mediterranean nation solvent.
And it could get even worse this time.
Italy is the European Union's third largest economy and accounts for 11% of the bloc's gross domestic product - 10 times as much as Greece.
Because of Italy's size and debt load, EU officials are concerned that nation's banks will not be able to cover the nation's debt load if it defaults.
If Italy is unable to reign it its debt or jump-start economic growth, Europe's third largest economy could begin to default on its obligations - triggering the next financial crisis.
Despite the risks of increasing the nation's debt load, Italian government officials state they have no intention of backing down.
Following Brussels' rebuke, Italian Deputy Prime Minister Luigi Di Maio stated that the nation is "on the right path, and therefore [it] won't stop."
This rhetoric has put European investors on edge. Market interest rates and bond yields have spiked to historic highs in the wake of Italy's ambitious spending proposal. Lending rates rise when there is a greater perception of risk in markets.
The Italian government has one week left to present a new proposal in line with European guidelines to Brussels.
If the EU and Italy are unable to come to an agreement, investors fear that the EU's third largest economy could collapse under the weight of its debt and drag the world into the next financial crisis.
While we can't say when this breakdown with occur, we can makes sure that we're prepared for the fallout...