The industry we're talking about today may not sound exciting. But the company we're going to share with you is drastically improving the way companies of all shapes and sizes are doing business. And it could nearly double your money within the next year.
Today, we're going to talk about "information analytics."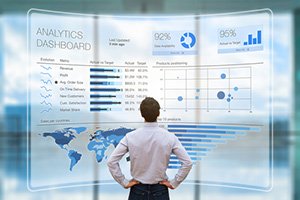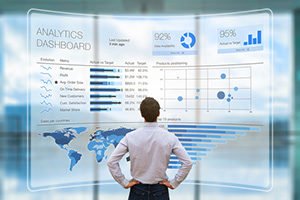 To get an idea of what a literal game-changer information analytics can be, think of how it revolutionized the game of baseball.
In "Moneyball: The Art of Winning an Unfair Game," author Michael Lewis described how the cash-strapped Oakland Athletics found ways to compete with the richest teams in the league like the Yankees and the Red Sox.
The key was to move away from the intuition-based scouting that ruled the game and defer to the numbers instead.
When the numbers said walks were more important than they had thought, they got players who took lots of walks. When the numbers said that stolen bases were a bigger risk than they were worth, they stopped trying to steal bases.
It didn't matter how they felt about it. They trusted the numbers, and it worked.
Our pick today is bringing that same kind of data-based efficiency to the business world, through a kind of information analytics called enterprise information management (EIM).
Just like the "Moneyball" approach, EIM works. It helps companies spend less and produce more. So it's no surprise this company's cloud-based EIM software is in huge demand.
We're talking a company with more than 12,000 employees, 120,000 customers, 100 million end users, and nearly $3 billion in annual revenue.
Exclusive Rebroadcast of the First-Ever American Cannabis Summit: Click here to see how to conquer America's most controversial – and lucrative – industry…
Its extensive list of customers includes Microsoft Corp. (NASDAQ: MSFT), Air France-KLM (OTCMKTS: AFLYY), Deloitte, Hyatt Hotels Corp. (NYSE: H), The Port Authority of New York and New Jersey, Timberland, Anthem Inc. (NYSE: ANTM), and even NASA.
Most of those organizations, you'll notice, are not high-tech ventures. But as Money Morning Defense and Tech Specialist Michael Robinson says, every company is a tech company in the 21st century.
In other words, the organizations that don't incorporate tech into their operations get left behind. And this company is the one helping them stay competitive.
In spite of its impressive growth – 30% growth in earnings per share (EPS) in its fiscal year that ended in June – the stock got swept up in the recent market sell-off. It's down about 16% from its recent highs.
That means you can get it at a good price. Based on its metrics, you could bank a quick return of up to 88%.
Big and Small, Public and Private, Every Organization Needs This Company's Tools
Join the conversation. Click here to jump to comments…
About the Author
Stephen Mack has been writing about economics and finance since 2011. He contributed material for the best-selling books Aftershock and The Aftershock Investor. He lives in Baltimore, Maryland.