The news for marijuana penny stocks can't get much better.
Over the last two weeks, national and state governments in North America have dealt a wave of final blows to marijuana prohibition, paving the way for full legalization - and tremendous profits.
On Oct. 31, Mexico's Supreme Court struck down the nation's marijuana prohibition law. Shortly afterwards, Mexico's incoming government announced plans to pursue full legalization.
Less than a week later, three American states took huge leaps toward full legalization during the midterm elections. Both Missouri and Utah voted to allow medical marijuana use, while Michigan voted for full recreational legalization.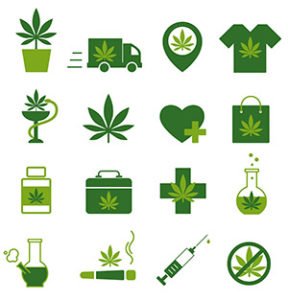 That's not even mentioning Canada's nationwide legalization on Oct. 17.
These developments are huge news, especially if you're interested in investing in marijuana penny stocks.
With a major catalyst like the legalization movement, pot penny stocks have the chance to skyrocket. But not every marijuana penny stock is worth owning.
Today, we're looking at five marijuana penny stocks that are on the verge of soaring as legalization sweeps across North America.
These companies are on the cutting edge of the marijuana industry and are developing innovative methods to generate profits - for both themselves and their shareholders.
In fact, the top marijuana penny stock on our list could deliver a return of over 300%...
Marijuana Penny Stock, No. 5: GreenGro Technologies Inc.
Traditionally, GreenGro Technologies Inc. (OTCMKTS: GRNH) develops cultivation systems for the marijuana farming sector.
However, last month GreenGro announced it will be moving directly into the production of CBD products.
LEGAL WAVE: Barriers to marijuana could be tumbling in Mexico and Thailand, but it's here in the U.S. where legalization could spark a "Green Rush" in certain stocks. Click here to learn about three of them...
CBD is a cannabis compound that offers the medical benefits of cannabis without making its users intoxicated.
Last year, sales in the CBD industry totaled $358 million. In five years, they're estimated to rise an astonishing 402% to $1.8 billion.
GreenGro intends to capitalize on the medical benefits of CBD by developing products that can be distributed to medical facilities and licensed retailers across the nation.
By investing in GreenGro, investors will be able to take advantage of the growing market for CBD-based products and cash in on GreenGro's inevitable expansion.
GreenGro currently trades for a bargain at $0.02.
However, our next marijuana penny stock is closing in on an even more lucrative area of the cannabis industry...
Marijuana Penny Stock, No. 4: Easton Pharmaceuticals Inc.
A traditional pharmaceutical firm, Easton Pharmaceuticals Inc. (OTCMKTS: EAPH) is primarily known for its anti-aging wrinkle cream Skin Renou HA.
However, with immense profits on the line, the firm is aggressively pursuing cannabis-based cosmetics.
In fact, Easton recently closed a deal with the Alliance Group, a Canadian company that specializes in marijuana cultivation, giving Easton a 45-acre stake in a parcel of land set aside for marijuana cultivation and production.
It's a huge jump for a traditional pharmaceutical firm. However, it's not a gamble. Alliance will provide Easton with 50% of its annual revenue as Easton works to make cannabis production profitable.
This will secure Easton's bottom line and protect shareholders from any unforeseen losses.
Over the last 52 weeks, Easton's stock price has traded between $0.01 and $0.03 per share. Currently, the EAPH stock trades at just $0.01 per share.
Getting in on the ground floor of Easton while the company's bottom line is protected by Alliance will give investors a chance to ride Easton's stock to new highs when its line of cannabis-based cosmetics hits the shelves.
Marijuana Penny Stock, No. 3: GB Sciences Inc.
Based in Las Vegas, GB Sciences Inc. (OTCPK: GBLX) sells equipment used for indoor marijuana cultivation.
But the real story is their expansion. The company is moving away from cultivation alone and intends to produce a wide array of CBD-based products. In fact, GBLX received a license to begin full production of CBD in its Las Vegas facility earlier this year.
SESSIONS OUT: Trump's anti-marijuana AG is history, and the potential path to massive pot stock profits is wide open. Click here to learn about three of the best...
It also signed an agreement with the Colorado Hemp Project to begin farming new strains, which will provide key ingredients for proprietary CBD formulations.
In March, the company announced it would be sponsoring an upcoming symposium called "Innovation in Medical Cannabis Therapies." If it announces a successful new CBD treatment during this event, it could be a big catalyst for the stock.
Shares of GBLX currently trade for $0.52 and are likely to generate significant gains as the company's new CBD treatments are released.
Marijuana Penny Stock, No. 2: GrowLife Inc.
GrowLife Inc. (OTCMKTS: PHOT) is a Kirkland, Washington--based marijuana company. It produces hydroponics equipment, organic plant nutrients, farming soil, and other specialty products that are meant to help cultivate cannabis.
Unlike other marijuana firms, GrowLife uses e-commerce systems to market and sell its products in addition to some retail outlets. Online outlets include Geners.com, ShopGrowLife.com, and GrowLifeEco.com.
The company is also working to expand in the face of a growing legal marijuana market.
On Oct. 16, it announced it acquired majority control of EZ-CLONE Enterprises Inc., an award-winning products manufacturer of indoor cultivation equipment, including food and other hydroponics products.
GrowLife is placing particular focus on its hydroponics business because this method of cultivation reduces production costs while also delivering a high-quality product.
In fact, when Canada adopted full legalization last month, GrowLife was front and center.
At Hempfest in Calgary on Oct. 13 and 14, GrowLife met with other leaders in the legal marijuana industry and showcased its products to attendees, exhibitors, and the media.
This gave the firm a wide exposure and ensured that it will have a solid customer base to draw from as legalization comes into full implementation in Canada.
This is a pot penny stock that is trading at just $0.011. It had a 52-week high of $0.05, so investors could gain 354% by the stock hitting that high once again. It likely has the potential for even more growth down the line.
But GrowLife isn't the top pot stock on our list. Our top marijuana penny stock has even greater potential...
It's a pure "pick and shovel" play - a firm that serves the pot industry without having a direct hand in growing marijuana or operating dispensaries.
And it could quadruple your money...