With indexes trading in the red for 2018, investors are looking for any bit of good news to bolster markets and pad their portfolios.
That's why Wall Street is paying close attention to the upcoming 2018 G20 summit, an annual meeting between the world's 20 largest economies.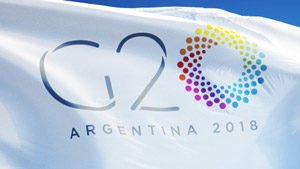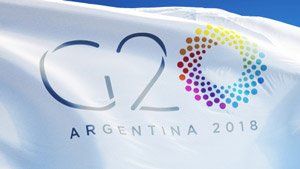 Both the United States and China are expected to use this year's G20 summit as an opportunity to jump-start trade negotiations and bring the ongoing trade war to a close - a development that would serve as a boon for markets.
The White House is certainly optimistic.
Larry Kudlow, a top economic advisor to the president, recently stated that trade negotiations are likely to "come to a head" at the G20 summit and could possibly result in significant breakthroughs.
However, the White House is getting Wall Street's hopes up prematurely.
You see, another economic summit across the Pacific suggests that the nation's international trade spat is far from over.
In fact, it might just be getting started...
Forget the G20, APEC Already Sank Trade Negotiations
Last weekend (Nov. 17), leaders of the world's Pacific nations gathered in Papua New Guinea for the annual Asia-Pacific Economic Cooperation Summit (APEC).
For the last 30 years, the summit has played a critical role in facilitating economic cooperation among the Pacific region's various countries.
However, ongoing trade disputes between the United States and China spilled over into this year's conference, derailing the summit's agenda and fostering hostile relations between the two nations.
Urgent: This catastrophe could bring the U.S. economy to its knees - and make the Great Recession seem like a day at the beach. Read more...
Nowhere was this more apparent than in the fiery rhetoric issued by American representative Vice President Mike Pence and Chinese President Xi Jinping.
Vice President Pence delivered a stern rebuke of China's aggressive economic practices in the Pacific.
This included China's "Belt and Road" initiative, an aggressive Chinese infrastructure project that is often seen as a ploy to indebt economically unstable nations to Chinese authority.
"We don't drown our partners in a sea of debt. We don't coerce, corrupt, or compromise your independence," the vice president told delegates. "The United States deals openly and fairly - and we don't offer a constricting belt or a one-way road. When you partner with us, we partner with you, and we all prosper."
Meanwhile, President Xi Jinping leveled accusations of imperialist aspirations against the United States while criticizing the nation's trade stance.
According to President Xi Jinping , "confrontation whether in a Cold War, hot war, or trade war will produce no winner... empire and aggression have no place in the Indo-Pacific."
The Chinese president's comments were an aggressive rejection of recent attempts by the United States and its allies to reign in China's efforts to exert control over smaller nations in the Pacific region.
In the last two years, American businesses have invested over $61 billion in the Pacific region, countering China's aggressive investment strategy in the same area.
And earlier this year, the United States, Japan, and Australia announced an investment partnership that will ostensibly aim to outbid and contain Chinese investment in the South Pacific.
If China's aggressive rebuke to this strategy isn't enough to put diplomatic cooperation in doubt, the conclusion of the APEC summit certainly is.
This year's APEC summit was the first one in nearly 30 years to not conclude with a unanimous communiqué outlining how the summit's participants intend to enact a uniform economic policy.
According to various summit leaders, this was because the United States and China refused to compromise on both their trade and international policies.
If Chinese and U.S. officials are unable to reach a compromise on trade relations during an event specifically held to address such disputes, then it is highly unlikely that they will be able to stage a significant breakthrough at the G20 two weeks from now.
As a result, the nation's trade woes aren't going away anytime soon - and we should be preparing for the long haul.
That includes the threat of another economic meltdown...
Financial Disaster Is Looming - These Are the Tools You Need to Survive
Millions of investors will lose everything as the average stock traded on Wall Street is poised to plunge by at least half.
But now, you could grow $1.5 million wealthier this year - even as the trouble plays out.
Follow Money Morning on Facebook, Twitter, and LinkedIn.