With last month's legalization of marijuana throughout Canada and the rising tide of legalization in the United States over the last two years, pot stocks are primed to advance robustly.
The more legal pot becomes in North America, the more sales will rise.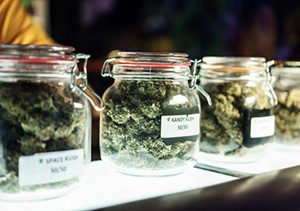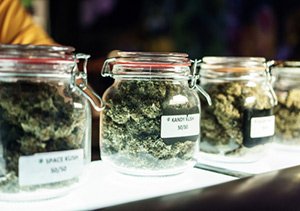 The end result is a market expected to soar. ArcView Market Research forecasts that spending on legal cannabis could skyrocket almost 250% during the next five years.
The right cannabis stocks are going to soar right along with the spending.
But there are even more catalysts besides legalization...
3 Catalysts for Pot Stocks in 2019
The first catalyst is the increasing ability to conduct medical research with marijuana, which has risen in tandem with medical marijuana legalization.
Another is the ability of edibles - cakes, barbeque, candy, you name it - to contain marijuana and be sold over the counter in states where cannabis is legal.
Sign up for SMS so you never miss special events, exclusive offers, and weekly bonus trades.
But the catalyst we're going to talk about today is the rising trend toward alcohol that contains marijuana.
Some "Big Alcohol" companies are starting to invest in cannabis already, and it's a big sign that corporations throughout the United States want in on the gold rush that legal marijuana is becoming.
Money Morning Defense and Tech Specialist Michael A. Robinson is one of the voices that has been talking about this for a while.
When we see enormous potential for profit, we let you know. That's what we're doing with pot stocks now.
THREE STOCKS: Any one of these cannabis companies could potentially deliver a 1,000% windfall. Click here to learn more...
Firms in the alcohol industry are putting a lot of money into the marijuana sector. It's one of the reasons why Constellation Brands Inc. (NYSE: STZ), a mainstream alcohol company, is moving toward investments in marijuana. It holds an interest in Canopy Growth Corp. (NASDAQ: CGC) and has also indicated it wants to up its stake.
STZ is going to offer $3.8 billion to increase the percentage of CGC it owns to 38%.
Constellation is the maker of well-known liquor and spirit brands like Corona beer, Robert Mondavi wines, and Svedka vodka. They sell globally.
And the marriage between "Big Alcohol" and legal cannabis makes perfect sense. Both marijuana and alcohol serve the same needs, and both industries are heavily regulated with intense scrutiny both from state and federal lawmakers.
As a result, the expertise required to succeed in one sector can also be used in the other.
Plus, Deloitte indicates that 60% of marijuana users likely won't smoke it. Instead, they will either eat it via edibles or perhaps drink it through beverages.
That's why marijuana has huge potential synergies with companies in the alcohol industry.
Constellation is already ahead of the curve.
But we believe other producers of beverages are likely to be moving into the marijuana industry in a big way...
How to Profit from the Cannabis Gold Rush