With all major indexes in the red for 2018, it's been a rocky year for stock market returns.
However, it could get worse. Far worse.
In fact, we may be on the verge of entering a bear market, a downward spiral where major stock indexes are down 20% from their highs and keep falling.
You see, three major economic developments are on the verge of extinguishing the longest bull market of all time – and taking your portfolio's returns with it.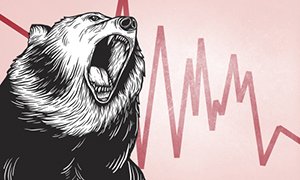 Today, we'll show you the three trends fostering the next bear market. We'll also take a look at an investment strategy that can protect your profits.
Even better, you might even be able to lock in serious gains as Wall Street's losses mount…
Global Economic Growth Is Slowing at an Alarming Rate
Our first bear market indicator is slowing economic growth across the globe.
Last month, the International Monetary Fund (IMF) downgraded its growth forecast for 2019, lowering expectations for global expansion from 3.9% to 3.7%.
While that decrease may seem small, it accounts for billions of dollars in lost revenue and profits for companies across the globe.
Urgent: This catastrophe could bring the U.S. economy to its knees – and make the Great Recession seem like a day at the beach. Read more…
According to IMF Chief Economist Maurice Obstfeld, October's downgrade reflects the increasing likelihood of a global economic downturn.
"Not only have some downside risks we identified in the last [forecast] been realized, the likelihood of further negative shocks to our growth forecast has risen," Obstfeld warned at a conference last month.
However, the IMF is now saying that its latest downgrade may be too optimistic.
Tightening lending rates in emerging markets, growing trade tensions, and a global stock slump over the last two months suggest that the global economic picture is deteriorating at an accelerated pace.
And it's driving the IMF to issue even more dire warnings.
Earlier this week, IMF Managing Director Christine Lagarde wrote that "we are facing a period where significant risks are materializing and darker clouds are looming."
The IMF isn't alone in its increasingly dire forecast. Goldman Sachs projects U.S. GDP growth will slow to 1.6% in the fourth quarter of 2019.
That's a 54% drop over the next year. And it's likely to devastate stock returns as companies tighten their belts to weather the economic fallout.
And our next development is like throwing gas on the fire…
The Trade War Is About to Kick into High Gear
On Sept. 18, the Trump administration imposed a 10% tariff on $200 billion worth of Chinese exports.
The tariffs have wreaked havoc on international supply chains, hurting the bottom lines of the nation's most prominent manufacturers.
Just this week, General Motors Co. (NYSE: GM) announced that it will halt automobile production at five North American plants due in part to rising material costs from tariffs.
According to GM's CFO Chuck Stevens, GM expects to face a $1 billion net headwind as a result of the administration's trade policy.
However, things are about to get a lot worse. And not just for GM.
On Jan. 1, 2019, the 10% tariff on $200 billion in Chinese imports is scheduled jump to 25% – a 150% increase.
Some investors are holding out hope that the United States and China will reach an agreement before the hike takes effect. However, this looks increasingly unlikely.
If past tariff hikes are any indication, January's more than doubling of tariffs is likely to further harm the bottom lines of American firms that rely on imports from China.
And that's going to have an incredibly negative impact on returns in 2019.
In fact, Wall Street's biggest names think it could eliminate any chance of growth in 2019.
Prospering During a Financial Crisis: Incredible wealth-building opportunity for those who are prepared – quickly amass a potential $1.5 million retirement nest egg. Learn more…
According to a Goldman Sachs report, "if the full 25 percent tariffs are levied on all imports from China the earnings impact could be significant, potentially eliminating any profit growth next year."
While tariffs are sure to rattle international economic stability, there's a domestic threat that could trigger a bear market at any moment.
In fact, it could be on the verge of doing so within the next month…