The American solar market is on the verge of picking up as the initial reaction to solar PV tariffs wears off – which means big profits ahead for the company we're sharing with you today.
Solar tariffs in the United States only dealt a minor – and temporary – hit to the solar market. Solar photovoltaic (PV) panel installations in the United States have dropped 9%, but the market is expected to rebound.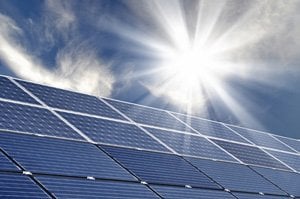 Solar Power World reported in September that utility-scale solar projects – some of which had been on hold because of tariffs – are set to drive an accelerating solar market in the last part of this year. In fact, solar PV capacity in the United States is projected to more than double in the next five years.
The U.S. solar industry will also grow now that the prices for PV panels have gone down – another profitable development for today's highlighted company.
This company doesn't make panels, so it doesn't have to worry about feeling the pinch from lower panel prices.
Instead it makes the products that convert PV-generated electricity into an efficient, usable form for homes and businesses. That includes power optimizers, which constantly track and adjust the settings of every individual cell in a solar array in order to keep it running at maximum efficiency.
It also includes inverters, which convert the DC power that solar panels pump out into AC power that's usable in the electricity grid for homes and businesses.
The Gains on This One $10 Stock Alone Could Earn You Enough to Retire:  Click Here Now for Details
On top of that, this company offers cloud-based monitoring systems that can be accessed from a smartphone or tablet to keep track of a solar power system and make sure everything is working as it should be.
In other words, the products offered by this company don't just provide solar energy, but smart solar energy.
We're talking about one of the top suppliers in the world in all these categories. So as the world continues to shift to solar power, this is going to be one of the biggest beneficiaries.
And this company just reported revenue for the most recent quarter, up 42% from the year before.
In spite of this growth, the stock price has fallen due to tariff anxiety. That makes it a perfect opportunity to grab now, while it's undervalued.
That's why our Money Morning Stock VQScore™ system gave it a top score as a stock due for a rise.
And that's before we talk about some of the new growth catalysts this company has up its sleeve…
This Company Brings Innovation and Smart Acquisitions to One of the World's Major Growth Industries
Join the conversation. Click here to jump to comments…
About the Author
Stephen Mack has been writing about economics and finance since 2011. He contributed material for the best-selling books Aftershock and The Aftershock Investor. He lives in Baltimore, Maryland.