Investors looking for the best stocks to buy often turn to Wall Street analysts for help.
One of the key roles of the analysts at investment banks is forecasting the future performance of the companies they cover. For example, when we say a company "beat earnings estimates," they're the people making the estimates.
A key metric investors rely on is the analysts' one-year price targets for the stocks they cover. Once analysts forecast a company's earnings over the next 12 months, they easily calculate the expected share price by using the stock's price/earnings multiple.
Finding stocks analysts are bullish on is a reliable strategy for pinpointing some of the best growth stocks on the market.
Today, we're making things easy for our readers by showing you five stocks analysts are predicting will surge more than 50% over the coming year.
With the Dow in the red for 2018, a 50% gain would be a great return.
But we also aren't going to settle for potential 50% gains either.
Following the Wall Street consensus is a recipe for booking average returns.
Who retires by getting the same returns as everyone else?
Instead, we've done our own research and uncovered a little-known company with the potential to rocket over 400% higher.
We'll tell you all about it after showing you these five stocks with growth potential...
Growth Stocks to Watch, No. 5: Facebook Inc.
Facebook Inc. (NASDAQ: FB) was one of the darlings of the tech world until a data breach scandal sent the company reeling.
Between Facebook's IPO in 2012 and the start of this year, its share price surged nearly 400%.
And that massive rally made perfect sense.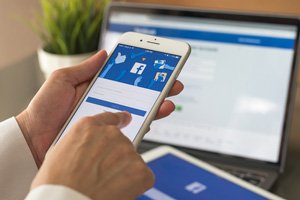 Facebook was one of the most lucrative advertising tools ever invented. With 214 million users in the United States and 1.8 billion monthly active users worldwide, Facebook collected an incredible amount of data it could sell to advertisers. User activity is funneled into complex machine learning algorithms advertisers can use to target their most valuable customers.
The old way of advertising meant companies had to cast a wide net - think of a billboard on a crowded highway - and hope their target customers saw it. Now the same companies can pay for ads that show up directly on their target's screen as they browse the web, and they don't have to waste any extra money advertising to people who aren't interested.
That ability to turn user data into precision advertising sent Facebook's profits soaring. Profits surged to a staggering $15 billion in 2017, a 46,775% increase from $32 million in 2012 when it went public.
But Facebook's data collection quickly turned into a scandal in the aftermath of the 2016 election. Not only was Facebook under fire for allowing Russian intelligence operatives to create fake accounts and group pages, but Cambridge Analytica, a public relations firm, gained access to 50 million users' private data.
The controversy thrust Facebook and its business model into the media spotlight, ratcheting up the threat of new government regulations and users fleeing the service. Now, 84% of users report being concerned about how Facebook uses their data, and a campaign encouraging people to delete the service launched earlier this year.
Facebook's stock has plunged nearly 40% since its Jan. 24 peak.
But some Wall Street analysts are still confident the company can right the ship. In fact, analysts from Susquehanna Financial Group predict the Facebook share price will gain 65% or more over the next year.
Growth Stocks to Watch, No. 4: Arista Networks Inc.
Arista Networks Inc. (NYSE: ANET) is a cloud computing and data storage company founded in 2008.
The company went public in 2014 and has posted a profit every year since. It even raked in $1.6 billion in revenue last year, a 46% jump from 2016's revenue mark, while boasting an excellent 25% net margin.
That growth comes directly from its sales, which have grown every year for six straight years.
Plus, Arista continues to innovate and grow. Arista just launched a new routing platform for business clients in 2017, but it plans to add machine learning and artificial intelligence tools to its cloud computing platform soon.
The cloud computing market is expected to grow to $411 billion by 2020, nearly quadrupling its current $130 billion size.
That's why Wall Street is enthusiastic about the stock.
Fifty-nine percent of the analysts covering the stock recommend it as a "Buy" and give it price targets as high as $350 a share, a 55% boost from today's share price of $224.75.
Growth Stocks to Watch, No. 3: Alcoa Corp.
Alcoa Corp. (NYSE: AA) is an American aluminum producer and one of America's oldest industrial companies. The firm was originally founded in Pittsburgh in 1888.
Today, Alcoa focuses on producing bauxite and aluminum, including aluminum products with operations in 10 countries.
That also means the company is exposed to substantial risk related to global aluminum prices and the politics of trade.
Aluminum prices steadily rose in 2017, eventually growing 30% over the course of the year. That helped Alcoa turn in a healthy $217 million profit, compared to a $24 million loss in 2016.
But in 2018, aluminum prices crashed after a brief spike. From peak to trough, aluminum prices fell nearly 25% in 2018.
Plus, the Trump administration's trade war, specifically tariffs on Canadian aluminum, helped weigh down Alcoa's international operations.
It's no surprise the stock is down 43% in just this year.
But analysts remain bullish on the stock. The company has been around for 130 years and has survived everything from the Great Depression to the 2008 financial crisis, so a trade dispute is unlikely to sink it.
Analysts are projecting Alcoa's stock will rise as much as 154% over the next 12 months, and the consensus projection among all analysts covering the company is for a 70% gain.
Growth Stocks to Watch, No. 2: General Electric Company
By now, you're likely familiar with the woes surrounding General Electric Co. (NYSE: GE).
GE stock is down nearly 60% on the year, the stock was removed from the Dow Jones Industrials, the company slashed its dividend in half, and it added its third CEO in two years, Larry Culp.
The once-mighty American manufacturer of everything from refrigerators to jet engines appears to be on the brink of collapse.
Its debt load has tripled since 2013, ballooning to a whopping $77 billion this year.
Larry Culp will have to get creative to get the company back to financial solvency without selling off GE's most profitable pieces.
And that's exactly what Culp is promising to do.
"We have no higher priority right now than bringing those leverage levels down," Culp told CNBC earlier this month.
This includes a public offering for GE's healthcare business, while retaining GE's aviation division, what Culp calls its "crown jewel."
Some investment banks are liking what they're hearing from Culp and are expecting a turnaround for the company.
Bank analysts are giving GE price targets as high as $14 a share, a 102% gain over the next year. The average price target is $12 a share, which would make for a $55 gain.
Growth Stocks to Watch, No. 1: General Motors Co.
General Motors Co. (NYSE: GM) is another American icon making news for all the wrong reasons. But investors are right to expect a turnaround soon.
Earlier this week, GM announced it will shutter five factories, cut 14,000 jobs, and stop making the Chevrolet Volt, Cruze, Impala and Buick LaCrosse.
The news created a political firestorm as GM cited a $1 billion headwind from tariffs as part of the reason for the downsizing. But GM's decision was likely inevitable thanks to changing consumer demand. The reality is car consumers aren't as interested in buying passenger sedans anymore, preferring crossover SUVs.
Ford Motor Co. (NYSE: F) already announced it would stop making all passenger cars besides its Mustang sports car back in April.
That's why analysts are lauding GM's decision to act and expect its stock will grow once the company gets back to profitability. The carmaker has been profitable nine out of the last 10 years, suffering a loss in 2017.
Wall Street analysts project GM's stock could soar to $56 a share, a 52% gain from today's share price of $36.78.
And while investment bankers are bullish on these stocks, you've probably noticed many have seen their price drop this year.
While buying a good company at a discount or ahead of a turnaround can certainly be a profitable strategy, you also might have to wait for the stock price to rally. And that's only if these analysts are right in the first place.
But you don't have to limit yourself to middling returns while you hold a stock indefinitely.
In fact, many Americans simply can't afford to do that if they want to meet their retirement goals.
That's why we dig deeper into small, little-known companies to find stocks with serious, life-changing growth potential.
A company like this won't bring you a 50%, 80%, or even 100% gain.
We're talking more than 400% growth potential...
This Tiny Stock Could Turn Every $1,000 Invested into $4,719
Here Are 10 "One-Click" Ways to Earn 10% or Better on Your Money Every Quarter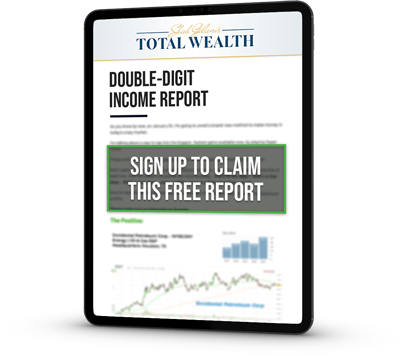 Appreciation is great, but it's possible to get even more out of the shares you own. A lot more: you can easily beat inflation and collect regular income to spare. There are no complicated trades to put on, no high-level options clearances necessary. In fact, you can do this with a couple of mouse clicks – passive income redefined. Click here for the report…