U.S. financial markets will be closed on Wednesday, Dec. 5., 2018, to honor the memory of former U.S. President George H.W. Bush. He passed away at the age of 94 on Nov. 30, 2018.
U.S. President Donald Trump designated Dec. 5 as a national day of mourning, and the NYSE will fly a flag at half-mast throughout the mourning period. The NYSE was closed in 2004 when former U.S. President Ronald Reagan died.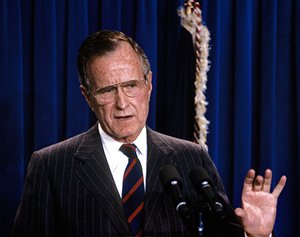 No matter what your political party affiliation, this is a day to pay respect to a man who held the most important job in the world.
SIT THIS ONE OUT and you could miss an American economic revolution that could send three little pot stocks soaring up to 1,000%. Click here to see why…
And while we remember the past, it's also a time to look to the future…
"I will keep America moving forward, always forward, for a better America, for an endless enduring dream and a thousand points of light. This is my mission, and I will complete it," former President George H.W. Bush said in 1988.
America is still the land of opportunity.
Name another country where using your hard-earned money could potentially deliver a 1,000% windfall as an entirely new industry comes to life…
You and your family deserve the chance at financial freedom and stability…
And at this very moment, big investment firms and members of the Fortune 500 are building enormous war chests.
They're preparing to push billions upon billions of dollars into the cannabis market – and they could strike at any moment. So right here – right now – you have a once-in-a-lifetime opportunity to beat them to the punch and stake your claim.
Follow Money Morning on Facebook, Twitter, and LinkedIn.