With 2018 coming to a close, it's a good time to look ahead to the best profit opportunities in 2019.
That's why we're taking a close look at the five best penny stocks to buy in December 2018.
While they aren't for everyone, penny stocks can double, triple, or even quadruple your money thanks to their low entry costs and growth potential.
However, with over 2,500 penny stocks trading on the major exchanges, it can be incredibly difficult to find penny stocks that will deliver real gains.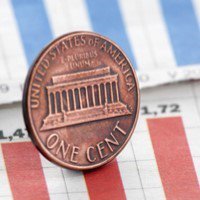 That's why we've used the Money Morning Stock VQScore™ to identify penny stocks worth buying.
The VQScore system only analyzes the 1,500 most profitable companies on the market, then ranks them according to their breakout potential. We then screen out stocks that are currently trading for around $5 a share – the SEC's definition of a penny stock.
The best penny stocks to buy in December have the kind of robust financials that can deliver stellar returns for penny stock investors.
In fact, our best penny stock to buy could jump nearly 100%…
Best Penny Stock to Buy in December, No. 5: Central European Media Enterprises Ltd.
Central European Media Enterprises Ltd. (NASDAQ: CETV) is a media and entertainment company based in the British North Atlantic territory of Bermuda.
A subsidiary of Warner Media, CETV is the top broadcaster in Eastern Europe's four major broadcast markets, reaching over 40 million people through 29 television channels.
Much of CETV's growth over the last decade has been the result Warner Media's increasing confidence in the company.
In 2009, Warner Media took a 31% stake in the company. Over the last decade, Warner has increased its stake to 75% as a vote of confidence in the company's ability to deliver robust returns.
The $10 Company at the Center of a Revolution: It's inked four deals with huge players in its sector, and it's holding the keys to a potential global product. Click here to learn more…
And CETV certainly hasn't disappointed.
Over the last four years, the company's gross profit has jumped by 14% while net income has risen by 121%.
These growth trends are unlikely to slow down anytime soon either. Over the next two years, paid TV revenue in CETV's four central markets is expected to grow by roughly 20%.
Those gains are likely to show up in CETV's bottom line – and in the pockets of shareholders.
CETV currently trades for $3.28. But investment bankers project the share price will soar in 2019. One analyst sets the 12-month price target at $4.85 a share, a nearly 50% gain for this stock.
Best Penny Stock to Buy in December, No. 4: America First Multifamily Investors LP
A subsidiary of Burlington Capital Real Estate, America First Multifamily Investors LP (NASDAQ: ATAX) is an investment specializing in federally tax-exempt mortgage revenue bonds (MRB).
State and local governments issue these bonds to encourage the construction of affordable multifamily housing. America First owns a portfolio of 87 MRBs and collects tax-free interest on the cash flow these bonds generate.
The company has made a killing over the last decade thanks to the nation's historic housing boom.
Over the last five years, ATAX's gross profits have increased 70% while net income has risen 79%.
And research suggests that ATAX will be able to continue cashing in on the housing boom for the foreseeable future.
According to estimates from Tradesmen International, housing construction is expected to continue to grow at a rate of 4.5% over the next several years. This should result in $1.2 trillion in annual profits for the industry by 2020.
And ATAX is perfectly positioned to tap into these profits and reward shareholders in the process.
With a market price of $5.63 but with a VQScore of 4, now is an ideal time to add ATAX to your portfolio.
Best Penny Stock to Buy in December, No. 3: The Container Store Group Inc.
The Container Store Group Inc. (NYSE: TCS) is an American retail chain selling storage and organization productions.
In 2016, TCS launched an aggressive expansion campaign, including the establishment of 80 new stores across the country.
Want to Make Money? Here's how to make over $100,000 starting with a small amount of money… rolling stocks over and over again. Click here for more about this proven investing method…
Despite its ambitious scale, the effort has certainly paid off. In the last two years, the company's gross income has risen by 7%.
But the company is now more profitable than ever.
TCS's net income has jumped 277% since 2016, which shows the company has been able to keep costs down even as its revenue grows.
Even better, the company is actually paying down its debt as it expands. Its total debt fell 10% this year alone and is down roughly 30% since 2013. That should give investors confidence the company's management is thinking strategically.
As of November 2017, TCS operates 90 locations across the United States. Riding the success of its recent expansion, the company is likely to continue to grow both its national presence and its bottom line.
TCS currently trades for $5.49. However, the company's recent momentum indicates this stock has plenty of room to run.
Best Penny Stock to Buy in December, No. 2: BlackRock Capital Investment Corp.
BlackRock Capital Investment Corp. (NASDAQ: BKCC) is a national investment firm that provides financing for mid-cap companies.
Formed in 2005, BlackRock Capital currently manages roughly $1 billion in in capital resources, typically facilitating individual investments between $10 million and $50 million.
The company's real strength is its ability to use a wide range of investment instruments typically off limits to traditional banks and financial institutions.
As a result, Blackrock Capital can help mid-cap companies finance their growth in ways not available to other financial institutions.
Blackrock Capital also pays out a hefty dividend of $0.72 a share for a whopping 12.14% yield, a nearly unheard-of yield in the penny stock world. This is a clear sign that Blackrock has the kind of robust financials that can power growth far into the future while rewarding shareholders.
Trading for $5.89, Blackrock Capital is a great way to expose your portfolio to the lucrative financial sector without needing the cash to buy into Goldman Sachs Group Inc. (NYSE: GS) and its $191 share price.
While that's beneficial, our best penny stock to buy in December is on track to deliver real gains to investors who get in on the ground floor.
It's a semiconductor company cashing in on rising global demand for semiconductors.
In fact, this firm's stock could jump nearly 100%. And it's only trading for $4.05…