Some tech companies sound exciting, promising cutting-edge innovations and new ways of doing things.
Other tech companies don't. But they can often be the most profitable ones to own.
Today, we're separating the stocks with serious potential from the poseurs, giving you the best tech stock to buy in December.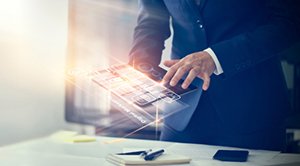 This company reshaped the ways thousands of companies do business. And it's one of the leaders in the booming "information analytics" sector.
Analytics is one of the revolutionary concepts that rewrote the rules of baseball teams.
In Michael Lewis's "Moneyball: The Art of Winning an Unfair Game," Oakland Athletics, strapped for money, used this method to compete with the wealthier teams like the New York Yankees and the Boston Red Sox.
In a nutshell, they transitioned from scouting using intuition and hunches to using scientific data analysis.
That same innovation is now being employed by thousands of companies across the world. Everyone wants the advantage a deep dive into data can bring.
The stock we're going to show you today helps companies in analyzing their data to cut down on expenses and expand their productivity. The company sells data analysis software based in the cloud. And the company is booming.
The company has over 12,000 employees. It has 120,000 customers. The end users number 100 million. Yearly revenue is almost $3 billion.
The $10 Company at the Center of a Revolution: It's inked four deals with huge players in its sector, and it's holding the keys to a potential global product. Click here to learn more...
It boasts a huge customer list, including Deloitte, Hyatt Hotels Corp. (NYSE: H), Microsoft Corp. (NASDAQ: MSFT), Air France-KLM (OTCMKTS: AFLYY), The Port Authority of New York and New Jersey, Anthem Inc. (NYSE: ANTM), Timberland, and U.S. government agencies like NASA.
The best part is, you're getting one of the leading companies in the space, with contracts all over the world, and it's flying under the radar.
It's also why our best tech stock to buy in December could nearly double your money in 2019...