In a world where data capture, data mining, and customer tracking is becoming a crucial part of business, firms that make these systems will be positioned for huge growth.
This market includes magnetic stripe readers, smart card readers, biometrics, and optical character recognition. It also includes the systems to store, analyze, and report on the data collected.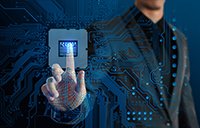 For example, Amazon Go stores, which allow customers to "grab and go" without having to stop to pay a cashier, are based on radio frequency identification (RFID) technology. Products are tagged with these sensors, and the store knows when they have been removed from the shelf and taken out the front door. The customer's account is charged automatically.
But there is much more. RFID chips embedded just under the skin can allow the owner to unlock the front door of their house with a wave of the hand. They already track the movements of pets and livestock. And while implantation in humans raises privacy concerns, in the medical field, they can help identify conditions or abnormalities and immediately report them to the doctor.
You can easily see how the global Automatic Identification and Data Capture (AIDC) market will explode in coming years. In fact, it is expected to reach $71.75 billion by 2022, according to market research firm Meticulous Research.
That's why we want you to know about one of the best tech stocks to buy today.
The $10 Company at the Center of a Revolution: It's inked four deals with huge players in its sector, and it's holding the keys to a potential global product. Click here to learn more...
This company manufactures the chips behind the automatic ID technology and develops the software to use them.
Plus, analysts are predicting the share price will surge next year as this technology becomes ubiquitous...
Data Tracking Is Making This One of the Best Tech Stocks to Own