The Dow is down more than 1,200 points over the last month, and the near 5% collapse threatens to make this the index's first negative year since the 2008 crash.
The culprit is 2018's biggest bogeyman: the trade war.
The United States imposed a 25% tariff on $50 billion worth of Chinese goods on June 15, including a 10% tariff on $200 billion of other exports. But the tariffs on the $200 billion worth of goods are going to be raised to 25% if a new trade deal isn't reached in 90 days. That's nearly half of all Chinese imports.
And the reason higher tariffs are sinking stocks is precisely because the tariffs are working...
Sign up for SMS so you never miss special events, exclusive offers, and weekly bonus trades.
How Higher Tariffs Could Ruin Your Portfolio
While tariffs and the trade war dominate headlines, it's hard to visualize exactly why tariffs are such a threat to your wealth.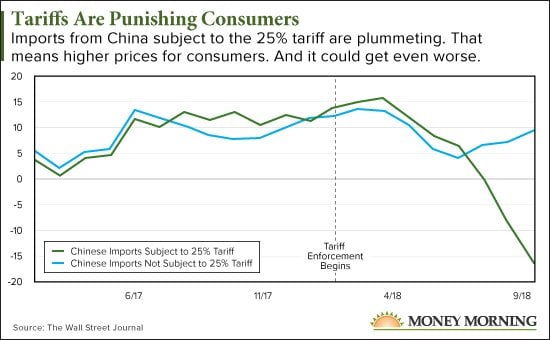 But take a look at how drastic their effect on business has been...
Since the 25% tariff rate on $50 billion of Chinese good was announced, these imports have dropped from an increase of 15% on the year, to a decline of nearly 20%. That's a 35% swing in a matter of months.
And it will get three times as bad if the new tariffs go into effect in 2019.
A 35% (and growing) collapse of another $150 billion of imports from our largest trading partner could devastate the stock market. These goods include everything from Apple Inc. (NASDAQ: