Dear Money Morning readers,
The facts are in.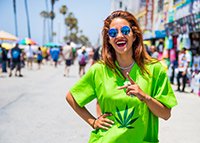 In its first year of operation, the Maryland medical marijuana industry generated $96.3 million.
That blew expectations of $46 million out of the water. In fact, the results more than doubled the predictions.
Nearly 52,000 patients bought 730,000 individual products from dozens of dispensaries across the state since last December.
As many as 350 people a day are applying for medical marijuana cards in Maryland, and over 22,000 are awaiting theirs.
And this is only the beginning…
There's not much time to get in on what some have called the new "gold rush."
Sweeping medical legalization across the United States is creating profit opportunities like we've never seen before.
If you sit this one out, you could miss an American economic revolution that could send three little pot stocks soaring up to 1,000%.
Follow Money Morning on Facebook, Twitter, and LinkedIn.