With a 21.68% drop so far in 2018, Facebook Inc. (NASDAQ: FB) stock is no longer the darling of Wall Street.
Mishandling user data, being accused of helping spread violence in Myanmar, and the social media site's role in 2016 election meddling have all weighed down the FB stock price.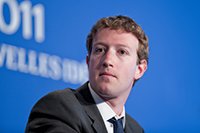 Those are all part of the reasons why nearly one in 10 Americans have deleted their Facebook accounts as of April 2018, according to TechRadar.com.
And right now, things aren't looking good for Facebook and CEO Mark Zuckerberg...
Shareholders Call for Mark Zuckerberg to Step Down as Chair
Facebook shareholders have been in open revolt.
In October, a proposal by Trillium Asset Management called on the company to split the CEO and chair roles, both currently held by Zuckerberg.
Investors will vote on the proposal at the company's 2019 shareholder meeting.
Splitting the chair and CEO spots has been the subject of academic studies for years. The consensus is that dividing these roles between two people can help stabilize the focus of the CEO and ensure that the company can focus on growth and innovation.
Solid examples of these splits include Cisco Systems Inc. (NASDAQ: CSCO) and Apple Inc. (NASDAQ: AAPL).
The World's Greatest Stock Picker: 253%... 361%... 337%... 226%... 103.4%... He's delivered the chance at over 217 double- and triple-digit peak-gain winners. See how he does it...
However, given that Zuckerberg controls roughly 60% of the voting rights, he's likely not going anywhere.
No matter what happens at the shareholder meeting, Zuckerberg and his executives have a long journey ahead to regain not only the trust of shareholders, but also the trust of the general public.
That's why we are looking ahead at what's to come...
In order to make the most money in the stock market, Money Morning readers need to be looking forward.
Today, we're reviewing what's ahead for the company, what can send the stock price higher or lower, and whether Facebook stock deserves to be in your portfolio in 2019.
Is Now the Time to Buy Facebook Stock?