Now that cannabis is increasingly legal across North America, even Walmart Inc. (NYSE: WMT) could be selling it soon.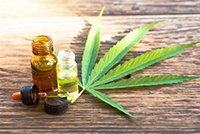 If you're surprised, it's no wonder. After all, Walmart started in Arkansas and retains conservative roots.
But in addition to having stores throughout the United States, Walmart also has 400 stores throughout Canada. And Canada, of course, recently made marijuana completely legal.
So Walmart, like the savvy retailer it is, has every incentive to carry products that are perfectly legal in Canada.
Pot Stocks Are Skyrocketing: This man is showing readers a near-perfect cannabis portfolio. Learn more.
But is it something they will actually do? And what kind of pot products could Walmart be selling in Canada?
Is Walmart Going to Be Selling Pot?