Initial public offerings (IPOs) are always exciting propositions for retail investors thanks to the massive gains we often see from newly public companies.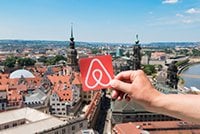 When Tilray Inc. (NASDAQ: TLRY) had its IPO in 2018, it returned over 500% to investors in under five months of trading. Investors looking for the Airbnb stock price in hopes of similar gains won't find any information yet, since the company is still private.
The good news is that Airbnb hired a new CFO in Nov. 2018, which is a signal that an Airbnb public offering could be forthcoming.
But is the 2019 Airbnb IPO worth investing in?
Granted, a few IPOs in 2018 have been breakout winners, with double- and even triple-digit gains, but some have also performed terribly.
Genprex Inc. (NASDAQ: GNPX) is as a perfect example. This biotech firm had its IPO on March 29, 2018, with an IPO offer price of $5.00 per share. It is now trading at $1.20 per share, a loss of 76%.
$1 Cash Course: Tom Gentile is offering a rare opportunity to learn how to amass a constant stream of extra cash – year after year. And he's going to teach you how to do it entirely on your own. Learn more…
IPOScoop.com reports that 49 companies with IPOs over the past year have experienced share price drops of 26% or more.
Investing in any IPO is risky, and there's no telling which way the Airbnb stock price will move once the stock is public.
Fortunately, you have some options if you're interested in Airbnb stock.
What You Should Know About Airbnb Stock
Airbnb began in 2008 with the unique concept that people should be able to rent extra space out in their homes to make some cash. It has since grown into a global enterprise valued at over $30 billion.
As of 2018, Airbnb has more than 4 million listings in 191 countries around the world. "Guests" can find a wide range of lodgings to rent, from a room in someone's home to tree houses, private islands, cottages, castles, and apartments in some of the world's largest cities.
The company earns revenue by taking a service fee from each listing on airbnb.com. Both guests and hosts pay a service fee to use the website, with guests paying a fee that ranges from 6% to 12% of the booking value.
Between 2014 and 2015 alone, the company's revenue is said to have grown 113%. It is finally turning a profit. On $2.6 billion in revenue in 2017, the company made close to $100 million in profits. By 2020, it anticipates pulling in $8.5 billion in revenue, which could make the price of Airbnb stock soar.
This isn't a given, though, so it's helpful to take a look at some alternatives to jumping into this IPO next year.
Buying Airbnb Stock at the IPO
Airbnb is likely heading for an IPO in 2019, and many investors are anxious to own shares in this company.
If you must buy Airbnb stock immediately, Money Morning Defense and Tech Specialist Michael A. Robinson recommends a particular strategy.
Instead of putting in a market order that will fill far above the IPO offer price, Robinson recommends placing a limit order that is no more than 10% above that price so that you don't overpay for your shares.
This is a real danger with IPOs that are driven by hype. When Snap Inc. (NYSE: SNAP) had its IPO, insiders were able to buy at the IPO offer price of $17, but everyday investors ended up paying $24 per share when the market opened. Many experienced significant losses.
Robinson has some other recommendations for participating in Airbnb profits.
Look at These Investments Instead of Buying Airbnb Stock