Investors searching for robust gains need to look at our penny stocks to buy in January 2019.
You see, we've chosen three top penny stocks that can generate tremendous profits for your portfolio - not only in January, but far into the new year.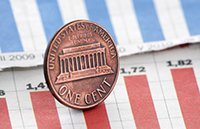 It's important to remember that penny stocks can be risky investments. Because of their low cost, even small price fluctuations can cause dramatic gains - and losses.
Investors interested in penny stock investing should place no more than 2% of their overall portfolio in a penny stock.
In order to make sure we're investing in only the best penny stocks, we use the Money Morning Stock VQScore™.
The VQScore system identifies penny stocks that have the robust financials necessary to generate real returns.
All three of January's top penny stocks have a VQScore of 4, indicating they're on the verge of creating significant profits for shareholders.
In fact, our top January penny stock could jump as much as 211%...
Penny Stocks to Buy in January 2019, No. 3: Valhi Inc.
Founded in 1932, Valhi Inc. (NYSE: VHI) is a holding company based in Dallas.
Valhi oversees several different firms involved in chemical production, real estate development and management, and component products.
Kronos Worldwide Inc. is in charge of the chemical division, making and marketing additives employed in paint, paper, plastics, and other fibers.
CompX International Inc. is in charge of Valhi's components segment. CompX leads its industry in providing security products for multiple businesses, like healthcare services, office complexes, and postal services.
The third division, real estate management and development, is made up of two companies Valhi controls, BMI and LandWell.
BMI is engaged in the delivery of utility services while LandWell focuses on Nevada-based opportunities for development and other activities.
These diversity holdings have given Valhi an attractive earnings profile. In just the last three years, Valhi's gross profits have shot up 170%. VHI's return on equity (ROE) is a stellar 45%.
Wall Street has set VHI's target price at $4 per share. From today's $1.98 per share price, that's a whopping rise of just over 100%.
That's a tremendous gain. However, our next penny stock could do even better...
Penny Stocks to Buy in January 2019, No. 2: Mechel Mining Co.
Mechel Mining Co. (NYSE: MTL) is a mining and steel company based in Russia. And it's one of our top picks for the New Year.
A global company with 60,000 employees, Mechel maintains operations in mining, steel, and power.
The mining division targets the cultivation and sale of iron ore as well as multiple finished and semi-finished iron products.
Over the last 10 years, the company has generated significant returns thanks to a series of acquisitions.
In the last decade, Mechel has undertaken nine significant buyouts, fueling entry into new markets and pushing the company's gross margins up by 52%.
The operating income has done even better, soaring by 547% in the past four years.
And Wall Street has taken notice. Currently, Mechel stock has a price target of $4 per share.
That's a 105% gain over today's share price of $1.95.
While you may be able to double your money here, our best penny stock on the list is one you don't want to miss...