The cloud computing industry will be a $1 trillion market by 2020, and tech giants are racing to be leaders in the field.
But instead of starting from scratch and building software and services, it's much easier for larger firms to acquire leading cloud computing solutions.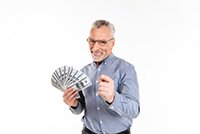 And it has created something we like to call the "Cloud Wars" that could lead to a triple-digit profit opportunity.
Cloud computing is the on-demand delivery of computing power, data storage, and other IT services that remove the need for local or on-site computing storage. In an era where data drives corporate decisions and strategy, demand for the cloud will make the sector a $1 trillion industry by 2020, according to Gartner.
And you could score a triple-digit gain in the next year if you snap up the most attractive takeover targets…
The Cloud Wars Will Unlock Billions for Investors
In October, International Business Machines Corp. (NYSE: IBM) fired a direct shot at its cloud computing competitors.
"Big Blue" announced it would purchase Red Hat (enterprise software provider) for $34 billion.
And it's not just IBM that understands how important it is to win the "Cloud War."
Have 28 Seconds? You could make $2,353 – and you won't need to buy a single share of stock up front to collect this cash, or spend a nickel on anything. Click here to learn more…
Silicon Valley's top software and service providers see the cloud as their next huge source of revenue. Microsoft Corp. (NASDAQ: MSFT), Amazon.com Inc. (NASDAQ: AMZN), Alphabet Inc. (NASDAQ: GOOGL), and Alibaba Group Holding Ltd. (NYSE: BABA) are all fighting for a piece of the pie.
Every one of those companies will be buyers of cloud computing firms in the next few years.
And make no mistake: Almost every cloud computing company could be on the block.
I'm talking about a big roster of publicly traded cloud computing stocks, including Workday Inc. (NASDAQ: WDAY), Zendesk Inc. (NYSE: ZEN), LogMeIn Inc. (NASDAQ: LOGM), Tableau Software Inc. (NYSE: DATA), and Box Inc. (NYSE: BOX).
Even the behemoth Salesforce.com Inc. (NYSE: CRM) could be up for grabs if Amazon or Alphabet really wants to get aggressive.
However, I don't like to throw my money around on a bunch of wild bets in hopes of hitting a big day.
Right now, I'm looking at a stock that is not only a bargain at current prices, but could be one of the biggest takeover targets for a major firm in 2019…
This Impressive Cloud Leader Is the Perfect Takeover Target