The Dow Jones Industrial Average kicked off 2019 with a projected 370-point loss in pre-market hours. Investors are looking to put a brutal December behind them and search for positive indicators that help bolster the Dow, Nasdaq, and S&P 500. However, negative economic news out of China set the tone on Wednesday morning.
The Caixin/Markit Manufacturing Purchasing Managers' index (PMI) fell from 50.2 in November to 49.7 in December. Any figure under 50 signals that China's manufacturing sector is contracting. This was the first contraction in 19 months, as concerns about the ongoing trade dispute between China and the United States continue to weigh on economic sentiment across the country.
Here are the numbers from Monday for the Dow, S&P 500, and Nasdaq:
| | | | |
| --- | --- | --- | --- |
| Index | Previous Close | Point Change | Percentage Change |
| Dow Jones | 23,327.46 | 265.06 | 1.15% |
| S&P 500 | 2,506.85 | 21.11 | 0.85% |
| Nasdaq | 6,635.28 | 50.76 | 0.77% |
Now, here's a closer look at today's Money Morning insight, the most important market events, and stocks to watch.
Money Morning Insight of the Day: Catastrophe Ahead to Affect 176 Million U.S. Investors
The greatest economic catastrophe is about to blindside us all.
Decades ago, corrupt money managers and politicians buried a $6 trillion ticking time bomb in the heart of the U.S. economy – and when it blows, scarcely a soul will not be affected.
You need to start preparing now, because when this bomb hits, you'll be scurrying to pick up the pieces.
The Top Stock Market Stories for Wednesday
The partial government shutdown stretched into its 12th day this morning as Congress continued to squabble over the border wall and funding the government. Democrats announced plans to end the government shutdown without offering $5 billion the wall along the U.S.-Mexico border. However, the Senate has stated it will not send U.S. President Donald Trump any bill that doesn't include wall funding. Investors are beginning to worry that the U.S. government may face another credit downgrade from Standard and Poor's if the shutdown continues. Another downgrade could drive the cost of borrowing higher for the U.S. government and make the current servicing to American debt even costlier.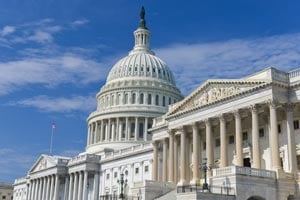 Oil prices are looking to rebound from their 2018 downturn, the first annual decline since 2015. The WTI oil price plunged by 40% during the fourth quarter thanks to ongoing concerns about oversupply and the reintroduction of sanctions by the United States on Iran's economy. JPMorgan Chase & Co. (NYSE: JPM) said this week that unless OPEC accelerates production cuts, the price of oil will stay lower in the months ahead.
Stocks to Watch Today: NFLX, RCI, IBM
Follow Money Morning on Facebook, Twitter, and LinkedIn.
Join the conversation. Click here to jump to comments…
About the Author
Garrett Baldwin is a truly self-made, 38-year-old Mensa millionaire with four degrees from the nation's top universities: Northwestern, Johns Hopkins, Purdue, and Indiana University. His biggest accomplishment, however, is his Quantum Loop invention - a trading technology that completely changed his life. Thanks to his unique career path in "competitive intelligence," Garret was inspired by a radar system used by the military to develop his Quantum Loop. It is the first known innovation that can both time the market and an individual stock simultaneously. After eight years of rigorous backtesting and countless successful trades, the rest is history. He's now a millionaire living in one of the richest ZIP Codes in America. Garrett's also a best-selling author, inspiring thousands of people to pursue and achieve their own financial goals. When Garrett isn't busy trading and writing, he's lounging with his wife and child on the beach outside his home in Naples - or globetrotting as inspiration for his next investing invention.