The most precious commodity for a business is data.
Facebook Inc. (Nasdaq: FB) is the king of data, allowing retailers to advertise to people based on age, geographical location, and personal interests.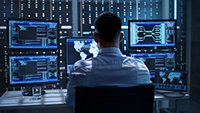 But as we've also seen with Facebook, not properly handling and protecting that data could be the downfall of any tech giant. In June 2018, The Washington Post revealed that the social media juggernaut had arrangements with Amazon.com Inc. (NASDAQ: AMZN), Apple Inc. (NASDAQ: AAPL), and BlackBerry Ltd. (NYSE:BB) to allow their devices to access the data of Facebook users.
These scandals have caused the FB stock price to plummet 27% over the last year.
And that's why we're going to see what we are calling the "2019 Cybersecurity Arms Race."
To avoid a similar fallout and increased regulatory scrutiny, tech giants are going to take cybersecurity much more seriously this year.
Instead of building data protection services and software from scratch, large firms are going to hire outside cybersecurity companies or buy them outright.
And it could lead to double-digit profit opportunities in 2019.
In this special report, I'll discuss the increasing need for advanced cybersecurity defenses and the ongoing wave of consolidation in the industry.
Then, I'll lead Money Morning readers to the two best ways to profit from the cybersecurity sector…
Get Ready for Bigger Breaches
In 2009, I sat down with U.S. Rep. Dutch Ruppersberger (D-MD).
At the time, he was a member of the House Select Committee on Intelligence.
I had worked for him after college on Capitol Hill, and several years later, I had just signed up for graduate school in Washington, D.C.
Given that my graduate work was at Johns Hopkins School of Advanced Governmental Studies, I had a slew of choices when it came to deciding which area of "defense" to focus my attention.
I was choosing between U.S. energy distribution security and financial/economic security.
When I told him my two options, he shook his head.
"Go into cybersecurity," he said. "We have a massive need for cybersecurity experts, but we don't have enough people in the sector."
That statement by Mr. Ruppersberger would have raised some eyebrows back then.
Today, it has proven prophetic.
The 2017 Global Information Security Workforce Study surveyed 20,000 people about their companies' need for cybersecurity professionals. Nearly two out of three respondents said their firms lack enough knowledgeable people to confront rising cyber threats.
THREE STOCKS: Any one of these cannabis companies could potentially deliver a 1,000% windfall. Click here to learn more…
Cybersecurity Ventures, a market researcher, released a report that same year that said there would be 3.5 million unfilled cybersecurity job openings from 2018 to 2021.
Unfortunately, that lack of defense has been a gold mine for cybercriminals…
Marriott, the world's largest hotel chain, reported a breach in December 2018 that exposed the personal data of up to 500 million customers. It opened up questions about why the company wasn't encrypting personal data like passport numbers the same way it does for credit card numbers.
Quora – a question-and-answer website – also announced a data breach in December 2018 of 100 million usernames, e-mail addresses, IP addresses, and encrypted passwords.
Even the questions and answers themselves posted by users were stolen. That could lead to a future event where this information is sold on the dark web or possibly used in some form of blackmail.
There are plenty of other examples of large-scale hacks over the past several years, but you get the idea.
Too many companies – even vital companies to this new century's economy – just aren't doing enough to protect user data.
And with a lack of talent available to address the never-ending wave of cyberattacks, the best solution for many firms is to buy a cybersecurity company.
In 2018, Oracle Corp. (NYSE: ORCL) snapped up security start-up Zenedge. VMWare Inc. (NYSE: VMW) purchased E8 Security, a firm that specializes in addressing cyber threats in the early stages.
Amazon purchased the threat detection service Sqrrl for $40 million, while Palo Alto Networks Inc. (NYSE: PANW) purchased detection firm Secdo for $100 million.
And the deals only got bigger from there…
Splunk splurged on Phantom Cyber for $350 million, while private equity giant Thoma Bravo paid a whopping $1.6 billion for Barracuda Networks.
Now, Facebook is the next big tech firm expected to make an acquisition. As of Oct. 21, 2018, Facebook talked to several cybersecurity firms, according to The Information.
It will allow CEO Mark Zuckerberg to not only protect user data, but show regulators he is taking cybersecurity seriously.
And if Facebook purchases a cybersecurity firm in 2019, it could lead to a double-digit windfall…
Facebook Cybersecurity Target, No. 3: Crowdstrike
Facebook could explore a deal for private cybersecurity giant Crowdstrike.
Facebook's largest vulnerabilities in recent years have centered on political interference and hacking from foreign agents.
Crowdstrike is best known for its countermeasure operations after major hacking events like the 2016 Democratic National Committee e-mail leak, cyberattacks on the DNC, and the breach at Sony Pictures.
The firm has customers in more than 170 countries.
The marriage makes a lot of sense on paper.
With a $3 billion valuation, acquiring Crowdstrike isn't "cheap," but the cost would provide a major public relations victory for an embattled organization.
But you can't make money if Facebook buys a private company.
Instead, I've uncovered two of the best potential cybersecurity plays that you can get in on right now.
And even if these next two publicly traded companies aren't acquired this year, analysts project the stock prices could climb double digits.
With the volatility we're experiencing right now in the markets, you can't afford to miss these opportunities…
Join the conversation. Click here to jump to comments…
About the Author
Garrett Baldwin is a globally recognized research economist, financial writer, and consultant with degrees from Northwestern, Johns Hopkins, Purdue, and Indiana University. He is a seasoned financial and political risk analyst, with a focus on stocks, hedge funds, private equity, blockchain, and housing policy. He has conducted risk assessment projects for clients in 27 countries, and consulted on policy and financial operations for some of the nation's largest financial institutions, including a $1.5 trillion credit fund, a $43 billion credit and auto loan giant, as well as two of the largest Wall Street banks by assets under management.
Garrett joined Money Map Press as an economist and researcher in 2011, specializing in alternative strategies with an emphasis on fundamental and technical analysis.